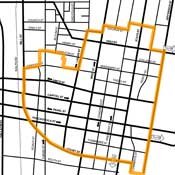 Now that property owners approved an expansion plan for Jackson's Businesses Improvement District May 26, Downtown Jackson Partners must obtain 70 percent majority vote from property owners to prevent the district from dissolving. "The vote has historically been very, very close," Downtown Jackson Partners President Ben Allen wrote in a May 20 email to residents.
Last week, 15 out of 17 downtown Jackson property owners approved a plan that would expand the Downtown Jackson Partners' Business Improvement District by adding a block of Farish Street, and maintain assessment rates for properties to receive services from DJP at 10 cents per square foot.
In 1996, the Mississippi Legislature passed a bill that created Business Improvement Districts and allowed cities to levy an assessment on all taxable property in those districts. The law allows DJP to collect 10 cents on each square foot of building space and "unimproved" real estate on properties in the district. In return, DJP provides support services for the properties. The district must undergo a reauthorization process every five years.
DJP provides businesses and residents within the BID with 24-hour security patrols, trash removal, year-round landscaping and promotional services in addition to promoting downtown real estate. This year, DJP will spend 30 percent of its estimated budget of $1,016,930 on marketing and development, and another 30 percent on safety.
The Hinds County Tax Collector's office collects the BID fees along with the property owner's property taxes. The city of Jackson then distributes those funds to DJP. In September 2010, Jackson City Council members renewed the district for the current year. The BID is expected to generate $1,028,613 this year. The funds, however, do not qualify as public funds because the city only approves and funnels the fees to DJP.
The plan approved last week expands the district to the second block of the Farish Street Entertainment District, which includes Peaches Restaurant, the Alamo Theater and F. Jones Corner. The Jackson Redevelopment Authority owns the majority of the property, and Watkins Partners holds a 45-year lease to develop the entertainment district.
David Watkins, CEO of Watkins Partners and Downtown Jackson Partners vice chairman, urged property owners to reauthorize the district during the DJP's May 26 meeting. "If you look at where we were in 1996 and where we are today, the difference for downtown Jackson has really been this organization," Watkins said. "The only way for us to have the resources we need to do what we need to keep downtown Jackson clean and safe is to go through with this BID."
Watkins added that the JRA, a quasi-governmental agency, is not required to pay the BID fees, and Watkins Partners will likely pay those fees to receive DJP's services.
F. Jones Corner co-owner Adam Hayes said he favors his business being added to the district despite the extra fees.
"I don't like giving money away," Hayes said. "The city of Jackson should be providing these services. But I don't mind. If it means it's for a better Jackson, that means we are eventually going to grow, and that's a small price to pay in my mind."
Tanya Scott is managing partner of Ceva Green, a proposed $70 million mixed-used development planned for State Street at the site of a former abandoned Cadillac dealership that is in the BID. She and her father, Corbett Scott, purchased the property six years ago to border another proposed development, Old Capitol Green. She says they have struggled to get the city to assist with infrastructure needs.
Scott wants DJP to play a more active role in helping developers work with the city for infrastructure needs. Three years ago, the Legislature approved $20 million in state bonds for Old Capitol Green infrastructure, but the city of Jackson and Hinds County must commit to co-sponsor the loan before Old Capitol Green can receive the money. The infrastructure would help both developments.
"If there are monies sitting out there, then it becomes (a matter of) trying to identify the partnership that would exist between the master developer, private developers, the city and everyone else involved to be able to make that infrastructure come to fruition," Scott said.
On May 27, Scott met with Mayor Harvey Johnson Jr. about Ceva Green and Old Capital Green needs, and said she was hopeful about the city's support. City spokesman Chris Mims did not immediately return calls.
DJP submitted the plan to the council May 31, and the council must set a public hearing for the plan this summer. After the hearing, all business owners can vote through ballots they get in the mail. Property owners who do not vote will count as "no" votes.
David Price, owner of the commercial real-estate firm DNP Corp. located inside the district, said he favors reauthorizing the district but questioned its effectiveness. "How much of a difference do they make?" Price asked. "I'm not sure. But at the same time, how do you operate a downtown like this without one?"
More like this story
More stories by this author