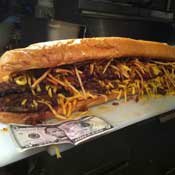 Jimmy Buffet sang about them. Wimpy ate 'em with abandon (and would gladly pay you Tuesday for one today), and 86 percent of Americans ordered at least one last year.
We're talking about the hamburger, the ubiquitous food of everyman. You'll find it in Michelin-starred gourmet palaces and lunch counters alike, and for one day only, it stars on the Parlor Market menu.
Following "PM Steak" March 21, the Parlor Market folks (115 W. Capitol St., 601-373-9841) launch their latest pop-up restaurant concept, "PM Burger" at 11 a.m., Monday, June 6. It will remain open for 12 short hours and vanish into the rear-view of Jackson foodies. The menu for the night will consist of five "chef-burgers" (ranging from the classic to the down right ridiculous), fries and shakes. Smiling, paper-hat-clad carhops will serve up the gourmet treats, accompanying them with "Happy Meal"-style toys.     
  
 Burger prices range from $10-$16. Just for kicks, there will be a $1000 burger made with Kobe beef, foie gras, truffles, edible gold-leaf served with champagne and caviar on a antique silver platter that you get to keep.
One of the perks that comes with being a food writer is the sampling. Last week, Craig Noone and Jesse Houston invited me to come down to Parlor Market and taste a couple of their signature creations. When I arrived, the kitchen was abuzz with chopping, grinding, toasting and grilling, and the smells were as intoxicating as a barrel of whoop-juice at a frat-house mixer. I should have gotten a clue of what I was in for when the waitress brought me four napkins, but nothing could have properly prepared me, except perhaps a week of training camp with Takeru Kobayashi. I tucked one napkin into my collar, put one on my lap and held two in reserve as Jesse emerged from the kitchen, sporting a paper hat and carrying the massive Reuben burger.
This masterpiece consisted of an 8-ounce patty of house-ground beef, topped with sauerkraut, pastrami, Swiss cheese and comeback dressing, sandwiched between perfectly toasted buns made by pastry chef Whitney Evans.
I made it about a third of the way through this massive meat bomb and had to stop myself, knowing that I had another burger to come. Again, Jesse came out from the kitchen in that hopelessly cheesy hat, grinning like he was on the verge of telling a secret. On his tray this time was the AM Burger. A pair of waffles could barely contain all the goodness found within. Although it was hard to pick up, I attacked the stack of burger, hash browns, duck egg, bacon, cheese and maple syrup. But I could hardly make a dent in it.     
There are few certainties in life, but you can take it to the bank that I'll be stuffing a burger in my happy, happy face June 6. The only question is: Which one?
A free "PM Burger" Day concert in the parking lot features Iron Feathers, Furrows, Taylor Hildebrand, Spacewolf and Liver Mousse from 6-11 p.m.
What is a 'Pop-up' Restaurant?
One of the most exciting trends in modern restaurant culture is the pop-up concept. Essentially, you take an existing restaurant and completely transform it into something wholly different for one night only. It gives the chefs a treat, allowing them to push some boundaries and test their creativity. It gives the restaurant an opportunity to draw in a whole new crowd, and it gives the public a chance to try something new, adventurous and exciting without straying from tried-and-true favorite haunts.
Earlier this year, Parlor Market broke the ice with the pop-up concept and hosted PM Steak March 21. On July 11, Underground 119  (119 S. President St., 601-352-2322) will open for one night as "Guido and Luigi's," an Italian pop-up complete with checkered tablecloths, wine-bottle candle holders, Dean Martin blaring from the sound system and a mustached wait staff. I'll be at my post in the kitchen, as Underground 119 chef, ready to excite your palate.
More like this story
More stories by this author