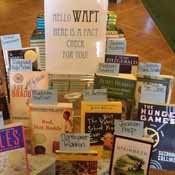 When WAPT ran a story last week suggesting Lemuria Books did not carry titles on local schools' summer reading list, chief bookseller John Evans saw a marketing opportunity. Lemuria staff arranged a display in the store featuring books on school reading lists and a sign that said, "Hello WAPT: Here is a fact check for you!"
Evans also sees opportunity in the news that Borders is closing its stores, including the one in Flowood. He said Borders' closing is a chance to make Lemuria better.
"It's up to us to prove to the readership in Jackson that we're offering something to preserve," Evans said.
In the 36 years Lemuria has been around, Evans said the store has seen challenges from e-readers, online sellers like Amazon.com and changes in the publishing business, but he thinks good bookstores are here to stay.
Evans sees his role as an editor, selecting quality titles to fit the interest of readers in the area. He said Lemuria also brings nationally known authors to the community who might otherwise bypass the Jackson area.
Shopping at local booksellers also keeps money in the local community, Evans said, unlike shopping at an online retailer like Amazon.com, which does not have to collect state sales taxes on much of what it sells.
WAPT reported not finding a particular book on a school's reading list on Lemuria's website, but Evans said only first editions and featured titles are listed there. He said the store tries to carry all titles on local schools' summer reading lists.
Food Truck Needs Support
Ward 1 Councilman Quentin Whitwell is asking Jackson residents to call council members or attend tonight's council meeting at 6 p.m. to show their support for the city's food truck ordinance.
Whitwell said this morning that he is concerned about misinformation that the ordinance is meant to crack down on current vendors. Currently vendors must obtain a one-day permit from the city to operate a mobile food-vending unit. The proposed ordinance allows vendors to buy an annual $500 license from the city to sell food from a truck, so long as each permit only applies to one selling location, trucks are fully insured, and the distribution and preparation center meets strict guidelines for cleanliness. Under the proposed ordinance vendors can still obtain a temporary permit.
"There are existing laws on the books," Whitwell said. "...I am adding an extra layer for people who are serious about food cuisine."
Ward 7 Councilwoman Margaret Barrett-Simon will be absent from tonight's council meeting. Ward 6 Councilman Tony Yarber said he would vote in favor of the ordinance. Other council members did not immediately return phone calls.
Mayors Seeks Partnership with Turkey
Jackson city council members will also vote on an agreement to form a partnership with the city of Kahramanmaras, Turkey, at tonight's meeting.
The agreement aims to strengthen relations between the two cities through exchanging information, promoting one another's art and culture and encouraging investors and entrepreneurs to pursue business opportunities.
Johnson visited Kahramanmaras last month through a trip the Turquoise Council of Americans funded. The agreement establishes a Sister City relationship with Turkey. Sister City is a nonprofit citizen diplomacy network that creates partnerships between United States and international communities. The organization has fostered more than 2,000 partnerships.
Support our reporting -- Follow the MFP.