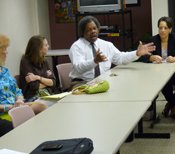 Several residents offered suggestions last night for a bold marketing campaign to change the state's perception of Hinds County.
Approximately 18 residents and county leaders discussed the county's image during a public meeting at the Eudora Welty Library last night. Earlier this year, the Hinds County Economic Development Authority signed a $10,000 contract with the urban-planning firm, Arnett Muldrow & Associates, to develop a brand for Hinds County. Tripp Muldrow, a partner at Muldrow & Associates, says the goal of branding Hinds County is to unite the county, attract industry and attract new residents. The county's branding process includes two days of public meetings in various locations throughout the city and concludes on Friday with a presentation.
"People need something to rally behind and believe in," Jackson Free Press contributor and entrepreneur Brad "Kamikaze" Franklin said during the meeting. "There are a lot of people in this city right now that are despondent because they don't have anything to grab on to and believe in. Whether it be person, place or thing, they need something they can get behind and believe in."
Franklin also focused on Jackson's achievements and the county's struggle to overcome negative perceptions perpetuated by local media outlets.
"Mississippi, for so long, has had a self-esteem and inferiority complex problem from what we have been told," he said. "You start to believe it, and I think we have gotten into that rut."
Franklin then suggested using the slogan "without us, y'all would be cow pastures," to drive home the point that that surrounding counties depend on the capital city for economic prosperity. His suggestion caused an outburst of laughter.
Jermal Clark, Hinds County election commissioner, said that while the county is making tremendous progress, it still has its challenges.
"For the last 20 years, businesses have been leaving Hinds County and revenue has been going out of Hinds County," he said. "Let's not skirt around the issue. ... During the last 16 years, we have had more elected officials of color and I think Jackson might be in the situation that it is now--with people moving out of the city--because you have a person who doesn't look like a person who was in power 20 years ago."
Pearl resident Janet Walker said she wants the campaign to highlight Hinds County's current strengths such as its diversity, access to arts and cultural activities, and recent developments.
"I feel like there has been progress but we have been having these conversations the entire five years that I have been here," Walker said. "I think we need a branding statement that isn't so aspirational, or something that you are not today. I think it should be something that you can claim today. ... If you are still banking on what you are going to be 10 years from now, then no one will believe it."
Muldrow and his team held public meetings in Clinton and Terry yesterday. He said the majority of residents have advocated for a bold marketing statement.
"You have enough to talk about now to make a statement that is bold, aggressive and true," he told attendees. "Then, with the progress you are making, you have an incredible opportunity to make that statement and then succeed it."
More stories by this author
Support our reporting -- Follow the MFP.