"Don't let it be gone already," I repeated to myself, like a mantra, whizzing down State Street to meet photographer Amile Wilson. I'd spent a little more time than I'm willing to admit trying to figure the schedule out. "This seemed a lot easier in Chicago," I mumbled. Amile and I had agreed to meet at Union Station downtown at 2:45 p.m. to ride one of the JATRAN routes Mayor Harvey Johnson Jr. had proposed cutting.
I'd heard time and again that the city buses sometimes run behind schedule, and I was kind of embarrassed that I hoped what I'd heard was true. I immediately chastised myself: "You're driving a car to the bus station. The people who depend on the bus don't have cars."
By the time I pulled into the lot across from Union Station, it was 3 p.m. I hurried across Mill Street into the transportation depot and spotted my bus-riding companion. He walked around, taking pictures; I mentioned to someone waiting on the bus that I wanted to catch the #10.
"Did it leave already?"
The woman looked at me curiously, as if she knew something I didn't and responded with, "Why y'all taking pictures?"
I explained to her who we worked for, and that because I'd been following what had been happening and gone to a couple of town-hall meetings, I thought it only made sense that I ride the bus, even if just for a bit.
Apparently, my answer was sufficient because she then responded, "Hey!" to the bus driver. "She's asking about the #10. Tell her."
He told me the #10 hadn't run for about a year. I was confused. I thought that was one of the routes they had proposed cutting.
"Oh yeah. It's cut," he said.
An average daily ridership chart provided by JATRAN shows passengers take 19 total trips in a week on the #10, compared to Route #1, which averages about 1,836 total trips.
Amile and I stepped on the #6 bus with driver Dominic Marshall, who was hesitant to give his name at first. I explained to him what we were doing, and he started to loosen up.
As we waited until the exact time to pull off, Marshall talked about some of the things he believed would help the bus system.
"Nobody in this city knows about transportation or federal grants. There are all types of new grants; JPD officers ride around in new cars," he said, before he stopped himself. "How much are you going to say I said? Some stuff ain't for everybody to know I said. Know what I mean?"
Shaking my head in the affirmative, I said, "OK."
"If the buses ran more regularly, we'd have more passengers," said Marshall, a middle-aged dark-brown-skinned man with low-cut, thick hair that peaked from his cap and a gold tooth that flashed every now and then when he spoke. He reminded me of someone's uncle.
The eight-year JATRAN employee went on to explain how city officials don't understand how important the bus system is in the city and how important his and his peers' jobs are. "We have people's lives in our hands. If you're stressing about what's going to happen to your job, you've got other things on your mind. You're not paying attention to what you're doing. That's a problem. Huh?" he asked for affirmation.
"Now you sure y'all want to ride with me today?" Marshall asked. "I'm going through the 'hood."
We assured him we'd be fine. We rode the entire route and picked up two riders: Alton Hutton and his 2-year-old son.
Hutton doesn't ride the bus regularly but knows people who do. "My car is down, but my neighbor rides all the time," he said. "I asked her which bus I needed to catch."
Wilson and Marshall talked, and I played with Hutton's son, as we continued our short trek on the west side of the city. If officials cut routes based on what I'd seen that day, their proposed cuts in routes and jobs would make sense. But that's a part of the issue, Marshall said.
"They come down to survey people in the afternoon—when it's convenient for them," he said. "That's not when you get the real sense of who's riding the bus. Come down (and) take a survey in the morning. Most people have to be at work at the same time. ... But everybody doesn't get off at the same time. Huh? They need to take that into consideration."
Those making decisions need to be less concerned with their convenience, according to Marshall. The general public needs to be educated, too, the mayor said after a Jan. 10 work session.
"Finding $1.3 million is not a painless process. ... I think the mode we ought to go into now is education mode. I think we need to let people know precisely what it means to them exactly. ... Some of them—it might mean I have to walk an extra block to pick up the bus," Johnson said.
With Mayor Johnson's declaration that he doesn't know from where the $1.3 million will come to satisfy the debt JATRAN has accrued, for now passengers can rest their minds about routes being cut and JATRAN employees about losing their jobs.
As Amile and I hopped off the bus, Marshall said, "I like that y'all want to know what you're talking about when you write it. They need to pay attention about this bus thing."
We got off the bus, walked across the street and parted ways. I hopped back in my car and sped down the street, headed back to work. I was running behind for my next appointment.
Previous Comments
ID

161609

Comment

As we watch gas prices slowly rise, this will all make sense again. I wish the city would use some available funds to market and promote JATRAN. Educate people on the benefits. Increased ridership could translate into better service, more routes and eventually we might even have a regional transportation system that went beyond the city lines. Explore some shopping routes for Saturday. We have got to get beyond this idea that you might be transporting people to shop outside the city. I would love to be able to ride a bus to Flowood to shop because sometimes I have to go out there.. We need a real metro area where the parts equal the sum and we can all do better.

Author

833WMaple

Date

2011-01-13T12:56:33-06:00
ID

161680

Comment

833WMaple, I love your ideas but we're talking about fixing an impossible situation. I have researched many solutions over the years since I have a passion for transit. Just so you know how much I care about this subject, I own and operate Jatran.com as a private citizen. Why? My thought in the early 2000s was that Jatran officials didn't know how to acquire and maintain the domain, but the Jatran official I spoke with on the phone said they already had a website name (more than 80 characters long at the time) and they didn't need Jatran.com. My point; you're dealing with some officials (not all) who don't care because it's their job rather than where they excel. Do you think that same official can save the future of Jatran with the kind of response I received regarding a $35 domain name? I rode Jatran for years in the early 80s when it was a well oiled machine and many bus routes (including the #10 which I rode) were filled to the max with standing passengers during morning commutes. The Flowood Mayor suggested a Jatran route down Lakeland Drive into Flowood a few years back. Why didn't it work? The City of Jackson wanted Flowood to pay for the Jatran buses to come into Rankin County. Why would Flowood pay for that? I can guarantee you the city of Flowood paying for that route would not have offset the cost based on tax dollars spent at Flowood stores. Times have changed, suburbs have grown, and parking for cars is free and physically located near store doors. Why pay for transit when it is slow and inefficient? PRT (do a wiki for PRT or Personal Rapid Transit) is the only viable solution for Jackson in my opinion, and I think it would only work in a small dense area like downtown or Flowood. Downside: huge cash outlay for startup and not knowing if it would work. Who knows what the future holds for Jatran, but I sincerely hope that the super-nice Jatran bus drivers I have met in the past are updating their resumes and moving to major cities or finding a different profession altogether. Disney Transport is hiring and ABC Disney has great benefits! ;)

Author

jamscan

Date

2011-01-17T11:53:43-06:00
More stories by this author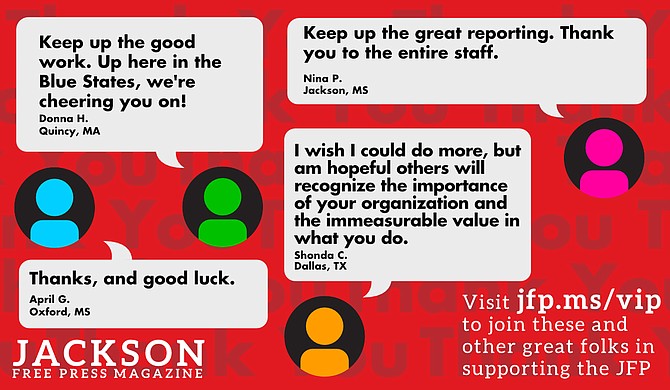 Thanks to all our new JFP VIPs!
COVID-19 has closed down the main sources of the JFP's revenue -- concerts, festivals, fundraisers, restaurants and bars. If everyone reading this article gives $5 or more, we should be able to continue publishing through the crisis. Please pay what you can to keep us reporting and publishing.