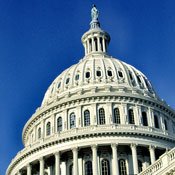 As state legislators return to the Capitol tomorrow for the 2011 Legislative session, lawmakers will spend the next 90 days approving diminished funding for state agencies and debating a host of bills.
The session officially convenes Jan. 4 at noon. Last year, the session extended beyond its April 3 conclusion date and ended May 3, but Rep. Steve Holland, D-Plantersville, said he doesn't expect the Legislature to extend the session beyond the May adjournment date, but would have no problem holding up the session to get adequate funding for the state's mental health system.
"Those of us who are Thomas Jefferson-type legislators who go down there strictly to represent our people would want it to end on time, but sh*t happens," the salty-mouthed legislator said. "I tell you one thing: If the state's mental-health system doesn't get taken care of, we won't get through in 90 days because I'm going to hold the SOBs up."
The state is facing a $634 million shortfall for next year's budget due to diminishing stimulus funds, stagnant tax collections and an increased number of Medicaid patients. As a result, most state agencies will face cuts when the Legislature approves next year's budget. The state's mental-health institutions face a budget shortfall of $31 million, said Holland, chairman of the House Public Health Committee. Without additional money covering the shortfall, some institutions serving the mentally ill will have to close.
Legislators often extend the regular session to hammer out budget issues such as the critical-mental health system. Gov. Haley Barbour has already suggested a list of institutions to close during his November budget recommendation, but Holland and other critics say closing the facilities would deliver more mentally ill patients to the state's jails and prisons, where they do not belong.
The upcoming legislative session mirrors 2009. The deadline for legislators to introduce general bills and constitutional amendments is Jan. 17. Senate and House Committees must address general bills by Feb. 1. Those bills must then get a floor vote by Feb. 10, or they likely won't see a vote at all this year.
Appropriation and revenue bills have a slightly later deadline, with floor action required by Feb. 23. Senate and House Committees must report on opposing chamber's bills by March 1, with floor action by March 9. March 15, meanwhile, is the cut-off date for floor action on appropriations and revenue bills originating in the other chamber.
March 23 is the deadline date for conference reports on appropriations and revenue bills, and often the final date for many of the more notable budget adjustments coming out of the new session. March 25 is deadline for the Legislature to introduce local and private revenue bills. The city of Jackson's proposed amendment to a sales-tax increase bill passed during the 2009 session is an example of a bill that would qualify under that deadline.
Online Resources for the 2011 Legislative Session:
For a more detailed look at the legislative calendar and to read bills, visit the state Legislature's website.
The Legislature's Daily Action Reports provide a daily schedule of bills as well as a brief description of the bills.
The Mississippi Secretary of State's website provides a search engine for campaign-finance reports filed after December 2008. The reports include a list of donors and the amount they gave to a candidate. The website also has a directory of registered state lobbyists.
Look for the JFP's "Legislative Preview," hitting the streets Jan. 5, for an in-depth analysis of upcoming legislation and issues in the 2011 session.
More stories by this author
Support our reporting -- Follow the MFP.