Also see: The Tragic Case of the Scott Sisters
Sisters Jamie and Gladys Scott must lose a combined 160 pounds before they can be eligible for the kidney transplant that was a condition of their January release from a Mississippi prison.
Gladys Scott has volunteered to donate a kidney to Jamie, who is suffering from renal failure, but doctors have told the two women that they must lose the weight first before they can test kidney for compatibility, the sisters' mother, Evelyn Raso, said.
Rasco told the Jackson Free Press today that both sisters are exercising and trying to lose weight. Jamie has lost 15 pounds since leaving prison Jan. 6, Rasco said.
"She's working on it," Rasco said.
In his Dec. 29 order suspending the sisters' life sentences for a 1993 armed robbery, Gov. Haley Barbour stipulated that, as a condition of Gladys' release, she should donate a kidney to her sister within one year. While Barbour's language raised concerns about the ethics of demanding an organ transplant from a prisoner, comments from both the governor's spokesman, Dan Turner, and the sisters' attorney, Jackson City Councilman Chokwe Lumumba, indicated that their release is not solely dependent on the organ donation.
Lumumba said immediately following Barbour's announcement that he expected the Scott sisters to remain free even if they proved incompatible for a transplant.
"I've been assured by the governor's office that that's not going to be a problem," Lumumba said Dec. 29. "We'll just come back and work that out later on if she is not compatible. They made it pretty clear to us that they intend for them to be out."
Turner told the JFP Dec. 30 that, if a transplant proved impossible, any decision on Gladys Scott's suspended sentence "is a determination that may be up to the next administration as well." Barbour's final term as governor ends this year.
"I think there would be some other factors involved," Turner said. "Is she living within the law? That's going to be the first prerequisite for her remaining free."

Rasco said that the NAACP has provided Jamie with an apartment and is working to provide her with transportation as well. Jamie receives dialysis three times a week.
"They have been tremendous with Jamie and Gladys," Rasco said of the NAACP.
Lumumba is planning an April 1 rally at the state Capitol to call for a full pardon of the two women.
Previous Comments
ID

162333

Comment

Lumumba is planning a rally to call for their full pardon? Seriously? We can do that for criminals now?

Author

LambdaRisen

Date

2011-02-28T14:15:10-06:00
ID

162334

Comment

Why was this ever even a condition of their release? Am I just crazy or should it not have been considered prior to their release whether the sister was even a compatible donor? Were the sisters released because Jamie has kidney problems or were they released because they'd served enough time and/or the punishment didn't fit the crime? Seems to me that the governor didn't want to make too bold of a statement so he just came up with this ridiculous..."give her your kidney and y'all can go". I just don't get the thinking behind that.

Author

Queen601

Date

2011-02-28T16:23:30-06:00
ID

162340

Comment

Wasn't a condition of their release that they never return to Mississipp? I seem to remember hearing that. Why weren't they arrested and returned to jail when Lumumba paraded them out at that trial last week?

Author

BubbaT

Date

2011-02-28T18:02:57-06:00
ID

162352

Comment

The fact of the matter here is that no governor has the authority to order one human being to give a body part to another as a condition of prison release. Haley didn't say anything about Jamie and Gladys having their "feet on MS soil" because he is trying to clean up his act for a run for President. He knows that this is a hot issue that has gone viral and you can't un-ring this bell. For the blogger who seems upset about the possibility of a full pardon for these two women, I suggest you call Barbour and ask him about his pardon of those five murderers. Please report back to this link his answer. Can anyone say, "stealing $11.00 vs Taking A person's life?" Just asking!

Author

justjess

Date

2011-03-01T10:31:01-06:00
ID

162355

Comment

Just answering. Armed robbery is armed robbery no matter if they stole $11 or $11 million still carries the same sentence.

Author

BubbaT

Date

2011-03-01T12:19:02-06:00
ID

162357

Comment

Bubba and others: Please see Ward's cover story on the Scott Sisters for more context. I will also add it to the above story

Author

DonnaLadd

Date

2011-03-01T14:15:11-06:00
ID

162358

Comment

Donna, read that, when it was first posted. Still doesn't change the fact the amount of money stolen is irrelevant.

Author

BubbaT

Date

2011-03-01T15:11:52-06:00
ID

162359

Comment

"Armed robbery is armed robbery no matter if they stole $11 or $11 million still carries the same sentence." Bubba - morally, I can't argue with that point - just like someone killing another person over a case of beer and I took a hardline stance with the owner, because I felt like if the guy wasn't stealing the beer in the first place - he would still be alive right now, so I really can't stray too far from your argument on this - however, their are people who have embezzled $11,000,000 and served less time than the Scott Sistsers for the $11 they attempted to get, where no one was even hurt in the progress. The time they served was very extreme and to me really didn't fit the crime and the judge went ape wire with the sentencing, albeit he has the authority, but damn let's be realistic - oh I forgot, I'm speaking in logic. With that said, it was a burden on the state of Mississippi to keep those women in prison any longer, when they (in my honest opinion) could have served 5 years of hard time, possibly committed 5 years of community service and payout $5,000 in restitution cost to the victims. There are so many varying cases of prison sentences, whether its murder, drug related offenses (violent and non-violent) where most of your long term drug offenders are not even the real distributors, child molesters, rapists, drunk drivers, racketering, falsification of medical prescriptions (oh yes, its very real), etc. etc. People look at the small picture and not the picture in cases like the Scott Sisters and if you are a tax payer thats upset about where the money is going, you would want the Scott Sisters out as well.

Author

Duan C.

Date

2011-03-01T15:30:27-06:00
ID

162360

Comment

Still doesn't change the fact the amount of money stolen is irrelevant. I didn't say it is. I actually agree with that point. Ward has pointed out that national media keep acting as if "only" 11 was stolen when no one seems to know the exact amount. That is not what is relevant. Whether the sentence fits the crime, and the evidence, is the larger question -- as well as how it compares to people being released and pardoned for much more heinous crimes.

Author

DonnaLadd

Date

2011-03-01T15:42:29-06:00
ID

162361

Comment

Duan-I don't disagree with anyone that their sentence was extremely harsh,I didn't know armed robbery carried a life sentence. I would have figured it would have been 5 to 15yrs a the most. Like you I think 5yrs time and 5 probation would have been more in line with the crime. As for your example of people embezzling $11,000 getting less time, well they should, look at the 2 crimes, embezzling which could be nothing more than changing numbers on deposit slips and armed robbery where a weapon is used to rob someone and there's a big change someone could be hurt. Big difference in my opinion and should have sentences anywhere near the same. Just gets old to hear "they only stole $11" everytime the Scott Sister's names are mentioned when the amount is meaningless. I remember disagreeing with you on the store owner shooting the guy stealing the beer. Grabbing a case of beer and running the man was no threat, the store owner had no reason to think his life was in danager to use deadly force and shouldn't have shot him. I am all for someone defending their life, but shooting someone over a case of beer that's going way overboard.

Author

BubbaT

Date

2011-03-01T16:36:51-06:00
ID

162366

Comment

BubbaT and others, were the Scott Sisters armed? Maybe I'm missing something, but, from all of the reports I've read, the two of them did not have weapons. Also, weren't they teenagers and could have been tried in juvinal court rather than as adults? Remember George Bush stole a wreath and absolutely nothing of this magnitude was done. He became president of the United States. It remains my opinion that the punishment was entirely too harsh for the crime. The two guys involved gave testimony that the two sisters did not steal the money; they did.

Author

justjess

Date

2011-03-02T09:23:18-06:00
ID

162370

Comment

I agree the punishment didn't fit the crime. But the fact remains they are still criminals and so no, they shouldn't be pardoned unless there's evidence they didn't commit the crime. A jury found them guilty. Done. I can't wrap my head around the fact that certain people in Jackson are making the sisters out to be some sort of heroes. I've a very close black friend - not a token black friend - who is an officer with JPD and we both agree on this. He's as dumbfounded about the "hero" treatment as I am.

Author

LambdaRisen

Date

2011-03-02T12:26:31-06:00
ID

162371

Comment

Jess- They didn't have to be armed to be charged with armed robbery only participate in the robbery where someone else did use a weapon. If the boys had shot and killed the victims, they would have been charged with murder even though they didn't do it. They were part of it,so they got charge with armed robbery. I guess they were charge as adults because there was a weapon involved. Yes Bush was arrested and for charged with disorderly conduct for taking the wreath, a misdemeanor,the Scott sisters were charged with armed robbery a felony. Surely you can see the difference.

Author

BubbaT

Date

2011-03-02T13:02:51-06:00
ID

162373

Comment

Lambda, Juries convict lots of innocent people, as evidenced by the hundreds who have won exonerations through the work of the Innocence Project. The issue is that the sisters punishment did not fit the crime, as you pointed out. No one is making them out to be heroes on this website that I can tell, but they've done their time. If you haven't read Ward Schaefer's cover story on the case, I highly recommend it. Certainly their trial leaves a lot of doubt in the minds of many as to their actual role in the crime. And lots of people receive pardons for their crimes ... even Richard Nixon.

Author

Ronni_Mott

Date

2011-03-02T17:35:59-06:00
ID

162379

Comment

Ronni, just because lots of people receive pardons for their crimes doesn't mean they should. A crime is a crime and makes a criminal a criminal. Based on the logic in this thread about criminals and convictions, we should just pardon everyone in prisons and jails because they all say they didn't do it, whatever it was that got them there. Again, the punishment didn't fit the crime but they are still criminals and while no one on this web site - that I've seen - is making them out to be heroes, Lumumba and the NAACP are working overtime on it. I've seen the histrionics being played out on the local TV news.

Author

LambdaRisen

Date

2011-03-03T04:25:46-06:00
More like this story
More stories by this author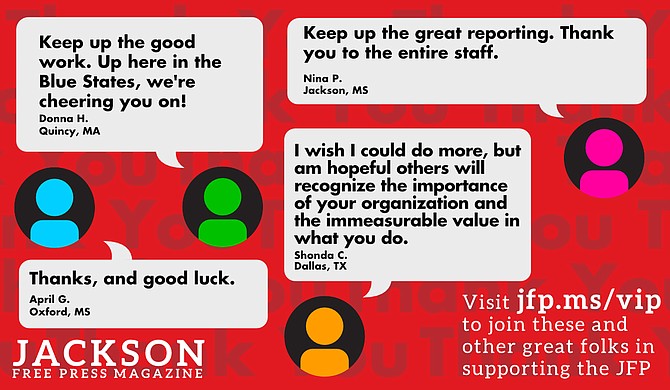 Thanks to all our new JFP VIPs!
COVID-19 has closed down the main sources of the JFP's revenue -- concerts, festivals, fundraisers, restaurants and bars. If everyone reading this article gives $5 or more, we should be able to continue publishing through the crisis. Please pay what you can to keep us reporting and publishing.