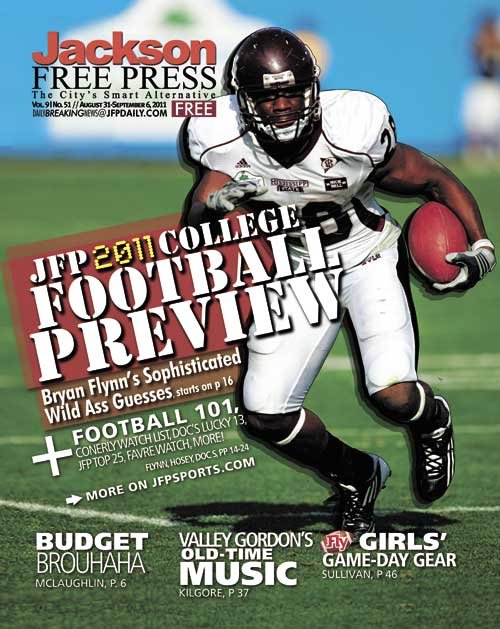 Before Sept. 1, every college football fan anticipates the new season with hope and optimism. No matter what any publication says, these diehard fans believe their team will beat the odds and have a great season.
Several factors go into trying to predict how a college football season will turn out. Some factors can be calculated with ease, like returning starters, coaching and the schedule. Other factors are harder to figure out, like injuries and unknowns at quarterback. When considering an upcoming season, take what you know and make a best guess on the unknown—just throw it against the wall (or notepad) to see what sticks.
Even using the most scientific approaches, it is all just a best guess. The sense of pride, as a sportswriter, comes from getting it close or right.
So here are my scientific/best guess previews and predictions for the 2011-12 college football season. Feel free to bang on me for being wrong. I enjoy it. Really, I do. Hit me with your best shot. You can yell at me at the Sports Blog, on Facebook or on Twitter @jfpsports.
(If your favorite team is not from Mississippi, check out http://www.jfpsports.com for a preview and prediction for every FCS conference.)
SOUTHERN MISS
University of Southern Mississippi Golden Eagles
Head Coach: Larry Fedora (fourth season: 22-17 overall 14-10 C-USA)
2010-11 season: 8-5 (5-3 C-USA) Loss in the Beef O'Brady's Bowl
Stadium: M.M. Roberts Stadium, Hattiesburg
Radio: 105.1 FM
USM has had 17 straight winning seasons—only Virginia Tech, Florida State and Florida have had more—and has gone to a bowl game in 13 of the last 14 seasons. While USM has been the model of consistent winning in Mississippi, C-USA titles, on the other hand, have eluded the team.
The Golden Eagles' last conference title came in 2003. USM has not won the C-USA overall championship since the conference split into two divisions in 2005. The only time the program has even reached the championship game was in 2006 and ended with a loss to Houston.
Last season, South Carolina blew out USM in its opening games, but the team's other four losses were by a combined 11 points. The Golden Eagle offense put up 36.8 points per game, but the defense gave up 29.5 points per game. Three of the USM losses were in shootouts against East Carolina (44-43), UAB (50-49) and Tulsa (56-50). A combined eight points kept the Golden Eagles from having a perfect conference record.
For the 2011-12 season to be a success, the offense must keep playing at a high level, and the defense has to make more stops to put the Golden Eagles on their way to a special season. This season USM has a favorable schedule in conference getting two of the better teams, SMU and UCF at home. Road trips to East Carolina, UTEP and UAB will pose a challenge.
Watch quarterback Austin Davis this season. When he finishes up his career, he should own just about every QB record in school history—passing Brett Favre.
Outlook: The schedule provides a chance for USM to go undefeated this season but, as any USM fan knows, this team will find a way to lose at least two games it shouldn't. Virginia and Navy fit the bill in 2011.
Prediction: 10-2 with a trip to the C-USA title game
Schedule: (tentative TV games and network in bold) Sept. 3, Louisiana Tech (Fox Sports Network); Sept. 10, at Marshall (CSS); Sept. 17, Southeastern Louisiana; Sept 24, at Virginia; Oct. 1, Rice (CSS); Oct. 8, at Navy (CBS Sports Network); Oct. 22 SMU (CBSSN); Oct. 29, at UTEP (CBSSN); Nov. 5, at East Carolina (CSS); Nov. 12, UCF (CBSSN); Nov. 17, at UAB (CBSSN); Nov. 26, Memphis (CSS)
MISSISSIPPI STATE
Mississippi State Bulldogs
Head Coach: Dan Mullen (third season: 14-11 overall, 7-9 SEC)
2010-11 season: 9-4 (4-4 SEC) win in Gator Bowl, final rank: 17th in coaches' poll, 15th in AP Poll
Stadium: Davis Wade Stadium at Scott Field, Starkville
Radio: 105.9 FM
Hopes are high in Starkville after a Gator Bowl victory over Michigan and a nine-win season. The Bulldogs ranked in both the coaches' and AP polls for the first time since 2000.
The biggest test of Dan Mullen's first three years as MSU head coach now comes into play: maintaining the success from last season. Last time the Bulldogs made a bowl game and finished with a winning record was 2007 under Sylvester Croom.
The next season MSU took a step backward, and Croom was shown the door, replaced by Mullen. Bulldog fans do not want to take a similar step back this season.
The Bulldogs need to find answers for three questions if this season is going to mirror last season's success:
First, can MSU rebuild the offensive line? MSU is missing Derek Sherrod and J.C. Brignone from an offensive line that only allowed 23 sacks and helped this team finish 16th in rushing in the country.
Second, will the Bulldogs find replacements for Chris White, K.J. Wright and Pernell McPhee at linebacker and defensive end? MSU finished with a defense that only allowed 19.8 points per game for a 19th ranking.
Finally, will QB Chris Relf develop even more as a passer? The Bulldogs' success this season will depend on Relf's passing game. Last season, MSU was 86th in the country with just 186.5 passing yards per game.
MSU has a manageable schedule with a huge game at home looming against LSU in the third game of the season.
The Bulldogs also have the defending SEC East champions, South Carolina and Alabama at home.
Trips to Georgia and Arkansas will be the only major road tests this season. Sorry, Auburn fans, but expect a big fall.
Outlook: MSU has the chance to be a dark horse in the race for the SEC West title. The talent is there, but they cannot overlook any team on their schedule. A second trip to a bowl game should be a lock this season.
Prediction: 8-4 with a return trip to a bowl game
Schedule: (tentative TV games and networks in bold) Sept. 1, at Memphis (Fox Sports Network); Sept. 10, at Auburn (SEC Network); Sept. 15, LSU (ESPN); Sept. 24, Louisiana Tech; Oct. 1, at Georgia; Oct. 8, at UAB (FSN); Oct. 15, South Carolina; Oct. 29, at Kentucky; Nov. 5, UT Martin; Nov. 12, Alabama; Nov. 19, at Arkansas; Nov. 26, Mississippi
JACKSON STATE
Jackson State University Tigers
Head Coach: Rick Comegy (fifth season: 32-24 at JSU, 140-72 overall)
2010-11 season: 8-3 tied for first place in SWAC East
Stadium: Mississippi Veterans Memorial Stadium
Radio: 1300 AM
Jackson State suffered its first losing season under head coach Rick Comegy in 2009 but bounced back in 2010, finishing in a tie for first place in the East division. If not for a two-point loss to Alabama A&M, JSU would have been in the SWAC title game.
Hopes were high heading into this season, until the NCAA and the SWAC laid the smackdown on the Tigers. Because of a low APR, a method used by the NCAA for graduation rates, JSU was banned from playing in the SWAC title game.
The postseason ban hurts even more this season because JSU will be celebrating its 100th year of football. Now Comegy has to find a way to keep his team focused with the players knowing they have nothing to play for at the end of season.
Teams banned from post-season play seem to either fall apart early and never get on track or deliver a big f-you to the rest of the league and run the table. JSU lost its three games by a combined 13 points.
Even if the Tigers cannot play in the SWAC title game, fans can still come out and see star quarterback Casey Therriault. A lot was made about Therriault's journey to JSU last season but, besides his past, the kid proved he can play.
Therriault assaulted the single-season records at JSU and gets a second chance to do the same this season. Another reason to watch Therriault is to see how many NFL scouts make their way to JSU to get a look at him in person.
Outlook: Comegy has his hands full and, with a possible expulsion from the NCAA next season, fans will be watching his every move. There are already rumblings that Comegy should go. A winning season soothes every angry fan base. A losing one and it is bye, bye Comegy.
Prediction: 8-3, very shaky prediction with the title game ban
Schedule: (tentative TV games and networks in bold) Sept. 3, Concordia College; Sept 10, Tennessee State (Fox Sports South); Sept. 17, at Southern University; Sept. 24, Alabama State; Sept. 29, Texas Southern (ESPN U); Oct. 8, Arkansas-Pine Bluff; Oct. 15, at Mississippi Valley State; Oct. 29, at Prairie View A&M; Nov. 5, Grambling State; Nov. 12, at Alabama A&M; Nov. 19, Alcorn State
OLE MISS
University of Mississippi Black Bears
Head Coach: Houston Nutt (fourth season: 22-16 overall, 10-14 SEC/ 19th overall season: 133-86)
2010-11 season: 4-8 (1-7 SEC)
Stadium: Vaught-Hemingway Stadium
Radio: 97.3 FM
Houston Nutt's tenure in Oxford started out with a bang, overachieving to reach the Cotton Bowl in 2008 and underachieving to reach the Cotton Bowl in 2009. Last season the wheels came off the track for Ole Miss.
How quickly did things go sideways in 2010 for the, er, Bears? Mississippi blew a big lead in the second half against Jacksonville State and lost in double overtime.
Nutt went after ex-Oregon quarterback Jeremiah Masoli in the offseason after Jevan Snead left early for the NFL. Snead leaving early was one of the worst mistakes made by a Mississippi football player until this past year when DeAndre Brown left USM early.
The Black Bears managed to defeat only Kentucky in SEC play, and for the second year in a row, in-state rivals MSU spanked them in the Egg Bowl. Nutt is now 1-2 against the Bulldogs and will keep hearing the TSUN reference from MSU fans until he beats them.
This season begins with unknowns at quarterback once more. Masoli is gone, and his backup Nathan Stanley has transferred. Nutt now brings in another transfer to compete for the starting job. Randall Mackey and Zach Stoudt will battle Barry Brunetti, from West Virginia, for the right to start under center.
Expectations for Ole Miss are low this season after its painful-to-watch 2010-11 campaign. Mississippi will face a tough test early in the season opener against BYU at home.  
The Black Bears do have one thing in their favor this season. Just like facing BYU at home, Mississippi gets Georgia, Alabama, Arkansas and LSU in Oxford.
While the Bears might not win the SEC West, a home schedule like theirs means they will be deciding factor in the race. Mississippi's bowl hopes might come down to road games against Fresno State, Auburn, Kentucky and MSU.
Outlook: Pulling out a winning season will be tough for the Bears. Just about every team on their schedule will be improved this season, and they play a couple of tough non-conference games. Finishing 6-6 would be an achievement. Would a losing record cost Nutt his job?
Prediction: 5-7, at home for a second straight year for the holidays
Schedule: (tentative TV games and networks in bold) Sept. 3, BYU (ESPN); Sept. 10, Southern Illinois; Sept. 17, at Vanderbilt (SEC Network); Sept. 24, Georgia; Oct. 1, at Fresno State (ESPN2); Oct. 15, Alabama; Oct. 22, Arkansas; Oct. 29, at Auburn, Nov. 5, at Kentucky; Nov. 12, Louisiana Tech; Nov. 19, LSU; Nov. 26, MSU
ALCORN STATE
Alcorn State Braves
Head Coach: Melvin Spears (first season 0-0, overall 20-14 at Grambling State)
2010-11 season: 5-6 (4-5 SWAC) third place in the SWAC East
Stadium: Jack Spinks Stadium, Lorman
Radio: 90.1 FM
Former coach Earnest Collins left Alcorn State to take over at his alma mater Northern Colorado after last season. The Braves turned to one of their former players when they brought in Melvin Spears. Spears will retool the defense and rely on his offense to carry the load early. It helps to have quarterback Brandon "Air Canada" Bridge back under center.
Outlook: Alcorn State can compete for the East title. The Braves have a manageable schedule but the defense has to come together quickly.
Prediction: 7-3
Schedule: Sept. 3, Grambling State, Sept. 10, at Arkansas-Pine Bluff; Sept. 17, Mississippi Valley State; Sept. 24, at Texas Southern; Oct. 1, at Alabama State; Oct. 22, Concordia College; Oct. 29, at Southern University; Nov. 5, Alabama A&M; Nov.12, Prairie View A&M; Nov. 19, at Jackson State
MISSISSIPPI VALLEY STATE UNIVERSITY
MVSU Delta Devils
Head Coach: Karl Morgan (second season: 0-10)
2010-11 season: 0-10 last place in SWAC East
Stadium: Rice-Totten Stadium, Itta Bena
After last year's 0-10 debacle where every game was played basically on the road, there is nowhere to go but up for Valley. The Delta Devils will be back at home this season and looking for their first win since 2009.
Outlook: The Delta Devils have not tasted victory since their win over Lincoln (MO) on Nov. 14, 2009. Just on odds alone you have to believe MVSU will notch a win somewhere.
Prediction: 2-8
Schedule: Sept. 3, Alabama State; Sept. 10, Murray State; Sept. 17, at Alcorn State; Sept. 24, at Prairie View A&M; Oct. 1, Southern University; Oct. 8, at Alabama A&M; Oct. 15, Jackson State; Oct. 22, at Grambling State; Oct. 29, Texas Southern; Nov. 3, at South Alabama; Nov. 12, Arkansas-Pine Bluff
DELTA STATE UNIVERSITY
Delta State Statesmen
Head Coach: Ron Roberts (36-16)
2010-11 season: 11-4, season ended with a loss in Division II Championship Game
Stadium: Travis Parker Field, Cleveland
Radio: 930 AM
Delta State made the most of its playoff appearance last season playing in the DII for the second time in program history. The Statesmen fell to Minnesota Duluth 20-17 in the championship game. The Gulf South Conference coaches named Delta State as the preseason favorites. Other favorites are North Alabama and Valdosta State.
Outlook: If MVSU has nowhere to go but up, Delta State might have nowhere to go but down. The Fighting Okra get conference-favorite Valdosta State at home but travels to face North Alabama.
Prediction: 9-2
Schedule: Aug. 28, Elizabeth City State University; Sept. 1, Northwestern State University; Sept. 10, at Fort Valley State University; Sept. 17, at Arkansas Tech University; Sept. 24, at Henderson State University; Oct. 1, Ouachita Baptist University; Oct. 6, University of Arkansas-Monticello; Oct. 13, at North Alabama; Oct. 22, Valdosta State; Nov. 5, West Alabama; Nov. 12, at West Georgia
MISSISSIPPI COLLEGE
MSC Choctaws
Head Coach: Norman Joseph (seventh season: 33-29 at MC/54-49 11th season overall)
2010-11 season: 4-6 7th place in American Southwest Conference
Stadium: Robinson-Hale Stadium, Clinton
Radio: Online at http://www.gochoctaws.com
Mississippi College hoped to build up the success of the 2009-10 season last year, but injuries derailed its hopes. The Choctaws were really behind the eight ball once running back Steven Knight went down with an injury. MC returns seven starters on offense and eight starters on defense. The biggest returning starter is Knight, who was named to the first team offense by DII.com.
Outlook: The Choctaws get two of the top three preseason American Southwest Conference teams at home. If MC hopes to turn around after a disappointing season, they must hold serve at home.
Prediction: 5-5
Schedule: Sept. 3, Millsaps; Sept. 10, at Belhaven; Sept. 17, Hardin-Simmons; Sept. 24, at Louisiana College; Oct. 8, Mary Hardin-Baylor; Oct. 15, at East Texas Baptist; Oct. 22, Howard Payne; Oct. 29, at Sul Ross State; Nov. 5, Texas Lutheran; Nov. 12, at McMurry
MILLSAPS COLLEGE
Millsaps Majors
Head Coach: Aaron Pelch (second season: 7-3)
2010-11 season: 7-3, 2nd place finish in the Southern Collegiate Athletic Conference
Stadium: Harper Davis Field
Radio: Online at http://www.gomajors.com
The Aaron Pelch era at Millsaps got off to a solid start. The Majors started slowly but reeled off five wins to end the season. Millsaps will have a chance to repeat its success this season. Quarterback Garrett Pinciotti returns after a full season as a starter. This team also has D3.com preseason first team running back Shane Bowser to help the offense.
Outlook: Millsaps has a chance to win the SCAC title this season. It would be interesting if the Majors did win as this is their last season in the SCAC. One thing in Millsaps favor is that their lone conference loss to DePauw University falls off the schedule.
Prediction: 8-2
Schedule: Sept. 3, at Mississippi College; Sept 10, LaGrange College; Sept. 17, at Louisiana College; Sept. 24, Trinity University; Oct. 1, at Sewanee; Oct. 8, at Austin College; Oct. 15, Rhodes College; Oct. 29, Centre College; Nov. 5, at Tarleton State; Nov. 12, Birmingham-Southern College
BELHAVEN UNIVERISTY
Belhaven Blazers
Head Coach: Joseph Thrasher (third season: 10-14/ overall 25-30)
2010-11 season: 4-7 seventh place west division of the Mid-South Conference
Stadium: H.T. Newell Field
Radio: Online at htp://www.blazers.belhaven.edu
Belhaven struggled in 2010 because of a tough schedule that was made tougher by injuries. The Blazers went 1-5 in conference play. Their only Mid-South conference win came against University of the Cumberlands (Ky.), a strange win because Cumberlands won the West division title.
In the coaches' preseason poll, Belhaven was picked to finish seventh in the West division once again. The defense should be a strength with linebacker Ricky Wadlington returning for his senior season. Wadlington was selected to the All-West Division team and Player of the year. Victory Sports Network named Wadlington a "Super Six" player and top NAIA linebacker.
Outlook: Belhaven is listed as the 35th best NAIA school in the Victory Sports Network Preseason Poll. Half the teams in the Blazers division are ranked ahead of them. If preseason polls are to be trusted (and they aren't to be trusted) Belhaven has a chance at a .500 conference record.
Prediction: 5-7
Schedule: Aug. 27, Texas College; Sept. 3, at Louisiana College; Sept. 10, Mississippi College; Sept. 17, at Lindsey Wilson College; Oct. 1, at Bethel University; Oct. 8, Faulkner University; Oct. 15, at Shorter University; Oct. 22, Union College; Oct. 29, at University of the Cumberlands; Nov. 5, Cumberland University; Nov. 12, Georgetown College
Previous Comments
ID

164801

Comment

Bryan- It's the University of Mississippi Rebels or Ole Miss Rebels, please get it right. Do you not realize how juvenile it looks for you to use black bears, when that's not the name of the Ole Miss sports teams? You sound like the redneck State fans that post on the C-L.

Author

BubbaT

Date

2011-08-31T19:13:41-06:00
ID

164804

Comment

Bubba T, Why don't y'all figure out what your going to be and then get back to me. Either be the Rebels or the Black Bears. If you don't like being called the Black Bears, go call the university. It is their mess. In fact, Bubba if it bothers you so badly to be a Black Bear, you can always switch teams. Something like a Bulldog, Golden Eagle, or Tiger might suit you better.

Author

Bryan Flynn

Date

2011-09-01T08:54:49-06:00
ID

164805

Comment

It'll be OK, Bubba. It's just a sports mascot.

Author

DonnaLadd

Date

2011-09-01T08:58:33-06:00
ID

164806

Comment

Oh, and Bubba, knowing Bryan, if Mississippi State doesn't deliver quickly, he'll be calling them the "Mississippi State Bullies" in no time. He's an equal-opportunity sports curmudgeon. Because, you know, it's sports. Lighten up a bit and let's have some fun.

Author

DonnaLadd

Date

2011-09-01T09:44:36-06:00
ID

164808

Comment

I just don't get the crying over a mascot? As superstitious as some fans are, you should want to change the damn mascot to an animal! Hell I'm a Cleveland Indians fan and look how long its been since we won something? That Image of Chief Wahoo is so degrading, they need to change the mascots expression at least - it worked for the Redskins? Look at the Tampa Bay Rays? When they were the Devil Rays they couldn't win shinola? Now they're competing with the yankess and red sox. In college football for the last 5 years, it been nothing but Gators, Tigers, Elephants and Cattle winning national titles in football! Then when one did have a human mascot (Trojans) - they were cheating and it doesn't even officially count anymore! Hell look at a Bear, their tough as nails, maul anything that messes with it and if its a group of'em they can pretty much beat anything? Embrace the change - it was done for very very very very good reason.

Author

Duan C.

Date

2011-09-01T11:34:25-06:00
ID

164813

Comment

I expect the Ole Miss Bears to lose every game this year.

Author

Walt

Date

2011-09-01T15:32:24-06:00
ID

164815

Comment

Bryan- We figured out what the team name was in 1937 is it the Rebels. Oh and we have complained to the school, just got 2 idiots up there who won't listen to them. Donna- Lighten up? It's college football, it's serious business. :) Duan- It's because how it was done,forced upon the students,alumni and fans. And there was no reason to change it. Walt- We will see. I think they are better than most people think.

Author

BubbaT

Date

2011-09-01T16:07:07-06:00
ID

164826

Comment

As a sportsologist who's done a few of these things, I think this year's JFP College Football Preview issue is the best ever. From the gutsy and brilliant feature on Rick Cleveland to Donna's column to the great previews with all the trimmings, Dr. S enjoyed it all. Bryan: Best. SWAGs. Ever. Keep up the great work. The only thing missing was my traditional critique of USM's "ugly-ass all-black uniforms." Oh well, wait til next year.

Author

Dr. S

Date

2011-09-02T17:34:14-06:00
ID

164845

Comment

Coming from you Dr. S, that is the best complement that I can be given. Taking over from a legend to try to start my own. Thank you Dr. S, the classiest sportsologist I know.

Author

Bryan Flynn

Date

2011-09-05T19:34:04-06:00
More stories by this author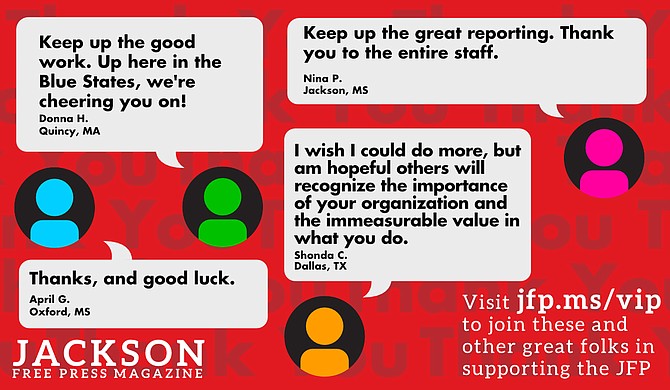 Thanks to all our new JFP VIPs!
COVID-19 has closed down the main sources of the JFP's revenue -- concerts, festivals, fundraisers, restaurants and bars. If everyone reading this article gives $5 or more, we should be able to continue publishing through the crisis. Please pay what you can to keep us reporting and publishing.