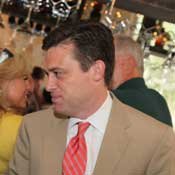 When it comes to their platforms, there aren't many differences between the Republican candidates for the state senate's district 25. Will Longwitz, a Madison attorney, and Charles Barbour, a businessman and former Hinds County supervisor (and nephew of Gov. Haley Barbour), both preach limited government and fiscal responsibility, and both share conservative values. Perhaps that's why the District 25 race has been an endless political tug-of-war between the candidates as they try to gain votes in this close race. Whoever wins the Republican runoff election Aug. 23 will face Democrat Cecilia Sampayo in the Nov. 8 general election.
Charles Barbour
Charles Barbour, 48, is a Yazoo City native who graduated from Ole Miss in 1984 with a bachelor's degree in public administration. From age 17, he has spent most of his adult life as a member of the National Guard. He retired from the Guard in 2007.
Barbour won a seat on the Hinds County Board of Supervisors in 1999 and spent two terms on the board before choosing not to run in the last election. In February, Barbour announced that he would run as a Republican for the Public Service Commission in Mississippi's central district. He withdrew his name, however, and decided to run for the state Senate instead. In 2007, FBI agents raided the Mississippi office of Alcatec LLC, owned by Barbour's wife, and Guatemalan native, Rosemary. The company received $28 million from the Federal Emergency Management Agency to maintain trailers for displaced residents after Hurricane Katrina.
He currently owns El Dorado Properties, a real estate company in Jackson.
Why did you switch from PSC to the Senate race?
When I thought about running for PSC, this Senate seat was not open. Walter Michel announced his retirement for the Senate. The deadline for PSC, county supervisor and governor was March 1. The signup deadline for the Senate and House was June 1. It was during that time--between the two--when Walter announced his retirement.
Why do you want to run for Senate?
The state of Mississippi has a looming budget problem. I am the only candidate in this race who has ever managed large amounts of public dollars. I am the only candidate who has had to make large budget decisions in a government agency. The state budget has to be kept under control. ... I am the only candidate who has ever had to vote on a tax increase or fund schools.
What separates you from your opponent?
I am the only candidate with any kind of military background. I am the only candidate who has owned a small business. I owned a dry cleaners and rental property. I am responsible for signing the front of paychecks and not just the back. ... As a Hinds County supervisor, Hinds County operated with a budget surplus every year. In fact, Hinds County's bond rating is AAA. I managed to do this in a county with a declining tax base. I'm sorry to say Hinds County isn't in the type of financial condition it was when I was on the board.
Why is that?
The short answer is because I said no to people, and they don't say no anymore, I don't believe. You'd have to ask them why they don't pay their bills now.
I get the whole fiscal responsibility thing, but when it comes to funding education and social services, how do you decide how to tighten your belt?
I had to make these decisions as a supervisor. I have a lot of support in the school districts from what I did as a county supervisor. Even though you don't have much money, you can still do things to make the schools better. I would like to offer this analogy: Jackson Public Schools spends (more than) $9,000 per pupil. Madison County Schools spends (more than) $8,000 per pupil. Logic dictates that if Jackson is spending more, it should be getting more. It doesn't appear to a reasonable person that you get a better education in JPS than Madison. It's not about money, totally. You have to have money to operate the schools, but you also have to have accountability.
Whatever came of the federal raid to your 
wife's business?
You might want to speak to her attorney. She has never been charged, she has never been indicted and has never gone before a grand jury. What does that tell you? There was nothing there to begin with except petty jealousy.
Will Longwitz
Will Longwitz, 38, is a Quitman native who received a bachelor's degree in government and English from Georgetown University in Washington, D.C., in 1995 and his law degree from Ole Miss in 2003. He started his career working as an aid for former Oklahoma Republican U.S. Rep. J.C. Watts. He was an attorney at the U.S. Commodity Futures Trading Commission. Longwitz ran for Madison County judge last year but lost to Steve Ratcliff. He runs a private law firm in Madison.
Why do you want to run for senator?
I want to follow in Walter Michel's footsteps. My primary motivation in deciding run for this seat is because I think I can be an effective leader on improving economy and education in Mississippi. The first thing that we will have to address in the Legislature is redistricting, and I want to make sure people of District 25 get a fair shake in the redistricting fight.
What are some specific things you want to do to improve the economy and education?
The first thing we need to do in terms of the economy is to develop Mississippi's reputation as the most job-friendly state in the country. There are examples of states that have had progress even in these tough economic times--Texas being one of them.
What about education?
My mother was a career public-school teacher. My grandmother was a career public-school teacher. I am a product of Mississippi public schools. I know that good schools are imperative to our children's future, but they also have an effect on property value and the quality of life. We have to fund our schools and reduce costs wherever possible, but focus on every step of the way on the results we have for our kids.
If you are elected, will you fully fund education?
I want us to put every dollar that we possibly can to education and measure where every one of those dollars goes. I want to give teachers more freedom to do what they do best, and that is to teach and mentor our children. I want them to be rewarded for results. We can't simply measure our dedication to education by how much money we pour into it, but we have to follow the results we are getting with the money spent.
I've heard that you and your opponent have had a lot of personal attacks during this race.
I have run a positive campaign that is focused on my ideas, and my opponent needs to explain his voting record. I'm focusing on job creation, education and keeping taxes low. My opponent would rather make personal attacks and fabricate controversies against me. ... I believe that if you are swinging dirt, then you are losing ground.
Why has this been such a coveted race?
It is such a prominent seat. It covers a high population area of the state. It's a highly visible district. When you have a prominent district like this, it places a burden of leadership on whoever holds this seat. People know in their hearts that candidates will govern the way they campaign.
What did you learn from running for judge?
You learn how to discipline yourself and organize supporters, but the main thing I learned is just how precious and valuable the democratic process is. It doesn't just arrive at our doorstep every day. It takes many people who give their time and talent to make sure good honest people get elected.
More stories by this author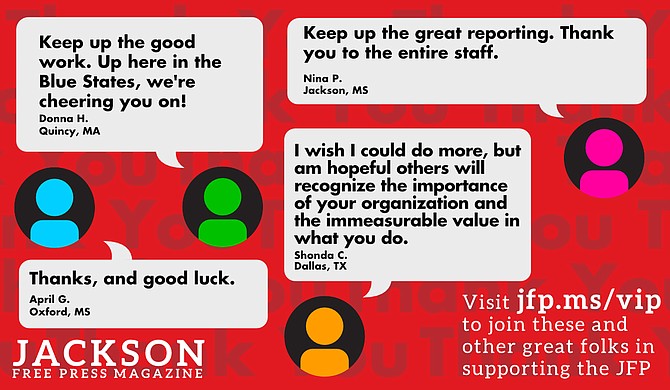 Thanks to all our new JFP VIPs!
COVID-19 has closed down the main sources of the JFP's revenue -- concerts, festivals, fundraisers, restaurants and bars. If everyone reading this article gives $5 or more, we should be able to continue publishing through the crisis. Please pay what you can to keep us reporting and publishing.