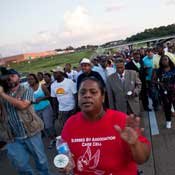 Community organizers and leaders see the Aug. 14 vigil for James Craig Anderson as the first step toward community healing and racial reconciliation.
During the vigil, more than 500 community leaders, families and public officials from various faiths held candles and sang gospel songs as they walked in unison along Ellis Avenue to the Metro Inn where a white teenager allegedly murdered Anderson June 26.
West Jackson resident Cassandra Welchlin and her husband, Kass Welchlin, stood side-by-side at the vigil with their daughter Zia Brooke Welchlin wearing red shirts with the slogan "Not in My City." Cassandra, who is a member of west Jackson's Capital Neighborhood Association, started making shirts and organizing the vigil last week. She said the slogan caught on quickly and other community members made their own shirts to wear.
Welchlin said she has attended several meetings with concerned citizens over the past week and is planning to host education forums to promote racial justice.
"We are talking about having some kind of dialogue within communities about racial justice—what that looks like and what it means," she said.
The NAACP and leaders from local congregations including New Horizon Church, Hundred Clergymen of Hinds, Beth Israel Congregation and Pinelake Church organized last Sunday's candlelight vigil after a surveillance video went public last week showing the attack of James Craig Anderson. Hinds County District Attorney Robert Shuler Smith has deemed Anderson's murder a racially motivated hate crime.
Brandon High School student Deryl Dedmon, 18, accused of driving the pick-up truck that hit Anderson, is charged with murder and remains in jail. John Aaron Rice, also 18, was originally charged with murder but now faces a lesser charge of simple assault and is free on bond. Authorities reported that a group of teens may have been involved with the incident, but no others have been charged at this time.
The Associated Press reported Aug. 13 that Rice's attorney, Samuel Martin, claims his client had no plans that night to attack a black man. Last month, JPD Det. Eric Smith testified that a black man had robbed Dedmon weeks before the attack and that the teen was looking for revenge.
It is unclear what happened before the attack. Defense attorneys claim that the teens came to Jackson with the intention of buying alcohol and that Rice was trying to help Anderson who was locked out of his car. When Dedmon arrived, they claim that's when an altercation took place.
During Sunday's vigil, organizers placed a wreath and candles at the site of Anderson's murder as a memorial.
"We are here to unify and to share openness and to teach ourselves and our children and everyone out there that there is a better way to live, and love is a better way to live," Beth Israel Rabbi Valerie Cohen said as attendees lit their candles. "We are here to get beyond hatred."
Madison resident Suzanne Freedman, who is a member of Beth Israel, brought her 5-year-old daughter and 7-year-old son to the vigil. She said the tragedy has given her an opportunity to teach them about racial injustice.
Vigil attendee Marcelina Singleton, a Vicksburg resident, said she was shocked when she saw the surveillance video on CNN last week.
"It could have been anyone," she said. "You would think we are above this, but I guess we are not."
Jordan Richardson, a senior at Brandon High School, went to school with Dedmon and said that he was a victim of Dedmon's bullying. "I knew the hate that he had in his heart for people who were not like him," Richardson said. "Deryl bullied and terrorized me my freshman year. He would never do it by himself. ... I just felt that it could have been me in that casket instead of (James) Craig Anderson. But this is a great day for the community to come together, black and white." He fears this incident will scar Brandon.
Winston Thompson, an attorney for the Anderson family, called on community members to donate to the James Craig Anderson Foundation for Racial Tolerance. The foundation wii help promote racial unity, understanding and healing in Hinds, Madison and Rankin counties and "the United States as a whole," he said.
Send donations to the James Craig Anderson Foundation for Racial Tolerance to The Cochran Firm, 162 Amite St., Jackson, 39201, or call 601-812-1000.
Previous Comments
ID

164627

Comment

I think the next step is truth and reconciliation. The article on the educational platforms of the gubernatorial candidates is revealing. There isn't enough political will to prioritize education as the best investment area for progress in this state. Mainly because the people who would benefit the most from public education reform are not the same people who make the policy decisions in this area. Those leaders have no vested interest in seeing public schooling in MS thrive, especially if it means less money for corporate elite coffers. Also, the political will is not there because there isn't enough respect or understanding in most "elite"circles concerning what this state's racial history has done, and continues to do, to all citizens of this state. This history characterizes the present social climate that devalues the humanity people who do not look like, talk like, or think/believe like the majority of white citizens of Mississippi. Truth and reconciliation will begin to liberate people from the tyranny of ignorance and indifference that dominates economic and political leadership of Mississippi. Phil Bryant is a nightmare to the racial reconciliation efforts in this state. He is representative of what wrong with Mississippi and what needs to be directly challenged. Until the state does a critical examination of what actually characterizes the poverty, disease, and illiteracy that cripples Mississippi- unresolved and unrepaired legacies of Slavery, Jim Crow, and a prison-industrial complex run amuck- the political and economic elite in this state will continue to see no need to and will not be held accountable for truly addressing poverty and inequality. There is literally a large constituency of Mississippians that do not matter in the eyes of Phil Bryant and his ilk. Until people like him are not legitimate and presumptive political and economic leaders in this state, we will still see the shame when young white Mississippians continue to expose this depravity and indifference in terrifying ways, such as these white youth who brutally killed this man. The State needs to sanction and sponsor a Truth and reconciliation commission that will bring a cross section of citizen-leaders together who can make decisions in public policy and resource distribution. This commission needs to critially examine the state's role in educational and residential segregation, the legacy of unsolved murders/lynchings, the impact that the legacy of economic terror has on generational wealth/poverty in MS, and the impact of the so called "war on drugs" on the black and brown community, among other things. We need healing, and healing only comes when an injury is repaired. This state's racial injuries have been allowed to fester, become infected, and rot out our social fabric.

Author

Renaldo Bryant

Date

2011-08-18T09:48:52-06:00
More like this story
More stories by this author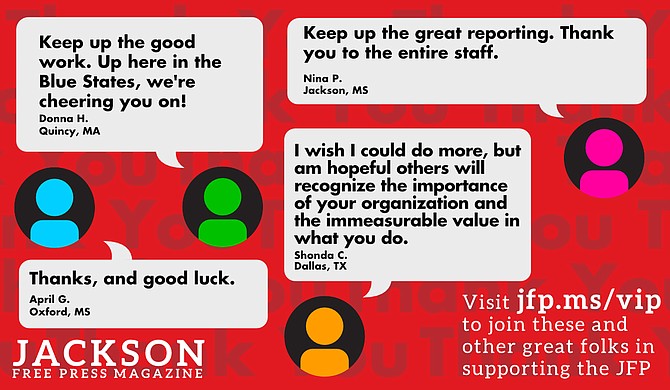 Thanks to all our new JFP VIPs!
COVID-19 has closed down the main sources of the JFP's revenue -- concerts, festivals, fundraisers, restaurants and bars. If everyone reading this article gives $5 or more, we should be able to continue publishing through the crisis. Please pay what you can to keep us reporting and publishing.