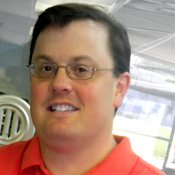 Jackson businessman Robert Barbour saw an empty lot in Midtown as an opportunity to engage with the community. Barbour, who owns Star Grocery on Bailey Avenue, will turn the space into a family festival Saturday during "Mid-Town ThrowDown."
"It's something I hope we can do again and again," Barbour says. "I wanted to have something that's fun for the young at heart and something that is safe."
Barbour says that Star Grocery was part of a larger chain of stores 50 to 60 years ago. The main building, located at 1700 Bailey Ave., burned down in the 1990s and the former owner converted an adjacent building into a payment center and a grocery store. An empty lot now stands where the former grocery store was.
In addition to buying groceries, customers can also pay their electricity bills, cash checks and receive or send money transfers. Barbour bought the business with a partner two years ago. The store is an agent of Check Free Pay, a national company that provides payment transactions and charges consumers a convenience fee for services.
Barbour, 41, is also the nephew of Gov. Haley Barbour. He wants to dispel some people's stereotypes about his family's history with race relations.
"(With) the family I come from and all the history and misunderstanding, here I am operating a business each and everyday that is in a black community," he says. "Most of my customers are hardworking people who are trying to make it just like everyone else."
Mid-Town ThrowDown features musical performances by Mike Jones, Sir Charles Jones & the Joker as well as Lil' Noo Noo, Calico Panche, Midnighters Blues Band and several others. The event is also a fundraiser for the Boys and Girls Club of Central Mississippi. Participants can purchase a raffle ticket for $1 and Star Grocery will pay the winner's electricity bill for the next year.
The Yazoo City native lives in Jackson with his wife, Amanda, and two children.
Mid-Town ThrowDown is Saturday, Aug. 6. Gates open at 3 p.m. and performances begin at 4 p.m. Attendees can park for free at the Jackson Medical Mall and take a shuttle to the festival. The festival also features a space jump and waterslides for children. Tickets are $10 in advance and $15 at the gate. Tickets for children 12 and under are $5. For tickets and more information, call 601-352-3381.
More stories by this author
Support our reporting -- Follow the MFP.