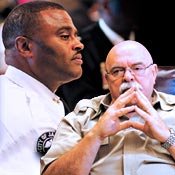 Candidates and concerned citizens filled the basement of the Hinds County Courthouse this morning as they waited for the Hinds County Election Commission to certify remaining ballots that could determine the winner of the sheriff's race. After reports of polls opening late, and candidates left off ballots at the Wynndale precinct in Terry, supporters of Hinds County Sheriff Malcolm McMillin are questioning the validity of the ballots.
The Hinds County Election Commission must certify approximately 700 absentee and affidavit ballots as well as 650 paper ballots from the Wynndale precinct. Wynndale used paper ballots when candidates did not appear on the electronic ballots.
Preliminary totals show Tyrone Lewis winning the race with 17,743 votes or 51.7 percent and McMillin close behind with 15,503 votes or 44.7 percent.
The Hinds County Democratic Executive Committee will return to the courthouse at 1:30 p.m. to watch the commission certify the remaining votes.
"If it's a fair election, then we lose the election---the people spoke and we listened," Andrew McMillin, son of Malcolm McMillin, said this morning. "If it's not a fair election, or there are issues of impropriety, then we will have an issue with it and pursue it. Until we have the certification of those numbers, we won't say yay or nay."
For his part, Lewis gave a speech to supporters last night, claiming victory.
Previous Comments
ID

164246

Comment

How do they know if all these votes will go to Macmillan. I thought muddying the water with election fraud was a tactic used by republican candidates. Oh I forgot mac is a republican candidate in democratic clothes. Lewis wasn't my first choice and not even my second but I hate how mac is given a free ride when it comes to crime in Jackson. He isn't held to the same responsibilty as Jackson officials and he's the top cop of hinds county.

Author

NewJackson

Date

2011-08-03T13:45:36-06:00
ID

164247

Comment

If my math is correct, the article indicates that Tyrone Lewis is leading with 17,814 votes, and the good sheriff Mac trails with 15,639 votes. That's a difference of 2,175 in favor of Lewis. Now, if there are only 1,350 votes left to be counted, what's McMillin's beef? The real story, IMHO, are those strange, and I mean STRANGE numbers that were being reported by WLBT last night for the sheriff's race. At one point, WLBT was displaying 45,000 plus votes in favor of Lewis and 41,000 plus votes for McMillin. When I checked again, WLBT was reporting over 200,000 votes for McMillin and 29,000 plus votes for Lewis. At that time, my eyes bugged out, and I almost dropped my Dr. Pepper and sandwich. Whew! When I looked a third time, WLBT was displaying 15,000 plus in favor of Lewis and 14,000 plus for McMillian. Am I the only one who saw this craziness? What in the tarnations was going on WLBT?!!!

Author

blu_n_a_redstate

Date

2011-08-03T13:47:38-06:00
ID

164253

Comment

It's my understanding that the election commission still has to certify all the votes. There is a small chance the election could still result in a runoff. Hinds County Democratic Executive Committee executive vice chairman Claude McInnis said this afternoon that the paper ballots, absentee ballots and affidavit ballots won't be finalized until the end of the week.

Author

Lacey McLaughlin

Date

2011-08-03T14:25:05-06:00
ID

164255

Comment

Remember, all, a candidate needs 50 percent plus one vote to avoid a runoff.

Author

DonnaLadd

Date

2011-08-03T14:41:13-06:00
ID

164257

Comment

OK, Todd and I just did some rough math to see how various ballot scenarios would work: Assuming total ballots cast in the Hinds sheriff's race was 36,021 (current total plus 1,350 outstanding ballots), then Lewis gets over the 50 percent+1 threshold at 18,011 votes. (Right now he is showing 17,743 votes officially.) Thus, under this scenario, he would need 268 votes, or roughly 20 percent, of the outstanding 1,350 ballots. NOW, if they throw out the affidavit ballots, as they may well do, then the scenario is slightly different. If that case, Lewis probably has enough votes, even if all the absentee ballots went to McMillin. But who knows what will happen next ...

Author

DonnaLadd

Date

2011-08-03T14:58:28-06:00
ID

164258

Comment

I updated the election results in the story based on what the Hinds County website is reporting. See the numbers here: http://www.co.hinds.ms.us/pgs/results/dem_race_totals.asp

Author

Lacey McLaughlin

Date

2011-08-03T15:03:55-06:00
ID

164264

Comment

Donna- Did you factor in the reports of double counting of votes in your and Todds rough math? Seems like that alone will make the election comm. have to do a hand recount and any numbers they are showing now are bogus.

Author

BubbaT

Date

2011-08-03T15:55:12-06:00
ID

164265

Comment

Not really, Bubba. The assumption is that should that happen, all bets are off. We were looking at math based on the numbers that are "showing."

Author

DonnaLadd

Date

2011-08-03T17:15:55-06:00
More like this story
More stories by this author
Support our reporting -- Become a JFP VIP.
The news business has changed dramatically in the past year, and we need your help more than ever to keep bringing you important stories about Jackson and the Metro. Become a JFP VIP with an annual membership or you can Sign up as a monthly supporter. Thanks for anything you can do to empower our journalism!