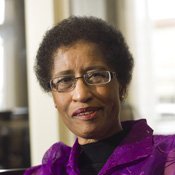 Jackson-based artist Gwen Magee, whose vibrant quilts elevated a traditional craft to nationally acclaimed works of art, died yesterday. Magee, who was intensely private, had been battling a long-term illness, but her death was unexpected, her friend Wendy Shenefelt told the Jackson Free Press today.
Born in 1943 in High Point, N.C., Magee had lived in Jackson since 1972. She came to her art only in middle age, when she enrolled in quilting classes at Joy's Busy Hands in south Jackson, hoping to make quilts for her two daughters to take to college. Magee quickly found that she loved the craft.
"By the time I finished the one for my youngest daughter, I was hooked on it, piecing by hand, hand quilting," Magee told the JFP in 2005.
Magee graduated from traditional block patterns to more ambitious work--abstract designs and moving narratives of African American history and heritage. In 2005, the Mississippi Museum of Art celebrated Magee's work with a retrospective, "Journey of the Spirit: The Art of Gwendolyn Magee." Her quilts hang in the permanent collections of the MMA and the Smithsonian Institution's Renwick Gallery in Washington, D.C. This February, Magee received a Governor's Award for Excellence in the Arts.
"I never thought I had artistic ability; I was a consumer but didn't have talent," she said. "It wasn't until I worked with cloth that I could manipulate and get the range of color that I wanted."
In addition to her art, Magee was an active community member and played an instrumental role in the founding of Davis Magnet Elementary School in Jackson, Shenefelt said. Magee had strong progressive political convictions and a great sense of humor, but "no patience for people who get their news in soundbites," Shenefelt said.
Magee's narrative quilts, such as her long sequence exploring the lyrics of the African American anthem "Lift Every Voice And Sing," were deeply moral acts of remembering.
"The art flows through me, but does not belong to me alone," she wrote on her website. "It speaks for those who have no voices, whose voices have been ignored, whose voices have been silenced. It relates history and circumstances that must not be forgotten."
Magee is survived by her husband, D.E. Magee, two daughters and grandchildren. Details on funeral arrangements were not immediately available.
More stories by this author
Support our reporting -- Follow the MFP.