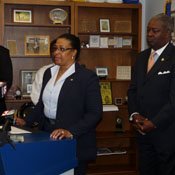 Jackson Mayor Harvey Johnson Jr. worked quickly this morning to tamp down the perception of the capital city as a "hotspot" for crime.
Overall, crime in the city dropped 6.7 percent compared to this time last year, with total property crime down by 3 percent and violent crime down by 27.3 percent, according to press statement Johnson's office sent out today.
The mayor's office released the preliminary statistics, available at weekly COMSTAT meetings, after Bureau of Alcohol, Tobacco and Firearms Assistant Special Agent Constance Hester-Davis said the city's increase in crime is one of the reasons for the assigning an ATF agent to the Jackson Police Department.
"With the spike of increase in crime in this area, we knew that something had to be done, so we all got together and held a meeting (with city officials) and said, 'Hey look This is what we can do,'" Hester-Davis said to reporters, with the mayor standing by.
Johnson contained himself when reporters asked Hester-Davis to repeat herself: "One reason (for the collaboration) is the spike of crime in this particular area," she said. "Before, we were concentrating our efforts ... all over various counties in this area, but because this is now a hotspot, we're focusing all efforts here in Jackson."
Johnson praised the ATF/JPD partnership, which he said will help streamline federal gun violations into federal courts by sending an experienced ATF agent directly to JPD gun crime scenes. The collaboration will also give city police faster access to ATF's National Integrated Ballistics Information Network, a data system containing bullet, casing and projectile information gathered at other crime scenes that could provide a link between seemingly unrelated gun crimes.
While welcoming ATF's help, the city's crime data counters Hester-Davis' claim.
"In property crime, the most significant decreases were seen in business burglaries, which have decreased by 51.6 percent, auto burglaries which have decreased by 12.2 percent and auto thefts which have decreased by 10.5 percent," the city statement said. "Violent crime categories showing significant decreases included armed robbery with a 44.5 percent decrease, carjacking with a 41.2 percent decrease and homicides with a 26.7 percent decrease."
The statement also showed crime rates by precinct, saying that Precinct 1 experienced a 7.2 percent decrease in overall crime compared to this time last year. Overall crime dropped in Precinct 2 by a similar 7.2 percent. Precinct 3 experienced the most dramatic drop in overall crime, with crime dropping more than 10 percent in that area. Precinct 4, containing arguably some of the city's more affluent neighborhoods experienced a 2 percent drop in overall crime.
More stories by this author
Support our reporting -- Follow the MFP.