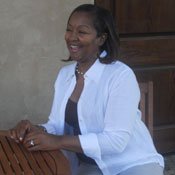 It's a rather poorly kept secret that one reason I'm out and about so much is that I don't cook and, well, a girl's gotta eat. While I am an avid fan of culinary arts, the extent of my fandom is appreciation. As a practitioner, I fail miserably. Case in point: I met a neighbor who needed to borrow some flour with a perplexed look and this response: "Why on earth would I have flour?"
Luckily, this week was all about food and drink—and I even decided to try a little hands-on action.
The Viking Cooking School in Ridgeland provided a perfect opportunity, for once, to do the cooking myself. Since my friend Elizabeth Fowler often shares her homemade meals with me, I invited her to join me for the Superfoods Wine Dinner.
The facility is great, and our instructor provided lots of helpful tips as we teamed up to complete our recipes. We all felt more confident in the kitchen by the end, even if we were in a hurry to finish. If you take a class, be warned: They don't give you the wine until you're finished cooking. (I suppose it has to do with the knives and open-flame thing.)
Because the classes are interactive, and you all eat together at the end, it's a chance to meet some new, interesting people. For instance, in our class, we met Jim and Vickie, a couple who had to hurry home to tend to their rescued cockatoos that were sitting on eggs. Knife skills and an unintentional lesson in aviaries—quite an evening!
As if that weren't enough, I added a little music by heading to Underground 119 (I do their social media) to hear George Porter and got a bonus: Fingers Taylor sat in. Musicians often unexpectedly join their friends who are playing there, which is always a fun surprise—it's like a two-for-one. What's better?
After a night of working for my dinner at the cooking school, I was ready to let the food and drink be prepared for me. Luckily, one of my favorite events, Sante South, was on the agenda. This annual fundraiser for the Alzheimer's Association brought more than 30 vintners from around the world, along with some awesome restaurants, to The South Warehouse. I was happy to run into Tasho Katsaboulis of Kats Wine and Spirits and Robert Arender (aka the Drink Whisperer) from Parlor Market, who pointed me in the direction of some must-try bottles. I also saw some interesting fashion in the crowd—lots of spring dresses and color. One of my favorites was John Madden sporting Nantucket Reds pants—because spring is a great time to go preppy.
Keeping with what seemed to be a trend of trying new things—cooking, new wines—I was excited to grab my friends the Karaoke Kids and the TV Reporter and head over to Fondren to check out Fatsumo Sushi and Martini, the new restaurant in Fondren Place. A good crowd of locals was dining in—I spotted a lawyer friend, another downtowner, and hip hairstylist Suzanne Moak—and the restaurant has a cool atmosphere (my crew particularly enjoyed the blue light fixtures). Although the drink menu isn't yet complete, bartender Stephanie Clark took great care of us (one of my companions particularly enjoyed the unique twist of cucumber juice in her cosmo), and Chef Scott was completely gracious. And in exciting news for fans of patios and sunshine, Fatsumo has plans to add outdoor seating in short order.
Which brings me back to where I started—enjoying good company and a good atmosphere. I'll just file those recipes away under "good information to have," but keep going out to eat.
More like this story
More stories by this author
Like independent media outlets around the world, the Jackson Free Press works hard to produce important content on a limited budget. We'd love your help! Become a JFP VIP member today and/or donate to our journalism fund. Thanks for considering a JFP VIP membership or one-time support.