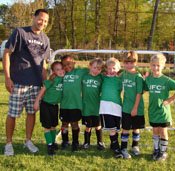 Marcus Burger knows his way around the three primordial elements of rock, paper and scissors. Burger, who is the Hinds County deputy director for Young Leaders in Philanthropy, is organizing a tournament of the game to raise money for YLP's signature program, Imagination Library, an early childhood literacy initiative.
Burger was drawn to the idea because of its low barrier to entry.
"It's something everybody can do," he says.
The winner of YLP's "Rock, Paper, Scissors - Ultimate Challenge" Thursday gets a bid to the world championships in Canada this fall.
In addition to organizing the event, Burger plans to compete. He has been training with his 5-year-old son, Nicholas.
"My son challenges me pretty much every day, before homework," Burger says.
A Jackson native, Burger attended Hampton University in Virginia, graduating in 1999 with a degree in mathematics. He received a master's in applied mathematics from Old Dominion University before returning to Jackson in 2001. Burger worked a variety of sales jobs for Time Warner and Comcast before moving to The Clarion-Ledger, where he works as an account executive.
He joined YLP in 2009, drawn to the organization's affiliation with the United Way. His mother, Carol Burger, is CEO of the United Way of the Capital Area. YLP is an auxillary of the United Way of the Capital Area.
Founded by country singer Dolly Parton, Imagination Library provides a new, age-appropriate book to children once a month from birth to age 5. Individuals can sponsor a child for $35 per year.
YLP's "Rock, Paper, Scissors - Ultimate Challenge" takes place Thursday, April 21, from 5 p.m. to 11 p.m. at The Bulldog, 6111 Ridgewood Road. Admission is $5 for spectators and $15 for contestants. For more information or to register, visit youngleadersinphilanthropy.com.
More stories by this author
Support our reporting -- Follow the MFP.