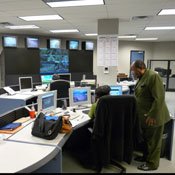 Mayor Harvey Johnson Jr. finally made good on a campaign promise of increased government transparency earlier this week. On Monday, Johnson announced the launch of the city's "311" system for receiving and tracking service and information requests from citizens.
Speaking at a press conference, Johnson hailed the technology as a way to give citizens and business owners improved access to various city departments.
"I've been promising that we were going make sure we were getting more accountability and more transparency in government," Johnson said. "This is one way to do it."
The system, modeled after similar services in many other cities around the country, allows citizens to request information or report non-emergency problems by dialing 3-1-1 from a landline or Cellular South cell phone, or by visiting http://311.jacksonms.gov. Six city employees staff the 311 call center, located in the basement of the Eudora Welty Library.
After logging a request or complaint, citizens receive a tracking number. Users can check the status of their request by calling 311 again or visiting the city's 311 website, which displays requests by type on a city map.
Calls could range from inquiries about hours of operation for the city's libraries to reports of potholes or flooding problems. Business owners can use the service to request information on permits, licenses or grant opportunities as well as reporting infrastructure problems or other quality-of-life issues.
Expanding phone accessibility to other mobile networks should not take much longer, city spokesman Chris Mims said, and is only a matter of getting the networks to authorize access to the 311 number. Mims said he expects AT&T customers to have access to 311 by April 15.
"We have no fear that it's going to work," Johnson said. "It's just going to take time to work it out."
In the meantime, cell-phone users on other networks can call the Mayor's Action Line at 601-960-1111 to reach a 311 operator. Smart phone users should be able to access the city's 311 website, Mims said. The web interface allows users to upload photos of their problems in addition to text descriptions.
In addition to improving government accessibility to citizens, the system should also reduce the burden of non-emergency calls on city and county 911 operators.
"We have too many administrative, non-emergency calls coming into 911," Johnson said, adding that citizens should still call 911 for emergencies.
The next phase of Johnson's plan for 311 is to install software that will automatically generate specialized work orders for city departments based on 311 requests, Mims said.
The city has invested almost $600,000 in software and equipment for the system thus far. In August, the Jackson City Council approved the purchase of the two software packages that undergird the 311 system. One, CityWorks, uses Geographic Information Systems, or GIS, mapping technology to let city departments monitor infrastructure like sewers, roads and fire hydrants. CityWorks also logs citizen complaints. A second system, Request LoGIStics, allows citizens to report problems through the city's website.
Mims said that he was not sure when the mayor would bring funding requests for later phases of the system to City Council for approval.
Ward 5 Councilman Charles Tillman lent his support to the project. "I think that if this really works, we'll see a milestone in communication with the public," Tillman said.
Johnson touted 311 along with a companion software system for identifying efficiencies, JackStat, while campaigning for mayor in 2009. Work on 311 began more than a year ago, and Johnson admitted that the project has moved slowly, in part because of the time it took to receive approval from the state Public Service Commission to use the 3-1-1 phone number.
Mims said Tuesday that 311 operators have already begun fielding requests from citizens. The 311 system's success ultimately depends on whether residents use it, though. A 2010 study by the Pew Charitable Trusts found that usage rates for similar systems in other cities vary widely. Over the course of a year, Detroit's 311 system fielded 26 calls for every 100 residents, while New York City's fielded 224 calls per 100 residents.
More like this story
More stories by this author
Like independent media outlets around the world, the Jackson Free Press works hard to produce important content on a limited budget. We'd love your help! Become a JFP VIP member today and/or donate to our journalism fund. Thanks for considering a JFP VIP membership or one-time support.