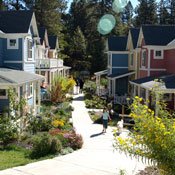 While studying in Denmark in the 1980s, Charles Durrett noticed a housing community different from the typical condos and homes he passed during his 20-minute walk to the train station. He saw people drinking tea together on a porch and neighbors helping each other, and he felt a strong sense of community.
When he stopped to ask a resident about the housing development, she explained that the occupants had designed it themselves. While they shared common spaces, they each had privacy in their own homes. They designed the development so that their children could play safely, and neighbors could actually get to know one another.
"We didn't want to leave it to chance," the woman said, explaining that the residents intentionally co-created a neighborhood that connected common spaces and people.
Now, more than 20 years later, Durrett and his wife Katie McCamant, both architects, have designed 50 co-housing communities throughout the country and authored books on the subject. Last weekend, they hosted a presentation and two-day workshop called "Intentionally Building Community" at Duling Hall, showing Jackson residents a step-by-step process to build their own co-housing community in the city.
While co-housing has various interpretations, the architects define the concept as a format and process by which a group of people create and maintain their own neighborhood. In its purest form, a group of people purchase land together, agree on the architectural plans and participate in each stage of the development's formation. Retrofitting existing buildings and creating privately owned homes around open shared spaced and common facilities are other co-housing options.
Durrett pointed out that co-housing succeeds because residents take control and ownership from the beginning.
"Picnic tables don't create community; the people who know each other create community," Durrett said.
Fondren residents Marie Owen and her sister Hilda Owen organized the event, and have met for six months with about 15 other residents who want to build a co-housing development. Over the course of the two-day workshop, participants learned how to finance a co-housing community and how to make group decisions. The 17 workshop participants also toured downtown Jackson and surrounding areas to scope out prospective sites. Owen said residents hope to have a co-housing community built in Jackson within two years.
To design a co-housing development, group members must come to a consensus about the development's amenities such as pools, playgrounds or gardens, as well as common spaces such a kitchens and playrooms.
"It's the purest form of democracy," Marie Owen said. "... But you have to be focused on the big picture."
The majority of participants at the public presentation and workshop were middle-aged. Durrett said senior citizens and families are more likely to have the financial means for home ownership.
"It seems to be the demographic that is less represented," Durrett said about 20-to-30-year-olds. "... One of the things about young professionals is that their life tends to be in flux. They are looking for career opportunities and mates. They are going to be more mobile. Co-housing is a settlement pattern."
Co-housing is taking on some forms in Jackson among younger residents and artists. The North Midtown Arts Center in the Millsaps Arts District has housed artists in its studio spaces on and off over the past two decades. A fence connects the arts center to two residential units and a workshop, and all the buildings share a common courtyard.
North Midtown Arts Center Director Richard Stowe said the nonprofit is in the final stages of purchasing the arts-center building. He also said two adjacent residential units at 133 Millsaps Ave., which have the same owner, are for sale. Stowe, who worked in construction after Hurricane Katrina, said he would like to build more studio and living spaces on the arts-center property in the future.
"We'd like to get some students there, since we are close to Millsaps College," he said. "Hopefully in the next year we will work with architects and sponsors to do a model, and if that works out we will build them out as rentals or condos--something cheaper than traditional new construction. It could be like a gated art community that is really affordable."
Stowe said, ideally, the future owners of the adjacent property would want to support affordable studio and living spaces for artists.
More like this story
More stories by this author