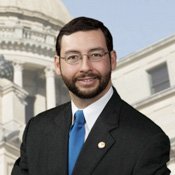 The state will have to make several key decision regarding health-insurance exchanges in the next few years, Joy Johnson Wilson, health policy coordinator for the National Conference of State Legislatures, told a joint meeting of Senate and House committee members this morning.
The federal health-care reform bill President Barack Obama signed into law in March mandates the creation of health-insurance exchanges, which are intended to improve access and choices for health insurance when the law's individual mandate to purchase health insurance kicks in 2014. States have until the end of 2012 to decide whether to operate their own exchange or allow the federal government to manage them.
Addressing committee members, House Medicaid Committee Chairman Dirk Dedeaux, D-Perkinston, said that exchanges would consolidate options for health-insurance plans and allow consumers to compare features easily.
"I kind of look at the health-insurance exchange as the Travelocity of buying health insurance," Dedeaux said.
Small business employers can also think of exchanges as taking some of the burden of comparing health-insurance plans that in larger companies would fall on a human resources officer, Wilson said.
"A lot of small businesses complain that it takes them a lot of time to negotiate health contracts, because they aren't H.R. people," Wilson said. "The notion (is) that the exchange would in some cases act as the H.R. person for some of these smaller companies that want to provide health insurance but don't want to invest the time or the education that it would take to be that H.R. person (themselves)."
While most states' exchanges will likely have an online component, they will also need to offer physical offices for people without Internet access, Wilson said.
State legislatures can shape the way their exchanges turn out, Wilson added. States with smaller populations may want to consider operating a joint exchange to improve their chances of attracting insurance companies' participation. States will also have to pass legislation establishing the membership of a governing board for their exchanges.
"The level of regulation at the state level will depend on what you as legislators want to do," Wilson said.
Wilson also touched on the Early Retiree Reinsurance Program, a provision of the act meant to help employers--including state and local governments, cover retired employees 55 and older who are not yet eligible for Medicare. The program bridges the coverage gap early retirees would experience before 2014, when the Affordable Care Act's health-insurance exchanges will open. The federal government is funding the program with $5 billion, which Wilson said was not enough but made the
"It's not funded very well, but it's a very good deal," Wilson said.
The city of Jackson has applied for and been accepted into the program, she noted.
Today's hearing is a joint meeting of the House of Representatives Medicaid and Public Health committees and the Senate Public Health Committee. After a lunch break, lawmakers are set to hear from state Insurance Commissioner Mike Chaney, Department of Health Executive Director Mary Currier, and Kathy Witgert, program manager for the National Academy for State Health Policy.
Previous Comments
ID

159756

Comment

The above may be true, but the Senate not passing an amendment to repeal or amend the upcoming 1099 reporting requirements certainly did NOT help small business.

Author

RobbieR

Date

2010-09-15T10:23:00-06:00
More stories by this author
Support our reporting -- Follow the MFP.