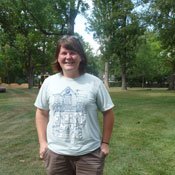 Leslee Foukal has high hopes for the section of Fondren west of State Street.
Foukal, 24, grew up in Monroeville, Ala., and moved to Jackson to attend Belhaven University, where she studied cultural relations and worked in the campus coffee shop. After graduating in 2007, she worked briefly in the accounting department for the Bomgar Corporation before returning to the coffee business, first at Starbucks and then at Cups in Fondren.
"I like people too much," she says.
Still, Foukal didn't expect to like Jackson. She says that she hated the city when she was at Belhaven.
"I didn't know anything about it," Foukal says. "You're just stuck on campus. You're living in the dorm; you don't realize there's anything else than that little campus."
She resolved to give the city one year after graduation, and gradually, she found a place in the community. Foukal started volunteering with The Journey's loosely organized after-school program at Cherokee Heights Park in Fondren, spending time with children from the neighborhood.
Two years ago, she solidified her commitment to the area, buying a house down the street from the park on Northview Drive. In January she became manager at Sneaky Beans.
While the coffee shop keeps her busy, Foukal remains active in the area. The Fondren Renaissance Foundation broke ground yesterday on a redesign of Cherokee Heights Park that will bring a small concert stage, community garden and walking trails to the park. Foukal's volunteer work there led her to carve out her role as a go-between, ensuring that the community around the park is informed and engaged in its redesign.
"I wanted to make sure that that side of (State) Street had some sort of voice in this park that's in our neighborhood and in the changes that are going to be made," she says.
Foukal attended preliminary design meetings for the park and now wants to connect with neighbors around the park to brainstorm community events to build unity. It will take time to build that community dialogue, though, she acknowledges.
"That's what energizes me," Foukal says. "Being a homeowner over there and being passionate about those kids has taught me a lot about being a good neighbor first."
More stories by this author
Support our reporting -- Follow the MFP.