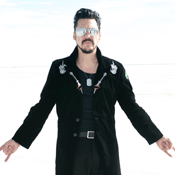 His born name is Jesse Dayton. He grew up around music and has performed with some of the best-known country singers in the industry: Kenny Rogers, Johnny Cash, Willie Nelson, to name a few. He's recorded and produced records for years. In fact, he took time away from some studio work to talk to the Jackson Free Press. Dayton is the kind of guy most people would enjoy chatting with. But he has another, darker persona.
If you know the Austin, Texas-based musician, you probably know him by his stage name: Captain Clegg. Clegg is the front man for the band The Night Creatures, a serendipitous gathering of musicians who perform what their website calls "spook country." The group went from being a band who recorded for a specific purpose with no expectation of anything happening further to a group with a cult following. And it happened as quickly as a vampire said, "I've come to suck your blood," and pierced his victim's neck.
How did Captain Clegg and The Night Creatures come about?
Rob Zombie, who's this horror-movie director, was remaking "Halloween." ... He called me about playing Captain Clegg in the movie. So I got the part in the movie, and he said, "Hey why don't you do a 10-song original soundtrack?" I wrote all the songs on the soundtrack and produced it. The soundtrack took off and became a hit, and people wanted more of it.
But you were already a part of the music industry, right?
Oh yeah. I grew up in the music industry. I started off as a kid, and I got a record deal and started doing my own work and became a record producer. But when we did this movie, we started getting lots of Halloween calls. Last year—about December—we went on a stadium show tour all over Canada and the U.S. We finished that up in January of this year. But we're really looking forward to coming to Jackson.
Have you been here before?
We played there a long time ago, probably about five years. We usually play in Oxford.
What do you expect of your trip here?
We're just going to have fun. Just want to meet everybody. Want people come out to the festival. It's Halloween. It will be fun.
And what should people expect from the show?
Just a big horror-rock-band show. They should go to our website, captainclegg.com, too. Or they can go to jessedayton.com.
I want to ask you five random questions that have nothing to do with your upcoming show.
Go for it.
What's the scariest movie you've ever seen?
"The Exorcist." The whole biblical devil thing creeped me out about it. Growing up in a southern Baptist family, yeah, that's the scariest.
They say you learn something new every day. What did you learn today?
I learned that you can't put a string section on just any song. I was in the studio today trying to put strings on a song we're working on for a guy from London. It didn't work. It was really expensive, and I learned my lesson.
If you could only do covers from now on, what would be the first three songs you and your band would start working on immediately?
Whoa. That's a good question. Let's see ... I'd do something totally opposite of what I do now. "Fly Me to the Moon," Frank Sinatra; "I'll Take You There," The Staple Singers—have you even heard of any of these songs?! And "London Calling" by The Clash.
What's the one song you're embarrassed to say you know most of the lyrics to?
I know a lot of cheesy songs. A lot. But probably "Love Will Keep Us Together," Captain and Tennille.
A food you would never be willing to give up?
Cajun food. Part of my family is Cajun. Gumbo and etouffee. I'd never give those up.
Catch the gumbo-loving Captain Clegg and The Night Creatures Saturday, Oct. 30, 8-10 p.m. at the Music Stage on Lamar St. Tickets are $5.
More like this story
More stories by this author