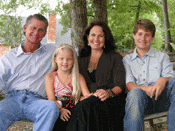 Bill Skinner didn't expect to be a youth court judge. A former Jackson police officer and Hinds County Justice Court judge, Skinner wanted to hear adult criminal cases when he won a seat on the Hinds County Court in 2006, but senior county court Judge Houston Patton assigned him to the youth court. Skinner has tackled the assignment with relish, instituting a number of counseling and treatment programs aimed at rehabilitating the juvenile offenders who appear in his courtroom.
Skinner's presence at the Youth Court has been a lightning rod at times for debate over the county's troubled youth detention center, Henley-Young. In 2009, the county Board of Supervisors stripped him of authority over the detention center with a 3-2 vote. At the time, Skinner's critics raised concerns about the facility's management. The center has since gone through two directors.
Skinner grew up in Jackson and attended Hinds Community College and Mississippi College, where he received his bachelor's, master's and law degrees.
How do you feel about presiding over youth court?
When I first came down here, I had my apprehensions, because my goal was to put people in jail and run the adult drug court. But this has ended up being a blessing. I think we've had more impact on youth in Hinds County than anybody would've anticipated. And that's not just me; I'm surrounded by a staff that is far more intelligent than I am. The first year we were down here, with the programs we instituted, we reduced the recidivism rate 78 percent the first year. We're kind of stuck right there.
What's your level of involvement now with the youth detention center?
I will say this: It's been pretty contentious in the past. However, they've got a new guy over there running the detention center, Dale Knight, who I have a good working relationship with. He comes into my office. He tells me what he needs; I tell him what I need; and we have a cooperation that we have not had since the Board of Supervisors took over running the facility. He's not scared to walk over here and tell me what he needs. ... Most of this hoopla about this place is just overblown. This is a fine facility that offers a ton of programs for youth that are brought in here. And youth court is about rehabilitation, not punishment. Every child that comes in here is not treated the same. Every child is treated according to that child's individual needs.
There were concerns last year about overcrowding.
We have 84 beds here. What the overcrowding was a result of was—it runs in cycles down here. We may go a couple months and have 20 kids down here. Then we may go a couple of months and have 60. The overcrowding issue was not because we were overcrowded. We have 84 beds. ... I can't think of a time that we've had 84 kids. It was not overcrowding; it was understaffed. They didn't have enough officers to meet the state and federal guidelines.
Would you want to stay in youth court if you got re-elected?
It's a very stressful job, and you don't get very many breaks. But from listening to the community—the principals, ... these churches—they say I'm where I need to be. And my wife and kids may argue different, but I feel we've made a difference, particularly in the sexually abused, physically abused and neglected kids. My promise, when I came down here, was that the perpetrator might victimize these kids, but I'm not going to let the court do it. When I first came down here you had about seven perpetrators going to circuit court and being prosecuted. Now there's about 200 going. So these perpetrators are finally being prosecuted for sexually abusing, physically abusing these kids. I'm very proud of that. Now are we all perfect? No. I think there are a lot of things we can do better.
What would you like to tackle in another term?
One thing we want to increase is the community's partnership with youth court: more mentoring programs; more churches involved in mentoring; more after-school programs. And we've got to address the gang problem we have in Hinds County. We have a serious gang problem. We've got to get more men involved in these children's lives. Too often, there's not a man involved in these children's lives, male or female, and they crave that.
Why should voters re-elect you?
All you have to do is look at what we've accomplished. Look at the recidivism rate; look at the programs we've started and the involvement with the local churches. I think, on my record alone, I'm not one of these that just sits there. ... I think if people will just look at my record, there won't be any question.
More stories by this author
Support our reporting -- Become a JFP VIP.
The news business has changed dramatically in the past year, and we need your help more than ever to keep bringing you important stories about Jackson and the Metro. Become a JFP VIP with an annual membership or you can Sign up as a monthly supporter. Thanks for anything you can do to empower our journalism!