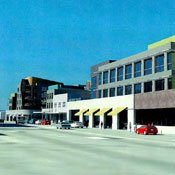 Watkins Partners Developer David Watkins says he plans to move ahead with his plans to tear down a 1938 business strip in Fondren, recently used as a movie set in "The Help," to create space for his proposed multi-use development, rather than pursue historic tax credits to renovate the block. The developer says keeping the strip would not be economically viable, despite questions about the buildings' historic value.
The $80 million development, Whitney Place, would replace the existing buildings on State Street from Mitchell to Hartsfield streets with eight acres of retail, apartments, a Hotel Indigo and green space for concerts and festivals. Watkins put the project on hold when credit markets dried up during the national recession but said last week that the project was moving forward and could begin construction in late 2011.
Watkins said the development will have a 1940s Art Moderne architectural style. He said he is working with existing business owners to keep rent affordable so they can remain in Fondren, and he wants to support local artists by creating studio and living space at an affordable cost.
"Our goal is not to build a building but a development that, from the day it is built, will fit into the theme of our neighborhood and to the integrity of our community," he said.
When Watkins purchased the property in 2008, he said he talked to officials at the Mississippi Department of Archives and History about the possibility of getting historic preservation tax incentives to renovate the strip but was informed that the cinderblock buildings would not likely qualify for those credits. Watkins said the current buildings have significant structural and electrical damages and even with the tax credits, saving them is not an economically viable option. Watkins used historic tax credits to renovate the King Edward Hotel and portions of Farish Street.
"We are replacing buildings that have a lot of history and a lot of sentimentality but have no economic value," he said. "... Because of all the tax credits, we were able to revive the King Edward. These buildings don't have the same (architectural significance). There is nothing but the sentimentality."
Todd Sanders, MDAH architectural historian and author of "Jackson's North State Street" (Arcadia Publishing, 2009, $21.99), oversees the historic tax-credits process for Mississippi. He did not hold his current position when Watkins approached the department about the tax credits, he said. To receive the credits, a historic building or district must be listed or eligible for the National Register of Historic Places.
"Our records don't indicate what was said and done," Sanders said. "I have spoken to Mr. Watkins, and I did tell him that since I am new to the position and wasn't here when general inquiries were made, that I would be more than happy to pursue the possibility of tax credits."
Currently, the district is not on the register. Sanders said the process to qualify for the register involves filling out MDAH's two-page preliminary evaluation questionnaire. If the property has a good chance of getting on the register, the department will then submit part one of a three-part application to the U.S. National Park Service. If the Park Service gives a preliminary ruling allowing the property to be placed on the register, the owner can count on receiving tax credits.
"The most common way (to get a district on the national register) is through a local preservation commission, working with the city government to follow up with the process and work with our office to get the national register district surveyed and then listed," Sanders said. "Theoretically, individuals can ask, but there is a lot of documentation, writing and research to make a district listable."
While Sanders said he couldn't officially determine if the businesses in Fondren would qualify, he said a building's historical significance is based on more than aesthetics.
"The majority of the buildings in the Farish Street district aren't eligible because of their architectural significance, because they have very simple, vernacular buildings," he said. "They are listed because of their history and the story they tell in connection with Farish Street being the largest African American commercial district in the state."
In May 2004, the city of Jackson adopted a historic preservation ordinance, allowing for locally designated historic districts such as Belhaven. A majority of property owners from a proposed district can petition the Jackson Historic Preservation Commission to conduct an investigation of the property to determine if it qualifies as a local historic district. Once the district is established, the commission must review and approve any exterior work and construction to buildings.
Sanders said that if asked, he would submit the application to the U.S. Department of Parks and Services.
"If I were presented (with) part one, and the owner wanted to know the determination for tax credit purposes, I would do all that I could to get it approved," he said. "Professionally, I believe, based on my experience, that there is a potential national register district in the Fondren area, but I've never been in (the buildings). I've never done the research, and I haven't been approached."
Watkins, however, said listing the building on the national register isn't an option.
"It would be a very costly and time-consuming process to go through the application process on getting the historic register qualification," he said. "There is no guarantee that I would get it, and there is no guarantee that if I got it, it would be worth anything. And it would prevent me from doing anything other than going forward."
Watkins does not own all the property in the business strip. He said he is working out details with other property owners for acquiring the property in the future.
James Patterson, owner of James Patterson Photography studio, said he understands the need for the new building.
"It's like anything, like having a car you love and you know it's going to break down. ... You just know in the back of your head that it can't last forever," he said.
Campbell's Bakery owner Sedrick Lilley said he has mixed feelings about the proposed development. "I'm actually straddling the fence on that," he said. "I am, in a sense (in support of the development), but I love the historical facts of the buildings and the nostalgia of the building. I am in support of the revitalization, but I wish there was some way that we could retain the integrity of the building."
Jason Meeks, owner of S&E Lock and Key, whose building has a different owner, said his store does not have structural or electrical damage.
"Our buildings have always been well kept, and putting out that (they have damage) a year before construction isn't great for business," he said. "We've never had any structural or electrical problems in those buildings. ... I don't want people to think that it's dangerous to come in."
Previous Comments
ID

160477

Comment

Watkins and Associates have plenty of alternatives to tearing down the store fronts. The first that comes to mind is to build large behind them, adding street parking. A pedestrian/bike walkway could be made through the store that seems to have the most physical problems, leaving the facade for an entrance. Surely Watkins is only doing this for the press coverage. He should know as well as anyone how important the Fondren strip is to Jackson heritage. I could start with being just outside the street car line, remaining the only shopping center available to those settling north of Fondren all the way through the 40's. I could add a long list of state award winners who have been nurtured in and by this neighborhood. We will object.

Author

deltabelle

Date

2010-10-22T09:00:16-06:00
ID

160487

Comment

[Comment deleted by request of the poster.]

Author

Pops

Date

2010-10-22T19:02:04-06:00
ID

160502

Comment

First, let me apologize to my family for my earlier blog. I had promised them I would quit responding to irrational and uniformed bloggers. Second, I apologize to all my JFP friends for my angry post, which is a bit out of character. I had intended it to be a personal message only to "deltabelle" (whoever she is) and didn't mean to subject the whole darn city to my venting. I guess at 61, I'm more technology challenged than I like to admit. In any event, apologies to family and friends.

Author

Pops

Date

2010-10-23T10:33:36-06:00
ID

160516

Comment

Agreed, deltabelle!

Author

Dave Coleman

Date

2010-10-24T20:28:03-06:00
ID

160525

Comment

This alternative view on this proposed development just turned up in Google alerts: http://misspreservation.com/2010/10/25/misspres-news-roundup-10-25-2010/

Author

DonnaLadd

Date

2010-10-25T10:31:13-06:00
ID

160537

Comment

The city's HP office received this e-mail from me. They have the power to deny him his permit. I get the impression that Mr. Watkins isn't interested in an alternative, but we can pressure the city to take a stand. Following is MY e-mail ([email protected]) to the preservation office of the City of Jackson : I am appalled at David Watkins' insensitivity to the connection of "the strip" on State Street to the character of the Fondren Neighborhood. That strip represents not only Jackson's small town atmosphere, but everyone who moves here from a small town relates to that section because it reminds them of home. It says "we are a community." I hope the office of Historic Preservation will take a stand to preserve this section of Fondren and deny his project as it is currently proposed and explained in the Jackson Free Press. Melanie Collins

Author

deltabelle

Date

2010-10-25T13:13:28-06:00
ID

160556

Comment

I fully support the plan to tear it all down and start over. The buildings are nothing special. Structurally they are Cinder Block and architecturally they are a bore. Watkins has given no one here a reason to doubt his abilities or motives. He has done good work to date and that must mean something. Also, before tearing him and the great things he is trying to do for our neighborhood do your due diligence and consider some points.... Has any of the negative posters inspected the property? If you did you would come to a similar conclusion that he has. It's only taken him nearly 3 years to come to these conclusions. I can only imagine the money spent on due diligence as each was exhaustively inspected. Here are some points to consider before making your post and sounding foolish: 1. The paint store's floor is no good as it is uneven as all can be. No telling how much it would cost to start that over. It works for them but will it work for another 50 years? 2. The bakery's floors are in horrible condition. It tilts from side to side and front to back. Did I mention it's all concrete and likely can not be fixed? 3. The antique store's floors are like a fun house. It leaks like a sieve. It's a great deal for them as where else will they get that kind of space; the problem is what do you do when the antique store closes? You can't fix that much space up for a place with 4 parking spots 4. On to the nursing business; the back half of the building is caved in. There is no roof there. 5. Oh Parking sucks. If people can not park they can't do business. 6. Do you have the money to buy the buildings and land and do your own thing? Remember you are a spectator when you have nothing invested in the project... I don't know about the other businesses (SE Lock and Cleaners) and their condition. I'll take them for their word. The problem is sometimes for the greater good there must be a loss...I believe David when he says he wants to work with each tenant on business continuity so hopefully the loss will not be their businesses...

Author

guywithanidea

Date

2010-10-25T20:57:26-06:00
ID

160559

Comment

Folks, I am going to jump in here for a minute. Every view is welcome on this issue, and no one involved is welcome to imply that someone with another view is "foolish," uneducated or anything else. This is clearly an important neighborhood issue, and just as we have done with other development projects, we will encourage a variety of views and encourage debate and discussion throughout the process. That is the JFP way. But do not come here to belittle anyone as a person or belittle them because they don't agree with you. Those comments will be removed going forward. Please carry on.

Author

DonnaLadd

Date

2010-10-26T07:54:20-06:00
ID

160561

Comment

@guywithanidea - Nobody is saying that the buildings are in top notch condition. Sure, there may be a leak in the antique store and there may be uneven floors in the paint store. Before you make a "foolish" post, maybe you should think back to the condition of the massive King Edward Hotel project. The King Edward was abandoned for FORTY+ years. The entire structure had to be gutted and virtually built back from scratch. I imagine the process of building back a 12 story monster was slightly more complicated than fixing a roof leak and some foundation issues. By the way, if you know how to prevent Watkins' proposed buildings from being subject to the shifting associated with Yazoo clay, please inform the city's engineers. That would be great! Now back to the point, while the Fondren strip may be nothing to you but a bunch of "Cinder Blocks" thrown together, they represent the heart of Fondren to most residents of the community. Would it not have been cheaper to demolish the King Edward and build a new Hilton in it's place? Yes...but the building meant something to the people of Jackson so they decided to leave the basic structure and renovate it. The exact same principle can be applied here to the Fondren strip. Only that it would be about $89.8 million cheaper (based on a $90 million restoration of the King Edward). Re: the parking comment, Watkins will have have to build parking garages behind the site of the current strip whether he tears it down or save money (and the soul of Fondren) by keeping the strip. This project can be the most effective by keeping the strip and building the new project directly behind it. If people want an Applebee's type feel, they can go to the Renaissance up the interstate. We want Fondren to keep it's core character. And Jennifer, please write the Nat'l Register!

Author

Dave Coleman

Date

2010-10-26T08:14:22-06:00
ID

160564

Comment

I'm going to weigh in on the side of keeping the original character of the neighborhood. I know at times we need to redo things to move forward, but to me the charm of the smaller shops is one of the main reasons I like Fondren. The boutiques, the coffee shops. It's all walkable and manageable. I like the people at Ace, the people at the lock and key store, the people at the bakery. I don't see having very upscale shops and a parking garage as necessarily in keeping with the character of the neighborhood. To me the character of the neighborhood is defined by one-of-a-kind stores such as Fondren Guitars or Sneaky Beans cafe. Also, I don't know plans past the Capri, but as someone who goes to Butterfly Yoga about once a week, and has for about 4-5 years now, I have long wondered how much grace time I would get to practice yoga in a great old building with a beautiful green field behind it to look at during class. To me this experience is priceless and much better than having a brand new shiny building, higher prices, and more traffic to struggle through to park. I never have trouble parking in Fondren. Though I may have to turn the corner and park down on Duling or on one of the side streets, I can always find parking within a block of my destination. This is not a parking problem. A parking problem is when you have to circle 8 square blocks of city lurking for someone to leave their spot. We need to be careful not to overdevelop Fondren or none of us will have a place to park, ever.

Author

Izzy

Date

2010-10-26T10:32:48-06:00
ID

160566

Comment

I will say that I value the contributions of David Watkins to our city immensely. And I do feel he has a strong sense of revitalizing downtown areas creatively and successfully. And the skills to pull off such a venture. I'm just not convinced that Fondren needs revitalizing - it is doing so well right now as far as I can see. I would be interested to know more about options and possibilities, and ways that the old and the new might be harmonized rather than one overtaking the other.

Author

Izzy

Date

2010-10-26T10:41:51-06:00
ID

160567

Comment

I have to say I like the proposal. I'm not in love with everything, but I agree with adding density and tearing down the buildings. I'm no historian on Fondren, but the area has changed several times over it's founding so the original character has changed since 1833. I don't think there is a whole lot that can be done if Watkins decides to move forward. There are no local historic districts, and I didn't see any designated Mississippi landmarks so the Jackson Preservation Commission doesn't have any authority in the manner. Again, the strip is not listed on the National Register, and I believe the property owner can prevent his property from being listed so I think some people need to calm down and talk with Watkins instead of blasting him. I think we're seeing Fondren growing, and it's not just a few people's cool secret hang out. With the new Fondren Place building and more than likely a new hotel or condos as Phase II or III (depending on how the old Duling School was included in Fondren Place), Fondren is becoming busier and more people are interested in investing in the area and not just locals. It will be interesting to see how Fondren develops over the next five years.

Author

maybob95

Date

2010-10-26T11:22:46-06:00
ID

160570

Comment

For me, I feel its important that we separate the physical strip of buildings from the character of the businesses and people it supports. This may not be a popular stance, but I simply don't see immense value in that strip of buildings by themselves. Sure, their old, but I don't think anyone can argue they hold the type of architectural significance and beauty the King Edward or Standard Life does. What I do feel is important, however, is the sense of community and place that strip supports. I have to be honest, I've never actually been to SE Lock & Key, but I think its great a community like Fondren still supports local businesses such as SE. What the neighborhood needs moving forward, in my opinion, is increased density. More eyes on the street, more retail and nightlife for young creatives/professionals who frequent Fondren the most. If we can achieve this I think it will benefit everyone, including the businesses who have been here the longest. I think David Watkins understands this, and has no intention of destroying what makes Fondren great. We tend to label Fondren as an urban community, yet we have very little dense housing. Our only music venue is a coffee shop first and foremost (a great one I might add). In addition, we don't yet have a dedicated bar or communal space for festivals and events in the heart of the neighborhood. It seems to me this development would go a long towards achieving much of this.

Author

rnpolen

Date

2010-10-26T13:28:49-06:00
ID

160571

Comment

I don't think anyone posting here has "blasted" David Watkins. We are suggesting a modification of the plan so that it includes that strip of buildings. Its really not a big deal to renovate or even to rebuild them. If anyone would like to know more about it, they can go to the site below and click on Developements. They'll find a pdf of the plan that is very enlightening. http://watkinspartners.com Yes, I still want to see the strip saved.

Author

deltabelle

Date

2010-10-26T13:32:32-06:00
More stories by this author
Support our reporting -- Follow the MFP.