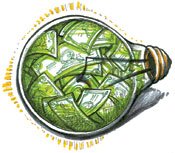 This story has been updated to reflect a clarification.
Mississippi Public Service Commissioner Brandon Presley said he is frustrated that Entergy Mississippi was slow to reveal a weeks-old U.S. Department of Justice civil investigation into Entergy Corporations' energy-purchasing practices.
"They knew about this three weeks ago, when I and commissioners from Arkansas, Louisiana, Texas and New Orleans met with them on Sept. 30. They kept it quiet all this time," said Presley, who added that the company has yet to file the DOJ's letter announcing the investigation with the Mississippi Public Service Commission.
Entergy refused to forward the DOJ's letter to the Jackson Free Press, citing that the letter contained confidential information and that company attorneys are still reviewing it.
"The investigation is just beginning, and no conclusion has been reached that the Entergy utility companies have done anything improper," Entergy stated in an October press release.
The investigation follows a Dec. 4 letter from Mississippi Attorney General Jim Hood to the DOJ's antitrust division. In that letter, Hood--who announced his own investigation into Entergy's purchasing practices following a decision to penalize the company by the Louisiana Public Service Commission and New Orleans energy regulators--accused the power company of refusing to buy cheaper electricity from independent power producers, as the state of Mississippi requires.
Instead, Hood says the company has engaged in a regular scheme to use its own, more expensive electricity from its aging power plants in hopes of starving out competition, while passing the costs of the more expensive electricity down to Mississippi ratepayers.
Independent power producer Entegra, which sells electricity to Entergy to redistribute among its customers, complained at a June 24, 2009, Federal Energy Regulatory Commission meeting in Charleston, S.C., that Entergy forces Entegra's power plants to "sit idle for many months."
Entegra, like other independent power producers, works inside Entergy's monopolized territory and may only sell energy to Entergy. But Entergy isn't buying because it wants to run the independently operated power plants out of business so it can buy them "at fire sale prices."
Hood said the company's practices are "crippling the growth of any competitive wholesale electricity market in its footprint and any benefits thereof to the states." He referenced a 2002 Entergy analyst presentation depicting a handgun containing numerous "bullets" for the company's success. One of the gun's six bullets carries the label "Assets: distressed buyer" and "2nd owner advantage," which Hoods argues describes the company's method of buying bankrupted power plants from their original owners at fire-sale prices.
Entergy says regulators like Mississippi's PSC have closely scrutinized its power-purchasing practices and that MPSC would have raised an alarm, if it detected misbehavior.
"Entergy believes that its practices and policies, which have been subject to thorough review and regulation by the Federal Energy Regulatory Commission, state electric utility regulatory commissions and local regulators, have satisfied all applicable laws and regulations," the company stated.
But PSC commissioners complained for the last two years that their information gathering on the company's purchasing practices is limited and is not capable of detecting every nuance of wrongdoing.
Last year, the commission refused to sign off on an annual audit report of Entergy's fuel adjustments, claiming the audit, submitted by the Public Utilities Staff, a sister agency of the PSC, did not depict whether the company had bought the cheapest power available. Their argument mirrored Hood's 2008 lawsuit against Entergy.
Public Utilities Staff Executive Director Bobby Waites said his staff checked Entergy's numbers but told commissioners it could not determine if Entergy Mississippi's procurements were the "rock-bottom lowest price."
"There's no way we can look at each one of thousands of transactions to determine if each purchase made should have been made instead of the one that wasn't," Waites said.
This year, the PSC paid Horne LLP a $1 million no-bid contract to more thoroughly cross-compare the company's fuel purchases, but commissioners admitted frustration in January that Horne LLP could not deliver the kind of details the PSC wanted. Presley, declared that the PSC had basically given Horne a blank check for what he considered "a wasted audit report."
Horne CPA partner Ann Cleland said at a January PSC hearing that Horne's failure to deliver fuel-purchase comparisons arose from Entergy Mississippi's slow submission of fuel-purchase transactions.
"We need to say we are 99 percent sure of the (fuel-purchase) transactions," Cleland said. "That type of confidence level requires details on transactions. (Entergy told us) the information we were asking for was generally maintained by the system operators and that they generally did not maintain those transactions in a format that was readily audible."
Entergy attorney Jeremy Vanderloo told commissioners that his company needed more time to compile the transcripts.
Hood said he predicted the DOJ investigation could culminate with the power company losing ownership of its transmission lines.
"There will probably be a separate, independent transmission company--essentially one company will own the transmission lines--and it won't be in that company's interest to stop the flow of electricity from any source. Then you'll have generators and transmission companies separated, so they can't choke off other companies from putting electricity on the line," Hood said. "That's where we are in other areas of the nation already."
The original version of this story reported that Entergy Mississippi was slow to admit to the U.S. Department of Justice investigation. Entergy officials had not been previously asked about the investigation.
More stories by this author
Support our reporting -- Follow the MFP.