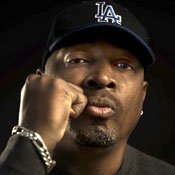 "Fake Records," a mysterious voice says. The music drops, and the chorus begins, "It's bigger than hip-hop, hip-hop, hip-hop!" A crowd of hip-hop heads inevitably goes wild.
On any given night, at countless hip-hop shows and clubs, crowds everywhere sing along as DJs play this popular refrain from one of political hip-hop's favorite groups, Dead Prez. It is often one of those moments that, if you are a part of it, really makes you feel like you are a member of something bigger than yourself. Part of a movement, even. Considering that it has been more than 10 years since the seminal rappers released the song "Hip-Hop" in 2000 on their debut album, "Let's Get Free," the idea that there is more to hip-hop than meets the untrained ear (and eye) resonates with more and more fans over time.
"Hip-Hop" is one part rallying cry, one part party anthem and one part complex social commentary. The duality of Dead Prez's song represents the duality that has been a constituent part of hip-hop, from its humble beginnings to the present day, when everyone has an opinion on rap music's effect on society.
Jackson rapper Coke Bumaye, whose lyrics strike a balance between confident braggadocio and gritty social commentary, sums it up best: "It's like the metaphor of the child looking out the window. I'm just jotting down what I see. Am I wrong for writing it down, or are the powers that be outside the window wrong for letting it go on?"
With his Socratic turnabout, Bumaye's metaphor presents the debate that rages in and around hip-hop, from the halls of academia to the pundits in the mainstream media and on the streets everywhere.
In "How Hip-Hop Holds Blacks Back," conservative social commentator and author John McWhorter writes: "Many writers and thinkers see a kind of informed political engagement, even a revolutionary potential, in rap and hip-hop. They couldn't be more wrong. By reinforcing the stereotypes that long hindered blacks, and by teaching young blacks that a thuggish adversarial stance is the properly 'authentic' response to a presumptively racist society, rap retards black success."
On the other side of the debate, hip-hop historian and former senior editor of "The Source" Bakari Kitwana says hip-hop is "the greatest major cultural movement of our time" that provided "the foundation for a resounding young black mainstream presence that went far beyond rap music itself."
So which is it? Is hip-hop, as Chuck D famously said, "CNN for black people," also letting the world know what goes on in the streets, the neglected places? Or is it a cultural pariah, causing the downfall of society, as hip-hop's critics would have it? These questions frame the discourse that takes place around hip-hop. As the genre has infiltrated the mainstream, concerns about hip-hop's place and meaning in the world have never been fully answered. In essence, hip-hop's greater cultural significance has never been agreed on, and a host of voices contribute to the dialogue.
One thing's certain: When talking about hip-hop, the conversation is about far more than just beats, rhymes and life.
Hip-hop's Genealogy
To fully appreciate the complexity of hip-hop discourse, start at the beginning. "Hip-hop started as a response to the socioeconomic conditions in New York. People were having fun so they wouldn't be out shooting each other," PyInfamous, a Jackson-based rapper, says.
The early days of hip-hop were centered on the DJ and his ability to throw the hypest, loudest party. Against the backdrop of rotting urban settings, cuts in education budgets—especially arts and music programs—and alarming white flight that decimated inner-city tax bases, DJ progenitors such as Kool Herc, Afrika Bambaataa and Grandmaster Flash provided soundtracks for the parties that celebrated life in the face of harsh conditions. As such, hip-hop has a "revolutionary quality, a rebellious quality," PyInfamous says.
The other side of hip-hop is that it's also partly rooted in social and political awareness and activism. "For many activists, the creation of hip-hop amid social devastation is in itself a political act," writes hip-hop scholar Angela Ards in "Organizing the Hip-Hop Generation."
But even this is a contentious point. Many hip-hoppers are proud of the legacy of political and social action that hip-hop founders left us with, and many scholars use this to point to hip-hop's cultural significance.
Critics also point to its social and political roots, however, to criticize hip-hop. The argument goes that hip-hop, in abandoning its roots over the years, has lost any relevancy as a revolutionary voice for the people. Instead, hip-hop has become the problem, influencing generations of children to emulate a life of violence, misogyny and bad grammar.
What are the critics really saying? "The discussion on hip-hop is really a discussion on race, with the familiar players in their familiar positions of power," hip-hop scholar Tricia Rose argues.
"Over the last three decades, the public conversation has decidedly moved toward an easy acceptance of black ghetto existence and the belief that black people themselves are responsible for creating ghettos and for choosing to live in them, thus absolving the most powerful segments of society from any responsibility in the creation and maintenance of them," she writes in "The Hip-Hop Wars: What We Talk About When We Talk About Hip-Hop and Why it Matters."
For Rose, the media, in blaming rappers for the problems, frame popular discourse on rap in a way that allows those in charge to perpetuate the notion that black people are responsible for their own predicament, absolving the white power structure of responsibility for the way millions of people live in the U.S.
"You can't say that hip-hop causes the conditions. Hip-hop is used as an excuse to criticize the ghetto," Coke Bumaye says.
The Media
"America wants people to assimilate, and when they don't, they get criticized," PyInfamous says. Further, he explains, the media don't "understand hip-hop because they don't understand the complexities of African American culture."
Agreeing with Tricia Rose, PyInfamous points to the idea that the media perpetuates racial stereotypes through its criticism of hip-hop culture.
Since hip-hop's meaning has been left open-ended from its genesis, the media have been a major mouthpiece in attempting to shape the discourse surrounding the culture.
One needs only to look at Bill O'Reilly's tirade against Ludacris in 2002. O'Reilly, describing Ludacris as "vile" because his music "espouses violence, degrading sex and substance abuse," was instrumental in having the rapper removed as a spokesman for Pepsi to be replaced by Ozzy Osbourne, who knows a thing or two himself about drug use and violence (ask any flying mammal that is willing to speak on the subject).
What is the main difference between the "thug" Ludacris and "rocker" Ozzy Osbourne? In a 1993 study entitled "Constructing Racial Rhetoric: Media Depictions of Harm in Heavy Metal and Rap Music," sociologist Amy Binder wrote, "In a cultural landscape marked by divergent perceptions of black youths versus white youths, different concerns emerged in the mainstream media about the impact of each group's form of cultural expression."
In the study, Binder examined a wide range of music publications to determine the frameworks writers used to describe different types of music. She concluded that the media tend to frame perceptions of music along racial lines: Heavy-metal lyrics are framed to show that white youths are victims of the music, while hip-hop lyrics are framed to show that rappers are victimizers preying on the community.
In showing the ways media perpetuate racial stereotypes, which, coincidentally, helps media outlets sell ad space during news shows, Binder gives credence to Rose's arguments.
"To many hot-headed critics of hip-hop, structural forms of deep racism, corporate influences, and the long-term effects of economic, social, and political disempowerment are not meaningfully related to rappers alienated, angry stories about life in the ghetto; rather, they are seen as 'proof' that black behavior creates ghetto conditions," Binder writes.
Through its framing practices, the media becomes complicit with the power structure to create a vicious cycle of self-fulfilling prophecies that is as old as the United States itself.
Is it hip-hop's fault, as a culture or movement, that media has hijacked its meanings, using them in an ugly, one-sided discourse on race? "We've been rapping for almost 40 years about this stuff," Bumaye says. "What? Do they think we are lying?"
For Bumaye, rap is a space created and maintained by young people of color, who, until hip-hop's inception, had no such space in popular culture to express their experiences, emotions and art.
On the opposite side of the same coin, the world was given a never-before-held opportunity to gain insight into a world they did not know through the words of America's "oppressed and disenfranchised," PyInfamous says. In place of heeding the warnings coming from these spaces, the media latched onto the words of rappers to push their own agendas, as the scholars have shown.
Bumaye's advice to pundits? "Instead of criticizing, listen."
Rappers and Balance
"Rappers are more influential than parents," Bumaye says. "They look up to us," he explains about rap artists and their fans.
Mainstream media most often ignore the voices of rappers unless, of course, the media are latching on to another tale of violence or crime. And, coincidentally, it is the voices of rappers that have the most to say about what their music means, and what hip-hop's relevance is as a larger cultural movement.
"I am an artist. I hate being called a rapper," says Treasure Troll, Jackson hip-hop artist and CEO of Treasure Chest Entertainment/Goldmine Films. "We make artwork, we paint portraits."
He dislikes the label "rapper" because of the perceptions about rappers.
"Now it has changed," he says. "It's more animated. It's not real. It's artificial. Kids hear it, believe it, and go out and do it. They are getting molded by something that ain't real."
For Troll, the problem facing hip-hop in the present is that rappers have fallen off and do not take their roles within the community seriously. "We have to set an example," he says. "We are grown men with kids of our own. We talk about our experiences. How we used to be, how far we came. We want to represent that transition to the kids to let them know they can make it, too."
"It's all about balance," PyInfamous says. "It is just to try to stay relevant to what's going on in the world and enlighten people. Social commentary to a beat.
"I talk about the ills and the good stuff too," he continues. "I try to balance that with having a good time."
For all these rappers, balance seems to be an important goal—be it balancing their roles as social commentators and role models or balancing media perceptions with reality.
Ultimately, that is what hip-hop has been about since the beginning: Balancing the party with the reasons that caused the party in the first place.
Balance, as it turns out, is what pushes the discourse on hip-hop forward.
"We cannot truly deal with what is wrong in hip-hop without facing the broader cultures of violence, sexism and racism that deeply inform hip-hop, motivating the sales associated with these images." Rose writes. "Yet those of us who fight for gender, sexual, racial and class justice also can't defend the orgy of thug life we're being fed simply because sexism and violence are everywhere."
Rose defines the hip-hop dialectic: To wrestle the power to define hip-hop from the media and critics, hip-hop's allies, fans and artists must understand and know how to articulate the social issues that inform hip-hop. At the same time, hip-hop must constantly question itself, in its own terms, to seek answers and solutions to its problems, that, while not endemic to hip-hop are a part of it.
The most glaring example of this is the issue of sexism in hip-hop. As the critics would have it, hip-hop is the main venue in popular culture for demeaning women, and many call for censorship and even out right bans on sexist images.
Or, according to Rose, "It's as if one is saying: Once imagery and music are 'respectful,' order will be restored." To follow this simple line of reasoning, one has to ignore society's rampant sexism to which hip-hop is both responding and adding to. Does hip-hop merely reflect, or is it responsible for sexism in society? Is it that simple for either side? Ultimately, it's not; these are complex issues with complex questions. Realizing this is the only way to push the debate forward.
Using Rose's model, hip-hop can take back its right to define itself and follow its own legacy, by finding a balance between outside and self-criticism.
"Hip-hop is neither the cultural beast that will destroy black America nor the political panacea that will save it, but is part of the ongoing African American struggle constantly reaching for higher and higher modes of liberation," says hip-hop scholar Clarence Lusane.
It is within these in-between spaces, where balance prevails, that the answers to hip-hop's eternal questions might reside. Or maybe there are no answers to the questions, and hip-hop's importance exists in the discourse that surrounds it. This discourse, if nothing else, has provided an arena to discuss issues of race, class and gender, while at the same time revealing inherent power structures.
In the end, hip-hop is not only just a mirror in which we see ourselves, but it can also be an important force in shaping the future. If we can find the balance.
Previous Comments
ID

160258

Comment

What's eating hip-hop? Isn't it obvious - the artist can't sing, they only talk and show their asses. Humans can only take so much talking and booty showing before wanting to hear the soulful sounds of Stevie Wonder, Marvin Gaye, Bob Marley, the O'Jays, the Temptations, Frankie Beverly and Maze, the Dramatics, Lenny Williams and the Tower of Power, Solar Records, Motown, TSOP, STAX, etc.. You know what I'm saying!?

Author

Walt

Date

2010-10-08T16:57:16-06:00
ID

160259

Comment

And they don't even have another Chuck D, Flavor Flav and Public Enemy. "You can't trust it." "Fight the powers that Be."

Author

Walt

Date

2010-10-08T16:58:54-06:00
ID

160277

Comment

Walt, I think What's eating Hip-hop" in 2010 is summed up by this quote from Patricia rose in the article "...To wrestle the power to define hip-hop from the media and critics, hip-hop's allies, fans and artists must understand and know how to articulate the social issues that inform hip-hop." Too often, the artists that are publicized and supported by record companies are the ones who cannot do this, and thus they merely talk about the "party" and thus end really being 21st century minstrels. Hip-hop still has relevancy as cultural expression and social critique for urban youth, but the images being displayed by the media are doing more harm than good in many instances. Thus, young people are limited in their exposure to the possibilities of Hip-hop. And that is the real tragedy of it all. I am as big a supporter of the Old School as they come but even then there was an older generation that was cursing the day that Sam Cooke left the Soul Stirrers. New generations must take the culture forward. Let's move forward in our culture by supporting and structuring a space for the cultural art to mature past infantile musings about money, sex, and drugs.

Author

Renaldo Bryant

Date

2010-10-12T10:10:15-06:00
ID

160278

Comment

I don't understand the purpose of glorifying the thug life no more than I understood metal bands in the 80's that utilized Satanic symbolism. Why make it cool to carry a pistol in your pants ready to pop a cap in someone?

Author

js1976

Date

2010-10-12T10:17:42-06:00
ID

160282

Comment

js76, Initially, the "thug Life" mantra was not a glorification, but a commentary on the violent nature of inner city life characterized by decades of neglect and exploitation by the powers that be in urban centers. If you note such albums as "Straight Outta Compton" by NWA and "Six in the Morning" by ICE T, some of the more seminal "gangsta rap" Albums, and the work of Tupac Shakur in many instances, you'd see angst, rage, and biting social commentary in an unapologetically raw vernacular that reflects the harsh realities of inner city life. A sort of "Inner City Blues" without the Motown artistic filter. The only people who saw it as glorification and causing the circumstances these artists rapped about are people who didn't want to examine these issues with nuance and courage, who simply wanted to dismiss this art as ignorant. Today, what you see mostly are young people who aren't as informed about the issues that characterize inner city life, as much as they are effected by them. So, there is no commentary, but mindless reactionism. It takes a not so nuanced ear to hear the differnce between "F' tha Police" By NWA and "Goin' Hard in tha Paint" By Wocka Flocka Flame.

Author

Renaldo Bryant

Date

2010-10-12T11:21:21-06:00
ID

160283

Comment

Blackwatch, I will agree that initially these groups made music about what they knew. What they knew was a tough life in the streets, and they used that as a basis for their music. I would also agree that "mindless reactionism" sums up the biggest majority of today's hip hop artists rapping about the gangster lifestyle.

Author

js1976

Date

2010-10-12T12:10:29-06:00
ID

160285

Comment

yo, thanks for reading everyone. if this topic interests you guys, come to JSU tonight at 6pm for the screening of Byron Hurt's documentary "Hip Hop: Beyond Beats and Rhymes." It is being hosted by the Margaret Walker Alexander Research Center (disclaimer, I work there) in the Liberal Arts building room 266. Kamikaze will be leading the discussion to follow. It is a good film and touches on some of the topics i wrote about, with an eye more on the sexist/homophobic aspects of modern hip hop. Should be a good discussion. peace.

Author

gwhiz

Date

2010-10-12T12:56:20-06:00
ID

160293

Comment

I agree with you, Blackwatch. We need true, creative and fearless soldiers who aren't afraid to tell the truth. But you know a supposedly angry brother went down town to confront the man about the conditions and situations of the desperately poor and suffering in his community. The man offered that weak-knees and pretending Negro a so-called good job as President and CEO of HNIC, and that phony Negro forgot he knew any poor and suffering people. He soon bought him a mercedes, moved to the suburbs and put him children in private school. Hip hip hooray, hey, oh.....

Author

Walt

Date

2010-10-12T17:18:33-06:00
More like this story
More stories by this author
Support our reporting -- Become a JFP VIP.
The news business has changed dramatically in the past year, and we need your help more than ever to keep bringing you important stories about Jackson and the Metro. Become a JFP VIP with an annual membership or you can Sign up as a monthly supporter. Thanks for anything you can do to empower our journalism!