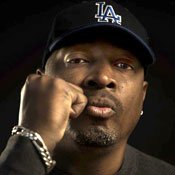 Chuck D, the front man of the once largely successful hip-hop group Public Enemy, has often been media's "go to guy" on all things hip-hop.
Stories this photo appears in:
Music
"Fake Records," a mysterious voice says. The music drops, and the chorus begins, "It's bigger than hip-hop, hip-hop, hip-hop!" A crowd of hip-hop heads inevitably goes wild.