The next couple of weeks are probably my favorite time to be a college football fan. Starting Thursday (Thanksgiving) and ending next Saturday it is rivalry week in college football.
All over college football in-state and border state rivalries are played each year. Rivalries like the following, Alabama/Auburn, Florida/Florida State, Clemson/South Carolina, and so on and so forth.
During rivalry week, we in our fine state get to enjoy the Mississippi/Mississippi State contest. Growing up in Mississippi my entire life, it always seemed everyone stood on one side or the other in the battle for the Egg Bowl.
No disrespect intended to the other teams (universities or colleges) of this state. It just seemed in my youth the entire state picked one team or the other to root for in this annual game.
The week of the Egg Bowl past games were rehashed either as dramatic wins or heartbreaking losses.
Ole Miss fans will fondly remember the 1983 game played in Jackson and known as the "The Immaculate Deflection." The Rebels clinging to a 24-23 lead with only 24 seconds left saw Bulldogs lineup for the game winning field goal.
Just as freshman kicker Artie Cosby effort looked like it would be true and split straight down the uprights, tragedy struck for MSU. A 40 mile gust of wind stopped the ball in mid-flight, inches from the crossbar and sent it tumbling back toward the earth, preserving an Ole Miss victory.
Mississippi State fans would have their revenge 16 years later in 1999 this time in Starkville. The Bulldogs down 20-13 late in the fourth quarter rallied to tie the game at 20-20.
Then MSU used a Romero Miller interception that was deflected by the hands and then the foot of MSU cornerback Robert Bean before being intercepted by Eugene Clinton. After Clinton returned the ball deep into Ole Miss territory, Mississippi State kicker Scott Westerfield, with eight seconds left, nailed a 44-yard game-winning field goal for the 23-20 Bulldog victory.
There are other old and recent memberal games. Who could for get the mele that marred the 1997 contest but ended when Ole Miss head coach Tommy Tuberville cemented his status as "The Riverboat Gambler" when he opted to attempt a two-point conversion (which was converted) for a 15-14 Ole Miss victory.
Fans on both sides remember the 2007 meeting that ended Ed Orgeron's tenure as head coach. Orgeron elected to go for it on fourth-and-1 at the Rebels' 49 early in the fourth quarter leading 14-0.
The Bulldogs would rally with an Anthony Dixon catch a touchdown pass and a Derek Pegues 75 Yd Punt Return for a touchdown. MSU would get the 17-14 victory on an Adam Carlson's 48-yard field goal with 18 seconds left, which sent MSU to its first bowl trip since 2000.
This season looks to be the reverse of the 2009 season. Mississippi State entered that game with a 4-7 record and Ole Miss had a 7-4 record.
Fast forward to 2010 and the Rebels have the 4-7 record and the Bulldogs are 7-4. The 2009 contest ended in a MSU 41-27 blowout of the Rebels.
Both teams enter this game on two games losing streaks and both teams lost close games last week. Ole Miss pushed LSU to brink in a 43-36 loss and MSU had chance to pull an upset in a 38-31 double overtime loss to Arkansas.
An overlooked fact for fans thinking Mississippi State has an inflated record. All four (1 Auburn, 5 LSU, 11 Alabama, 12 Arkansas) of Bulldogs losses are to teams currently ranked in the top 15 of the BCS standings.
I checked all the Division I standings and only found one team with more than two losses who can boast the same claim, that team is Texas A&M, who has lost to (8) Oklahoma State, (12) Arkansas, and (14) Missouri.
In football the sign of a good team is beating all the teams you are supposed to beat, which is what MSU has done this season. Contrast that to Ole Miss which lost to Jacksonville State and Vanderbilt at home before being housed and looking lifeless on the road by Tennessee.
Mississippi State enters this game with 54th best defense against an Ole Miss offense ranked 41st in the nation. On the flipside the Rebels have the 75th best defense against the Bulldogs 59th ranked offense.
The strength of both teams is the run game. Ole Miss has the 14th best rushing defense in the country and MSU has the 16th best rushing defense.
MSU has the edge in stopping the run with the 26th best run defense compared to Mississippi having the 53rd ranked rushing defense. The weakness on both teams is the passing game.
Ole Miss is the 88th ranked passing offense and the Bulldogs are worse having the 101st passing offense. The Rebels have the 98th ranked passing defense and MSU has the 88th ranked defense against the pass.
All that being said look for Ole Miss and MSU to try to force the other in to a passing game. The defensive coordinators will then hope their defenses can find a way to stop the other team from throwing on them.
Give an edge to Mississippi State in stopping the run with the better ranked rush defense. But the passing offense edge has to go to Ole Miss and Jeremiah Masoli.
MSU quarterback Chris Relf did have his best passing game of the season against Arkansas last week completing 20 of 30 passing attempts for 244 yard and no touchdowns or interceptions.
In the last ten meetings the Rebels have six wins to the Bulldogs four wins. Also since the game is in Oxford it should be noted that the road team has not lost in this series since 2003.
Before the pick there are some statistical achievements to watch for:
The Rebels Jeremiah Masoli needs 222 yards to reach 2,000 yards for the season
Brandon Bolden of Ole Miss needs 69 yards to reach 1,000 yards this season
The Bulldogs Vick Ballard needs 151 yards to reach 1,000 yards this season
With a victory, MSU would win eight regular season games the most since the Bulldogs won 10 games in 1999 and finished ranked 12th in the nation
Now on with the pick, even though 2010 has been terrible for me, I am taking the Bulldogs to win with a stingy defense and by finding ways to run the ball with Relf and Ballard.
MSU wins on the road in this series for the first time since 1998 and Dan Mullen (1-0 Egg Bowl record) sends Houston Nutt (1-1 Egg Bowl record) some nice bear claws pastries.
Score: MSU 28 Ole Miss 24
Note to Mississippi State fans, I have been horrible picking games, so if Ole Miss wins please feel free to send all your hate mail to me.
The 2010 Egg Bowl will be the 107 meeting between these teams and can be seen on ESPN U at 6:00pm. Ole Miss leads the all series 60–40–6.
Previous Comments
ID

161077

Comment

@Todd, If you cannot get ESPN U feel free to stop by my house. I am sure I will be watching the game on Saturday night.

Author

Bryan Flynn

Date

2010-11-24T15:54:34-06:00
ID

161078

Comment

Damn that ESPN U!

Author

Todd Stauffer

Date

2010-11-24T16:06:09-06:00
ID

161079

Comment

@ Todd, Your bring the ice cold beverages and I will bring the U. I would hate for you to miss all the excitement. LOL.

Author

Bryan Flynn

Date

2010-11-24T16:08:56-06:00
ID

161080

Comment

Or TDoggSto can come by my house if I'm back from out of town in time. Well I wasn't a fan or much of a watcher of State and the Rebel Bears in the gory ole days before integration or before my nephew foolishly decided to attend ole miss in 2008 on a football scholarship; but I know one thing, State is going to beat the rebel bears by more than four points. My nephew in his second year on the rebel bears can't come home for Thanksgiving because that Nutt is mad at them for how they played this year and especially against LSU. I thought they played well but lost. Until he treats them boys better everything about him will be cursed just like t was with Mister who mistreated Cele' in the Color Purple. Does it really matter who wins the rotten egg bowl game? Additionally, the cowwussies aka Cowboys better not beat the Saints on Thursday, and I'm sho nuff hoping Detroit has a breakout game and beat the New England Pilgrims or should I use that other Pword and I'm not talking about Patriots. I hate the Patriots for what they have done to us (the Steelers) the last 15 years or so. Anyway, I'm hoping the State and rebel bears game is a good one, and that it's competitive to the end with State winning by a touchdown. My nephew can taste winning the last 2 years of his career. If my nephew grows into greatness and gets drafted by the Steelers to play along side Wallace who referenced his high school instead of ole miss during his introduction, the Lord can call me home after several more Super Bowl rings and the grandkids getting grown for I won't have anything else to live for. Go State, Saints, Lions and Steelers.

Author

Walt

Date

2010-11-24T16:21:41-06:00
ID

161083

Comment

No thanks Bryan, if they're not going to put it on a real channel, then somebody has to protest with their channel clicker. Looks like there's a nice OK/OK State game on a network -- I guess I'll just watch that. :-|

Author

Todd Stauffer

Date

2010-11-24T17:23:04-06:00
ID

161084

Comment

Mississippi State should have beat Arkansas and they played well against Auburn for a while. Can you imagine the sight of Mississippi State if they had out-bided and paid more money than Auburn to get Newton. This story has a Marcus Dupree ring to it. Did any of you see the 30 for 30 show on ESPN recently that featured the life of Marcus Dupree? What a wonderful story that was. The part at the end where he asked his mother if he made her happy made him and me cry. Nall, I didn't cry. A knat or sump got in my eye. Only girly-boys cry. I met Marcus after his football glory days and tried to pick him for juror but the mean ass DA struck him. He's still fighting on to succeed. Like he said he should have stayed at Oklahoma despite Switzer not knowing how to coach that much talent.

Author

Walt

Date

2010-11-24T17:25:07-06:00
ID

161098

Comment

I nearly got this one right. I figured the final score to be 28-24. A missed pointed by Ole Miss and an extra field goal by Mississippi State kept me from hitting the nail on the head. Oh well, at least I got the winner right for once this year.

Author

Bryan Flynn

Date

2010-11-28T22:00:43-06:00
ID

161117

Comment

Mississippi State tore up the Ole Miss Neutered Bears. Mullins is right, one program is going in the right direction. The Neutered Bears 4 - 8 for the season. Mississippi State 8 - 4 for the season and headed to a Bowl Game. You be the judge. Right, Donna???!!! Don't be skered. Say something.

Author

Walt

Date

2010-11-29T18:41:37-06:00
ID

161120

Comment

After the Egg Bowl rumors are running wild, much like Hulkamaina, and one coach from Mississippi could be taking his talents to South Beach. Houston Nutt had a press conference to say he was not leaving Ole Miss. Remember when Tommy Tuberville said he was not leaving Oxford except in a box. What Nutt and Colorado if they can find the money (more on that later if I get the chance). Mississippi State coach Dan Mullen is on the short list for the Miami Hurricanes job after Randy Shannon was fired for a 7-5 season. Mullen will get a long look. Without knowing Mullen's contract with MSU, I do know that Miami can if it wants to afford a buy out. The south Florida univerisity is one of the largest private schools in America. More on Nutt and Mullen as it happens.

Author

Bryan Flynn

Date

2010-11-29T20:24:37-06:00
ID

161121

Comment

Colorado's AD said Sunday in an interview that Nutt wasn't on their list of coaches, I have heard Mullen is. Mullen's contract is through 2013 for $1.2 million a year.

Author

BubbaT

Date

2010-11-30T00:21:37-06:00
ID

161122

Comment

And before folks start stoking out about his salary he gets $250,000 base salary from State and $950,000 from the Bulldog Foundation funded by alumni and donors.:)

Author

BubbaT

Date

2010-11-30T00:30:38-06:00
ID

161123

Comment

I can see Mullen being the coach at Miami. Given that he has history in the state, he knows the area and can possibly recruit a lot of talent to play for the Hurricanes. South Florida is so stocked with college- and NFL-level talent, it's ridiculous. Look at what Mullen has been able to do with what he has so far at MSU. Look what he can do with even better talent at Miami. Also, I would take being on South Beach any day than being in the middle of Nowheresville.

Author

golden eagle

Date

2010-11-30T00:45:02-06:00
ID

161134

Comment

Just announced: Mississippi State linebacker Chris White was named the Cellular South Conerly Trophy winner tonight as Mississippi's top college football player for 2010. Congratulations to the senior from Vancleave. White and the Bulldogs will find out their bowl destination Sunday (one day after the SEC Championship game).

Author

Bryan Flynn

Date

2010-11-30T21:07:24-06:00
ID

161136

Comment

I think Danny Hrappman should've been nominated instead of Austin Davis for USM. Southern Miss kickers get no love- Ray Guy can't get in the NFL HOF and Hrappman, a Lou Groza award finalist, can't get in as a Conerly nominee.

Author

bill_jackson

Date

2010-12-01T00:18:07-06:00
ID

161160

Comment

In a bit of Mississippi State related news: Cam Newton is eligible to play one day after Auburn (under the cover of darkness)said he was ineligible. Tomorrow at the latest I will have a post on my sports blog if you want to check it out. The corupt NCAA is at it again.

Author

Bryan Flynn

Date

2010-12-02T10:02:26-06:00
ID

161192

Comment

Just breaking off the wire: Mississippi State has accepted a bid to play in the Gator Bowl on New Year's Day. The Bulldogs will play Michigan. Dan Mullen could be auditioning for the Wolverines job when these two teams meet up in Jacksonville. The game is at 12PM on ESPN 2.

Author

Bryan Flynn

Date

2010-12-05T17:49:35-06:00
ID

161200

Comment

I hope Mullen stays at Mississippi State, but I have been to Miami. I spent a week at the Loews on South Beach and I'm here to tell you Mississippi State and Starkville ain't got it like that. As the Arsenio Hall character said in Coming to America, "when I see that I know there is a God. Man can't make it like that." We'll see how much Mullen lives by his word. Don't get me wrong, I'm talking about football.

Author

Walt

Date

2010-12-06T18:33:02-06:00
ID

161205

Comment

I'mma keep it real - Shannon had to keep his nose clean just like Croom at MSU - but Butch Davis and Jimmy Johnson know first hand what a gold mine south florida is for college football. Just because I have a beef with Lebron James, doesn't mean I don't recognize the allure of South Beach. Mullens is a hell of a coach, but the only way State is keeping that guy for the long haul, they better beef up his salary by a couple of million.

Author

Duan C.

Date

2010-12-07T07:38:20-06:00
ID

161206

Comment

Remember when Nick Saban said he wasn't interested in the job at Alabama while still with the Dolphins? Or when Tommy Tuberville said he would leave Oxford in a pine box? I'm just sayin'!

Author

golden eagle

Date

2010-12-07T08:51:56-06:00
ID

161209

Comment

Another thing Golden, I think with Saban - it was more or less the difference between coaching in the pro's and college. It wasn't all peaches in cream in Miami, in the pro's. Look at Bobby Petrino from the Falcons job to Arkansas? Look at Mike Krzyzewski @ Duke - coaching in college has some serious perks, especially when you are a winning coach. Another example of that argument, look @ Kirk Ferentz at Iowa, Bob Stoops at Oklahoma, Pete Carroll in another year after the Seahawks fall off, lol!!! There are arguments for him to stay and arguments for him to go, I just hope for State's sake he stays.

Author

Duan C.

Date

2010-12-07T10:50:32-06:00
ID

161229

Comment

As if Bulldogs fans have enough reasons to worry about Mullen leaving for another gig elsewhere, the worries just got bigger. Urban Meyer has resigned (again) from Florida and Mullen's name is already linked to it. It stands reason for that to happen: his previous gig was the offensive coordinator at Florida.

Author

golden eagle

Date

2010-12-08T14:59:34-06:00
ID

161235

Comment

The scary thing for Mississippi State fans is that Florida can afford to pay Mullen as well. Do not be surprised in Charlie Strong from Louisville or Chris Petersen at Bosie State are top canidates as well.

Author

Bryan Flynn

Date

2010-12-08T17:32:13-06:00
ID

161245

Comment

Absolutely. Personally, I want Mullen there because his history with the program, but I do believe Florida owes it to their fans (including me) to do due diligence and find other coaches to interview.

Author

golden eagle

Date

2010-12-09T11:58:17-06:00
ID

161267

Comment

Delta State defeats Shepard University 29-17 and is heading to Florence, AL to play for the Division II National Championship. The Statesmen will await the winner of Minnesota-Deluth and Northwest Missouri State to find out who they will play. DSU is seeking its second national championship and first since 2000.

Author

Bryan Flynn

Date

2010-12-11T16:56:08-06:00
ID

161269

Comment

MSU fans should breathe a sigh of relief for the moment as Dan Mullen will not be heading to Florida. Texas defensive coordinator Will Muschamp has been hired to take over the Gator program.

Author

golden eagle

Date

2010-12-12T00:08:35-06:00
More stories by this author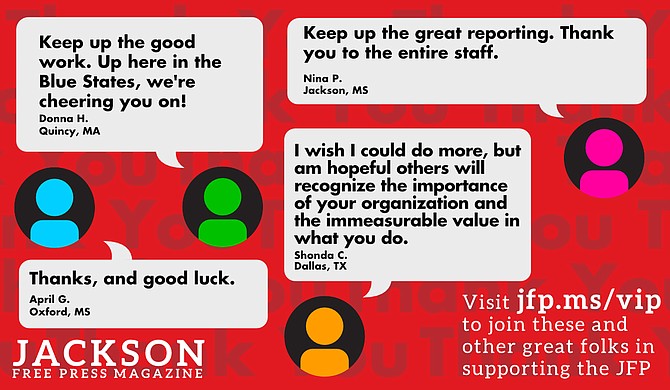 Thanks to all our new JFP VIPs!
COVID-19 has closed down the main sources of the JFP's revenue -- concerts, festivals, fundraisers, restaurants and bars. If everyone reading this article gives $5 or more, we should be able to continue publishing through the crisis. Please pay what you can to keep us reporting and publishing.