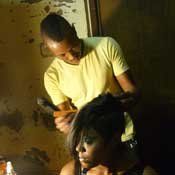 I need more black friends. That was the first thing I thought as I walked into the Regency Hotel Saturday evening, 
Nov. 13, for the third annual Mississippi Hair Battle. Among the approximately 1,000 people who attended the event, about three of them were white--myself included. The childhood joke, "Your epidermis is showing," rang loudly in my ears. I had never been so conscious of my race.
Pure Illusion Salon owner Shalonda Quinn started the show three years ago to showcase the state's hairstyling talent. The show has since expanded to bring in competitors from around the country. But don't be fooled by the name: This hair battle goes beyond flat irons and shears. This is a competition of style, costumes, creativity and dance.
I had no idea what was in store for me.
After I arrived, one of the event organizers escorted me to a room where teams were waiting to perform. When she opened the door, my jaw dropped. Women with hairpieces resembling globes, bridges and trees cautiously applied makeup and last-minute touches.
In the front of the line, Lashondra Sumrell and her team "Barbie's Birthday" consisted of 12 young women dressed in pink lingerie with layers of pink hair and jewels. One "Barbie" had a gift sewn into her hair, another had a Barbie doll's body. Sumrell, who is a hairstylist at Adam's Corner Barbershop on the corner of Lynch and Valley streets, spent four weeks designing the hairpieces and props, and choreographing a routine for the show. She says she got the idea after a dream she had involving Barbie dolls. Her set included a pink lounge chair and presents wrapped in pink paper and balloons.
In her day job, Sumrell specializes in weaves, so competing in her first battle gave her the opportunity to branch out and explore her creative side. "It takes more creativity, time and imagination," she says about competing in the hair battle.
Sumrell says she began with a vision and used inspiration from her customers, magazines and her own experiences to design the images.
"When I started, it took me about a week to brainstorm and know what I wanted to do," she says. "In that week, I figured out how much I wanted to spend, how big I wanted the hair to be and what colors I wanted to use. Then I started to use my imagination."
I expected a runway with models, but this was way better. Each model owned the stage, taking confident strides, dancing like they were in a Jay-Z video.
The show kicked off with Cut Creative stylist Keisha Cooper's team who resembled characters from "The Wizard of Oz," including the Tin Man, Dorothy, the Lion and Glenda the Good Witch, whom the announcer took care to point out was sporting "manageable soft hair."
As I hugged the conference room's wall, I watched the performances in awe. Women of all shapes and sizes confidently embraced the stage and hit every move of their choreographed routine. I was enamored with men who wore African masks and loincloths and dove into the floor. In one routine, a dancer slipped off the stage, only to jump right back up without missing a beat.
I wanted everyone to know that I knew I was white--in case they couldn't tell. "I feel so white," I texted Posh Boutique owner Keisha Alexander who was in the audience. When she didn't respond right away, I started to panic. Should I have not said that? Is this how black people feel when they are in a sea of white people?
"Lacey you crazy! You good!" she responded.
During the battle, Alexander came to check on me, "I just wanted to make sure you were OK," she would say.
It's not that I'm uncomfortable around people outside my race or that I don't have any black friends, but I'm not used to feeling like the minority. And it wasn't until last year, when I was editing a film review on "Good Hair," that it became apparent just how out of touch I really am when it comes to black culture. I had no idea what a weave was, or that black women had to put chemicals in their hair to make it stay flat. JFP assistant to the editor ShaWanda Jacome patiently educated me on the debate over natural hair versus relaxed. I was shocked. How had I not known this in my 25 years of life?
The show prompted me to finally watch "Good Hair" myself. Between discussing the extreme measures many black women take to achieve "good hair," the film features stylists competing in the Bronner Bros. International Hairshow in Atlanta. When I saw the Atlanta battle onscreen, with its intense competitors and lavish hairstyles and costumes, what I'd seen a couple days before started to click: Hair battles are similar to beauty pageants, ice-skating competitions or even a season of "Project Runway." It's a way to showcase stylists with their best techniques, innovation and vision.
Between performances, audience members gathered in a circle and danced to songs like Young Money's "Roger That" and Willow Smith's "Whip My Hair." I couldn't recall going to an event where people just stood up and started dancing. I tapped my feet and tried to imagine my white self jumping into the circle and getting down.
After several more performances with themes including biker chicks, soldiers in combat and New York City landmarks, the battle ended. The judges took a few minutes to deliberate and came back with the verdict: Stylist Yvette Wright from Just White Salon from Little Rock, Ark., won the $5,000 prize for best hair styling. Clad in army fatigues, Wright cut hair on stage while dancers danced with fake guns.
Quinn says she wants to see Jackson hairstylists think "outside the box" and become a southern city that attracts big names in the hair industry. For me, going to the battle was an opportunity to see beyond hair and to experience a world of creativity and imagination I didn't know existed.
Previous Comments
ID

161082

Comment

I like your column, Lacey. During my early professional career I and a few other Blacks were always in White settings. We talked two of the White males into going with us to a Black club in Dallas, Texas. They were the only Whites there and we (us included) gave them the look of extreme hate and discomfort. Finally, I told one of them to stop acting scared and to go ask a sister to dance. He asked me if I saw how everyone was looking at them. I said yes but ignore it and do it anyway. Eventually both guys asked sisters to dance, were accommodated and had a great time. One of them even did a couple of slow dances and he looked quite happy, almost too happy. After we left they told me and Roger "finally, I see what y'all see."

Author

Walt

Date

2010-11-24T16:56:09-06:00
ID

161090

Comment

Lacey, don't be so self-conscious about your "white self jumping into the circle and getting down." What's the worst that could happen? Ok, fine, what's the worst that could happen other than this: http://www.youtube.com/watch?v=VGOO8ZhWFR4

Author

mpriesterjr

Date

2010-11-25T09:35:43-06:00
More like this story
More stories by this author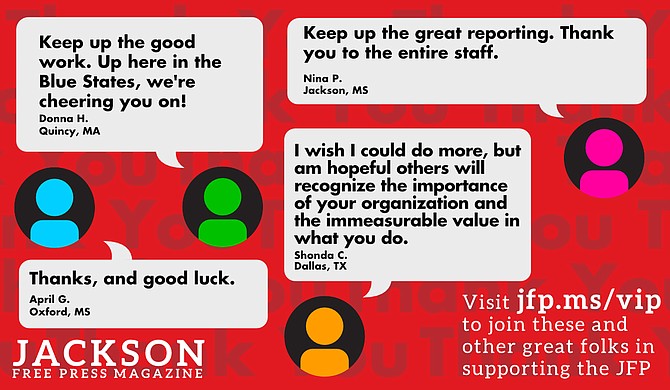 Thanks to all our new JFP VIPs!
COVID-19 has closed down the main sources of the JFP's revenue -- concerts, festivals, fundraisers, restaurants and bars. If everyone reading this article gives $5 or more, we should be able to continue publishing through the crisis. Please pay what you can to keep us reporting and publishing.