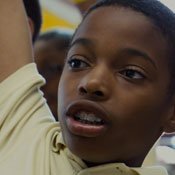 In "Waiting for 'Superman,'" the provocative new documentary on America's education system, the trick is that the titular superhero doesn't exist. It argues that no single force will rescue the children who public schools, in their current state, are largely failing. But the film offers a clear Lex Luthor-esque villain in the form of teachers' unions.
Filmmaker Davis Guggenheim hones in on teacher tenure as a key impediment to improving teacher quality and thus education overall. Only one in every 2,500 teachers will ever lose their license, he notes; for lawyers, that figure is more like one out of every 50. He portrays unions as the intractable opponents of reformers like Michelle Rhee, the hard-charging former school superintendent in Washington, D.C. When Rhee first proposed a reformed teacher contract that gave teachers the potential for six-figure merit-based salaries in exchange for less job security, the union refused to bring the contract up for the vote.
Instead of airing the union's objections, Guggenheim narrates over a slow-motion shot of union president George Parker grimacing. While it ventures into the classrooms of successful charter schools, "Waiting" includes no interviews with actual teachers. American Federation of Teachers Randi Weingarten appears briefly, but only as a defender of the union establishment.
The film's treatment of teachers and unions drew some criticism at a screening and discussion of the movie sponsored by Parents for Public Schools Jackson last week at the Malco Grandview Theatre in Madison.
With its anti-union, right-to-work status, Mississippi has no full-fledged teachers' union. The state does have two "professional organizations," Mississippi Professional Educators and the Mississippi Association of Educators, a chapter of the National Education Association--which organizes as a union in other states and is the largest labor union in the country.
MAE President Kevin Gilbert took offense at the documentary's portrayal of groups like his. "It was obvious that the movie's statement was that teacher organizations are part of the problem," Gilbert said later.
The critique of teachers' unions also has little relevance for Mississippi, as the state lacks the tenure protections of other states, Gilbert argued. Organizations like Gilbert's have no collective bargaining status. The state Legislature sets the standard teacher's contract.
The state's employment laws for teachers actually provide considerable protection, though. After working for a school district for two consecutive years, a teacher is protected by the state's Education Employment Procedures Law. The law requires administrators planning not to renew a teacher's contract at the end of the school year to notify them in writing by March 1. Administrators must also document their reasons for non-renewal. In practice, Gilbert says, this means that principals must observe the teacher and write out an improvement plan--which the teacher must fail to complete--before issuing the non-renewal notice. The teacher is then allowed to request a hearing with the school board.
The EEPL does not list justifiable reasons for non-renewal, but a separate code section lists reasons for dismissal as "incompetence, neglect of duty, immoral conduct, intemperance, brutal treatment of a pupil, or other good cause."
For Rachel Hicks, the state's protections for teachers amount to the equivalent of tenure, even if the statute doesn't use that term.
"Essentially, we have a system where if you breathe in a district for two consecutive years, you essentially cannot be fired unless you do something really bad that jeopardizes the health and welfare of your students," Hicks said. "Even though we say we don't have tenure, we have a shadow system of tenure."
Hicks, executive director of Mississippi First, a public-policy nonprofit focusing on education, argues that state law needs to specifically allow principals to fire teachers for being ineffective. "Because 'incompetence' and 'other good cause' are so vague, school boards are not going to try to push that envelope because they know they'll get sued," Hicks said.
Gilbert maintains that the current system is adequate for ushering out ineffective teachers within one school year. Firing under-performing teachers more quickly, in the middle of the school year, would be too disruptive for students anyway, he argues. The current employment procedures for teachers give them opportunities to improve.
Given the state's teacher shortage, "we should be looking at strengthening the teachers we have," Gilbert argued.
Despite its resistance to changing employment protections, MEA is receptive to another facet of the reforms highlighted in Guggenheim's film: paying teachers based on their students' performance.
Typically called "merit pay" or "performance pay," these reforms re-orient the pay scales for teachers. In Mississippi and most other states, teacher salaries are based on years of experience and advanced degrees. Under merit pay, teachers would receive more money (sometimes raising their salaries to six figures) for raising their students' test scores or performing better on evaluations.
"As an organization, we're open to discussing any of those facets," Gilbert said.
In fact, the state has already embarked on a merit-pay experiment. In September, the Mississippi Department of Education received a $10.76 million grant from the U.S. Department of Education to start a pilot merit pay program. Called New Direction, the program will establish a model performance-pay system in 10 schools located in eight districts around the state.
More stories by this author
Support our reporting -- Follow the MFP.