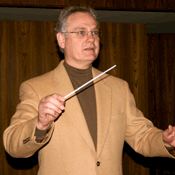 Every Sunday morning, the glorious sound of hymns fills the sanctuary of Northminster Baptist Church in Jackson. Behind every great choir, there's a great choir director, and at Northminster, it's Timothy "Tim" Coker.
Choir directing is more than a Sunday morning thing for him, though. He also serves as a music department professor and directs the Singers and Chamber Singers at Millsaps College.
Coker, 63, a Mississippi native, is a father of three and husband to Millsaps voice professor Cheryl Coker. A Murrah High School graduate, the director studied at Emory University's Candler School of Theology before realizing music was his calling.
"I just missed my music so much. I decided I had to get back into music," he says.
After realizing how much he missed music, Coker attended the University of Southern Mississippi, where he received a bachelor's degree in piano, a master's in conducting and a doctorate in choral music.
Coker came to Millsaps in 1984 after teaching in the Tupelo Public School District for 12 years. He says he still has a love for teaching after more than 35 years teaching choral music, noting that working with students is the best part of his job.
Despite national and international tours with choirs and receiving national recognition for his choirs' performances, Coker claims his greatest accomplishment is looking back on what his students have done.
"Whether they go on to be professional musicians or not, students who continue to enjoy or perform music—when you see them continuing to do it, and it's an important part of their life—then you know that the effort you made in teaching them was very much worth the effort, and the patience and the time," he says.
Coker says directing at Millsaps and the church isn't entirely different from one another. He is constantly in teaching mode at Northminster, and he believes that even for the few students from Millsaps that sing in his church choir, the only difference is probably a slightly more laid-back environment than that of academia. He has equal demands for both groups.
The conductor's process for selecting songs for the choirs is similar, too. Coker likes to tie the songs to a theme. As a prime example, he cites the Millsaps Singers' upcoming spring concert. Because of a former student who requested the choir do something to commemorate Millsaps Singers founder, Pop King, the theme was an easy one to choose.
"We decided (the former student) would commission a piece of music to be written and that we would perform it. I was able to get that all in place and voila! Now we have a concert that's built around the memory of Pop King," he says.
The Singers' last concert had a faith-merging theme to honor the inauguration of Millsaps' new president, Robert Pearigen.
"We have a new president at the college who had just gotten inaugurated right before our first concert, so I selected music that tied in his background, coming from an Anglican Church school, to Millsaps, which is a Methodist Church school. I created a concert around that," he says.
"I also have created concerts around other kinds of themes: maybe an Americana theme; maybe a freedom theme; maybe around world music. I typically come up with things like that."
At Northminster, the professor follows the lectionary, a centuries-old cycle of scripture readings assigned to each Sunday of the year that church leaders all over the world use. Coker bases his musical selections on the theme of the lectionary readings for the day.
"There's a very holistic approach to the music, the sermon, the readings, the prayers. ... I don't just do music that I want to do, I do music that seems (suitable)," he says.
Coker, a permanent fixture in the college's music department, is proud to herald his colleagues, too. Many of them navigate two worlds, church and academia, like he does. He cites John Paul, organist and choirmaster of St. Andrew's Episcopal Cathedral; Bill Wymond, minister of music at First Presbyterian Church; and Michael Hrivnak, minister of music at Galloway United Methodist Church. These people, he says, are a few of his favorites in local church music. Jimmy Slaughter, who recently retired from Mississippi College, is one of Coker's preferred composers.
"We're really lucky to have him," he says of Slaughter.
But Coker's pride reaches beyond the iron gates of Millsaps into the city's popular music scene. "We have composers; we have conductors; we have singers; and then you've got a lot of great blues and jazz musicians," he says. "We're lucky to have as many fine musicians as we have."
More like this story
More stories by this author