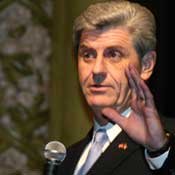 Two newly-created committees of state legislators will begin hearings on the Gulf oil spill as early as next week. Yesterday morning, House Speaker Billy McCoy, D-Rienzi, announced the formation of a special House committee to monitor the response to the disaster, which has surpassed the Exxon Valdez as the largest spill in U.S. history. Later the same day, Lt. Gov. Phil Bryant announced the formation of a Senate committee for a similar purpose.
The House group, comprised of lawmakers from relevant committees, and the Houses Gulf Coast delegation will meet June 8 through10 at the state Capitol. House Speaker Pro Tempore J.P. Compretta, D-Bay St. Louis, will chair the panel. McCoy asked the committee to focus its scrutiny on three areas: assessments of the oil spill's economic and environmental impact; efforts to mitigate damage; and issues surrounding compensation for the spill's effects.
Similary, the Senate panel is composed Gulf Coast Senators and chaired by Senate President Pro Tempore Billy Hewes, R-Gulfport. The special committee will focus on keeping Senators apprised of the spill's status and of cleanup efforts by state agencies and British Petroleum.
"The key is information-sharing," Bryant spokesman Mick Bullock told the Jackson Free Press today.
Bryant's staff only learned about the House committee when McCoy's office released a press statement, Bullock said.
"I guess we learned how everybody else did, through a press release," Bullock said. "Since then, the speaker and the lieutenant governor have talked, and I think that through time, they would like to jointly work together. Now, reading the Clarion-Ledger today, I think McCoy made some comments about it, that they would like to do it separately. That's kind of news to me. I know the lieutenant governor would like for them to work together. And he has expressed that."
The Senate panel will meet on the Gulf Coast and could begin hearings as early as next week, Bullock said. He added that he did not find it unusual that both chambers of the Legislature planned special committees on the oil spill without consulting one another.
House Tourism Committee Chairwoman Diane Peranich, D-Pass Christian, is slightly skeptical of the two committees. Peranich, who will serve on McCoy's panel, remembers that a special House committee formed in response to Hurricane Katrina was unable to push any of its recommended legislation through the Senate.
"I would hope that we don't have, as some would say, a dueling banjos of committees," she said today.
Peranich hopes to use the committee to obtain a mid-year report on the tourism industry through June.
Coast Guard Admiral Thad Allen delivered encouraging news for Coast residents this morning when he told Good Morning America that BP's top kill effort--in which crews forced drilling mud into the leaking oil well--had temporarily stemmed the leak. The next 12 to 18 hours are crucial for putting a more permanent cap on the well, though, Allen said.
Mississippi Attorney General Jim Hood was in Washington, D.C., yesterday, testifying before Congress about the need for federal legislation to help keep lawsuits against BP in state court. Comparing litigation over the Exxon Valdez spill, which has dragged on for more than 20 years, to the comparatively swift-moving cases against Big Tobacco in Mississippi, Hood said that allowing states to sue BP in their own courts was crucial.
"The problem for the states is we don't need to be pulled into a huge class action, where we're just treated like another plaintiff out there and there's no respect for a separate sovereign," Hood said.
BP has sought to route all lawsuits over the April 20 spill to a single federal judge, Judge Lynn Hughes of the Southern District of Texas, the Miami Herald reported yesterday. Hughes has traveled internationally, lecturing on ethics for the American Association of Petroleum Geologists, which covers his expenses.
"If there's going to be a fight, I want it to be in our state court," Hood testified. "But what happens in federal court is these federal judges get these huge mass actions, and all their duty is to beat people into submission---and that includes states--and people don't recover what they're entitled to."
Previous Comments
ID

157994

Comment

Drill, baby, drill http://www.youtube.com/watch?v=fk2qiVi5SE4&feature=related

Author

DrumminD21311

Date

2010-06-01T14:25:43-06:00
ID

158053

Comment

Once a lot more BP has a prepare to fix the oil leak. The new method is to "plug" the hole. Well that's not to genius, but if it doesn't function the oil spill could come out faster. So before I bother commenting further, I am going to wait and see if this one lasts because I am tired of hearing what could possibly perform and what may not.

Author

JaniceB

Date

2010-06-05T03:22:08-06:00
More stories by this author
Support our reporting -- Follow the MFP.