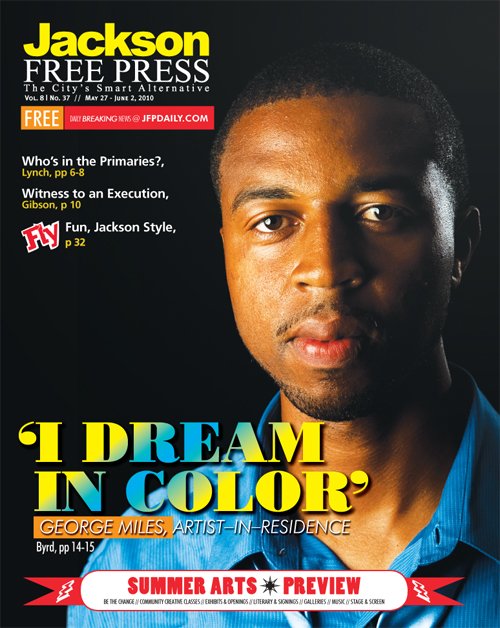 On a recent spring afternoon in Jackson, graphic-design artist George Miles walks through Fondren, taking in the scenery and people. Miles makes a daily habit of walking from his apartment on Lorenz Boulevard through the artistic and funky neighborhood where he finds inspiration.
"Fondren is a great place to live if you're an artist. The community is one huge family," he says. "There is always something going on here. I walk the block day or night. I love the people, the energy and the vibe."
At his apartment, which serves as his studio, Miles unlocks the door and steps into a small living room with hardwood floors, light colored walls and a single window. Large photographs line the room showing an impressive display of his investment in his art and in the community.
"I believe a person can look at a photograph and it can change their life," he says.
A 16-by-20 photograph on a small coffee table shows a young African American woman draped in an American flag as she leans on a brick wall. The piece, titled "The American Woman," was influenced by Miles' concept of the female experience.
"Women are everyday soldiers fighting an unequal cultural, political and economic war," Miles says as he moves toward the photograph.
A program from the musical "The Color Purple" lies on the table next to the photograph.
Another photograph titled "Hear No Evil, See No Evil, Speak No Evil" leans against a wall. In this photo, an African American male stands with an American flag blindfold tied around his eyes.
"The idea is an essential part of sharing your observation, an interpretation of a greater understanding and seeing past the surface," Miles says. "I observe as much as possible and see what the photographs want to show me."
Miles says it is at this point that he adds layers of paint and mixed media on the photographs. "The challenge is creating something new, and keeping that energy and life in your work."
When Miles walks into the kitchen, he flips on a light. A small table with three chairs around it is covered with newspaper. He puts on OutKast's "ATLiens" album.
"This is the best hip-hop group of all time," Miles says. A series of syncopated drum beats, a smooth bass moving in time with horns, set the mood for Miles' creative genius. "Their music is like the soundtrack to my art."
He points to a canvas. "This is a mixed-media piece," he says, holding a bottle of North Carolina blue acrylic paint. The canvas is covered with textured paper and spray painted a soft gray. With quick horizontal strokes he spreads the blue paint.
"Music brings a whole other energy to the piece," he says as he hums along with the melody while his hands move in time with the staccato drumbeats. His strokes are vertical now. "I really think this is going to be a hip-hop piece."
He switches to purple paint and leans over the canvas. He squeezes thin streams of paint from the bottle. A series of circular deep purple lines show up on the canvas.
"You start off with a sketch," Miles explains. "A sketch is only a guide." He takes a few steps back and studies the canvas, blue on one end and purple on the other. At this point there are no photographs, no glass and no sketches.
"On a canvas you can see so much," he says, as he continues looking at the painted canvas. "I'm thinking of having a boom box on the purple."
He says the blue will be a collage of those who have influenced his work. In the collage he's thinking of putting his family, his former mentor Mrs. Jackson or his Starkville High School art teacher, Mr. Lark.
"Mr. Lark really pushed me," Miles says. "He's a man of God."
As Miles moves around the table, he looks at the canvas from a different angle. He takes a jar filled with small square pieces of glass and places it near the canvas. "I'm really feeling this piece," he says.
Carefully, he places the small colored squares of glass around the edge of the canvas. The textured paper has no smooth edges. He studies the piece, then takes another square of glass from the jar. He layers the glass squares in some spots and doesn't place any in others.
"You don't have to put it here," he says, gesturing to an area with no glass squares. "It's implied."
The piece Miles is working on is for an upcoming exhibit, "No Frame No Glass" in Starkville this October. The exhibit will feature unique paintings, photographs and mixed-media pieces on the themes of freedom, stepping outside the box, doing something different. He wants to affect the community through his art, encourage originality, individuality.
"I'm not just a photographer," he says, his tall, lean body bent over the canvas. "I'm a painter, a poet, a filmmaker." He works in more blue paint. "I can't be put into a box."
'Wisdom Trees'
At 31, Miles is a young man with an old soul. The artist has always had a love for art, the community and being in the company of senior citizens, who he calls "wisdom trees." As a young man growing up in Starkville, Miles spent time in the company of older mentors. He helped his grandmother plant flowers, and he loved spending time with Mrs. Jackson, an elderly widow who lived in his community.
"Mrs. Jackson helped me a lot," Miles says. "Mrs. Jackson's house was where many kids in the community played basketball." Miles loved to play basketball but he always took the time to sit on Mrs. Jackson's porch and drink a glass of lemonade as he listened to her advice. "She inspired me to embrace my role as a leader by trusting God."
The artist comes from an artistic family, which continues to influence his work. All three of his sisters played in the band at Starkville High School. His father played a number of instruments, his grandmother was a quilter, and his grandfather was a Baptist preacher and a musician.
Miles says that his mother taught him the importance of family and community. "My mother was the backbone of the family," he says.
As a child Miles loved several different forms of art. "I used to make collages, music and rap," he says, and he also drew and painted. He began to recognize his talents when an artist came to his third-grade class and did a workshop. "That gave me my spark," Miles says. He wants to share his talent with others. "I want to inspire people to never stop dreaming."
Growing up, Miles played ball and participated in Junior ROTC in addition to developing as a gifted artist. His friends respected him and his artwork, so much so that in the 12th grade they sought his help with an assignment for advanced English class.
"We were studying Shakespeare," Miles says. "Each student was given an 8-by-10 sheet of paper with the outline of a T-shirt drawn on it." The instructions were to design the T-shirt, and the design had to include a Shakespeare quote. One project from each of the six advanced English classes would be chosen as the winner for that class.
"When all of my friends told me they had the best design in their class, it was a profound moment," says Miles, who designed seven T-shirts—six for his friends and one for himself. All of his designs won, and in his fourth period class there was a tie between him and his best friend.
"I knew I was good, but I didn't know I was that good," says Miles, who looks back on this experience as a defining moment in his art career. "That was a good time for me."
Miles' mother, who died when he was a freshman in high school, is his inspiration. "Every time I created something, it made her smile and she would show it off to everyone," he says.
After her death, Miles had to rely on his faith in God to cope with the pain. "I had to pray," he says. "I was crying (and) dying on the inside."
Miles turned to his art for comfort and strength. "I used art to express what I was feeling." He created a piece titled "The Window Pain." The piece includes photographs of his mother's gravesite and a window to frame the images.
"She was my inspiration before she passed, and she's my inspiration now."
Butterflies Among Us
Miles came to Jackson after high school to attend Jackson State University, where he earned a bachelor's degree in graphic design with a minor in fine arts in 2002. Miles decided to stay in Jackson and continue to develop his art.
"I chose to stay here to continue my growth on a different stage," he says. "The community embraced me here. There's no other place in the world like Jackson."
"I just love life and everything dealing with art," Miles says. "… My art is motivated by my love for the people."
The painter, graphic designer, filmmaker and photographer says this is why he's an artist in every sense of the word. Miles' art appeared in a number of shows including: "The Antidote: A Remedy to the Monotony" at the Smith Robertson Museum in 2006; "Arts Beats Plus Lyrics," a nationwide tour sponsored by Jack Daniels; and "Liberation," a show about freeing yourself, which took place at Jackson's Municipal Art Gallery. Miles was the co-creator of the "Trapped Flowers" exhibit, which opened at the former ARTichoke gallery in Jackson on April 11, 2007. This show took a stand against domestic violence through art.
Miles also works with the Ask for More Arts Initiative, a program where artists collaborate with Jackson Public Schools and Parents for Public School. He taught art to students in Brown Elementary School, located in the north midtown neighborhood, while integrating the basic subjects of math, English, reading and writing.
On May 14, Miles and several other artists who participated in the Ask For More Arts Initiative took a tour of the initiative's exhibit hanging in the Arts Center of Mississippi on Pascagoula Street. This was a wrap-up meeting where each artist described the work he or she did with the children at their school. The artists included photographers, musicians, visual artists and literary artists. At the Brown Elementary exhibit, all eyes were on Miles. Viewers were awed by the pieces, which included silhouettes, drawings and photographs, all centered around a large mosaic butterfly placed on a lively blue background. Small glass mirrors on the butterfly's wings reflected the light, making a winged pattern on the carpeted floor beneath it.
"The butterfly is a symbol of new beginnings and new life," he says, gazing at the exhibit with pride. "I asked the kids what they want to be."
He smiled a bit, a smile that was more for himself than for those around him.
When watching the young man with a milk-chocolate complexion and a charming smile, it almost feels like eaves-dropping. Miles always appeared to be immersed in thought, thinking about life and the role that art plays in the existence of mankind. He paused a minute, and his eyes focused on the wall to the right of the butterfly where photographs hung. In each photograph, there's a child in color with out-stretched hands as a butterfly hovers inches above the child's palms. Behind the child is a crowd of people.
"The crowd represents the community," Miles says. The crowd is mostly in black and white with one or two people in color. "The butterfly represents their dreams."
He swayed lightly. He continued to speak. His tone was even—not loud, not soft, but possessing a distinctive power that drew those around him to listen.
Through his artist residency with the Ask For More Arts Initiative, Miles engaged 30 children in creative activities like drawing and making the silhouettes hung in the exhibit. During the two and a half weeks that Miles spent with the children, he gave them a glimpse into their history by organizing a field trip to the Smith Robertson Museum and by inviting people from the community to come speak with them.
"I was standing in Krystal one morning," he says. "I saw a group of men talking about how the midtown community used to be. And I asked them to talk to the kids, and they did."
Miles said he wanted the students to know the history of Mill Street from the 1950s to present day.
The artist partnered with Catherine Schmidt, a One Campus One Community Fellow from Millsaps College, to take the children on a field trip to the Lewis Art Gallery at Millsaps. He also organized a field trip to the North Midtown Art Center where the students could see working artists in action.
"I told the kids to never give up on their dreams," Miles says, as he looked at the exhibit again. This time he focused on the original drawings of colorful butterflies done by the children, hanging on the wall to the left of the large butterfly. Then he turned back to the wall to the right of the mosaic butterfly and gestured to silhouettes that his students made. "When I was in the third grade an artist came to my school and did silhouettes with us," he says.
Miles linked his strong spiritual beliefs to his desire to use art as a mechanism for change in the community. "I always give God the glory," says Miles, who is active in the Baptist church. "You just never know where God's going to take you."
This is a young man who works hard to fulfill his dreams, which include giving back to the community. Miles has worked with children at Stewpot Community Center, donated photographs and paintings to HeARTS Against AIDS, the Art for Heart event benefitting the Mississippi Heart Association, Taste of Mississippi, the JFP Chick Ball and other organizations dedicated to helping the community
"When you create something, it's not just for you to keep to yourself," Miles says. "It's to be shared with the world."
To view more about the Summer Arts, check out the JFP Events page to find current and upcoming shows, creativity classes and community events.
More like this story
More stories by this author