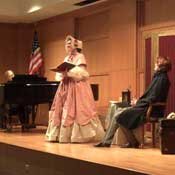 This winter, one of the greatest known love stories will captivate its audience when soprano Kathleen Van De Graaff and bass-baritone Peter Van De Graaff, perform in "The Life and Love of Robert and Clara Schumann."
"It's a beautiful story," Peter Van De Graff says.
German composer Robert Schumann was one of the most romantic composers of the 19th century. In order to marry Clara Wieck, Schumann had a long, hostile legal battle with her father, who was also Schumann's piano instructor. Clara was a pianist and composer as well. The two were married in 1840.
"We based our script on actual letters," Peter Van De Graaff says. "I want the audience to be introduced to the beautiful song-writing talents and see the flowering of the beautiful music that comes from love."
The performance is a part of the Millsaps College Arts and Lecture Series, which is in its 42nd season. The Arts and Lecture Series began in 1967 with the idea of bringing the best of the arts to Millsaps.
He and his wife, Kathleen, have performed throughout the world. "Our goal is to sing in every state," he says. The couple has worked together lecturing and performing with many orchestras and ensembles, including a concert series in Japan. They were also invited to participate at the International Vocal Symposium in Salz-burg, Austria.
See "The Life and Love of Robert and Clara Schumann" Feb.16, 2010, at 7 p.m. in the Ford Academic Complex Recital Hall on the Millsaps College campus. For more information, call 601-974-1130.
More stories by this author