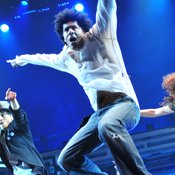 Doctors told Steven Stanton he would never walk again.
They certainly never thought the 42-year-old dance instructor would ever dance again after he was caught in gang crossfire at a Vancouver nightclub in 2003. The bullet hit his lower spine. Paralyzed temporarily from the waist down, Stanton dances with a cane today, but he dances.
"Groovaloo," coming to Thalia Mara Hall in Jackson Feb. 22, binds 10 dancers' true stories of abuse, low self-esteem and poverty with their dances. "These are our stories," Bradley Rapier, creator of the Broadway show, says about his troupe.
LockN'Key (played by Keeley Kaukimoce) came from a strict Christian home in Texas. Kid Rainen (played by Luis Rosado) came from a home with a strict father figure.
Rapier, who plays the role of Shooz, grew up in the small town of Calgary, Alberta, in a culture of rock 'n' roll and country music. By age 12, he says he was "the boy who could move." He excelled in academics and athletics; he skied and played hockey.
"I always like to move," Rapier says.
The youngest child in his family, Rapier's early goal was to become a doctor like his father. All of that changed when Sun Ice, a clothing company, offered StreetScape--the dance troupe that he was performing with at the time--a marketing contract. Rapier announced to his dad that he wanted to dance, and he left college behind, much to his father's disappointment.
"I couldn't just concentrate on keeping others happy," Rapier says. He admits that he was afraid, though. "All I knew was school and academics."
Dance had captivated Rapier, however. Struggling to mold his career in Canada and in Los Angeles, his need to be surrounded by dancers led him to organize the Groovaloos in 1999.
The core idea for the "Groovaloo" stage show occurred to Rapier when he was designing hip-hop dance instructional DVDs featuring his dance troupe. As a bonus he interviewed each dancer and asked just one question: "Why are you here?" Listening to those interviews, Rapier realized that the stories were about each dancer's struggle. They were powerful stories and clear illustrations of how dance had reshaped each dancer's life, just like his own.
After Rapier shared the stories with the Groovaloos, they agreed that their love for dance is what brought them together as a family. The heartache, the struggles and the inspiration found in those stories framed the show, which brings more than just choreography to the stage.
The show catapults the dancer's narratives into a powerful, inspirational story using layers of spoken word, hip-hop music and a unique style of dance to create a dynamic display of choreographed movements that "explodes the laws of physics," according a Los Angeles Times review.
"Groovaloo are those moments in your life when you feel you don't have anything to offer but you keep moving on," Rapier says.
The show is a collaborative effort between Rapier, director Danny Cistone and the Groovaloos. Under Cistone's direction, the 14-member cast has designed a dance show that puts a new face on hip hop. The show possesses diversity, passion and a soulfulness that goes well beyond the roughnecks and gangsta-ho images people often associate with the genre. Rapier also says that combining popping and locking moves brought individual power to the dances.
Our initial goal was to give people a glimpse into the art form, but it has grown to be a quest to dispel some of the myths and stereotypes of hip hop," Rapier says. "Hip hop is a beautiful art form."
Through the agile dancers who can twist their bodies into unimaginable positions, "Groovaloo" shows that these characters are real people with real trials and tribulations.
And that, according to Rapier, is the core of hip hop. "It's real and not gratuitous," he says.
See "Groovaloo" at Thalia Mara Hall Monday, Feb. 22, and Tuesday, Feb. 23, at 
7:30 p.m. Tickets range from $15 to $56.50. For online ticket purchases and to see a short promotional video, go to http://www.kesslerbroadway.com. For more info, call 601-981-1847
More stories by this author