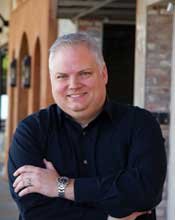 On a warm and cloudy day in November, professor Steve Kistulentz sits calmly at a table at Millsaps College. He smiles and tilts his head slightly as he remembers the events that brought him to Jackson.
"The job at Millsaps College became available in a couple of ways that suggested it was part of a larger plan for me," says Kistulentz, who received his doctorate in English from Florida State University in 2009. His graduate professor, a Millsaps alum, encouraged Kistulentz to apply for the position of assistant professor of English at Millsaps.
Kistulentz, 43, always wanted to live in a city with a good family atmosphere and a liberal arts college. After discovering that Jackson has both, he applied for the position and started working at the college in August 2009.
"I remembered thinking, if they offer me the job, this was going to be the place for us," Kistulentz says.
In addition to working as a professor, Kistulentz is also an award-winning author and creator of the Millsaps Visiting Writer Series. His book of poems, "The Luckless Age," won the 2010 Benjamin Saltman Poetry Award, and is due for release Feb. 1.
"Writing is deceptively easy," says Kistulentz, who developed the series in 2009 to show students the work involved in literary writing. Its programs bring nationally known writers like novelists Richard Bausch, and poets Mary Biddinger and Erika Meitner to Jackson to discuss their writing process. The writers meet with the students during the day, and that evening, the writers read their work. The public readings are typically on Wednesday nights.
Kistulenz says that while Millsaps students are more-than capable of producing academic papers, many of them become frustrated at the time and effort it takes to complete a literary work. "Many people don't understand the commitment that it takes for literary writing," Kistulentz says. "Writing is a life choice and a career."
The Washington, D.C., native says he always knew he would be a writer. He earned his bachelor's degree in English from the College of William & Mary in Williamsburg, Va., his master's degree in English from Johns Hopkins University in Baltimore, Md., and his masters of fine arts from the University of Iowa Writer's Workshop. Before he went back to graduate school, he spent 15 years working on Capitol Hill where he lobbied for various industry groups. He says the political world taught him how to listen and observe others; manage his time and juggle responsibility.
"These were very fundamental skills to my writing," he says.
Kistulentz is dedicated to mentoring writers, and believes writers learn from other writers. His advice?
"You are always working, and it is your job to experience and to think about what you see," he says.
More like this story
More stories by this author