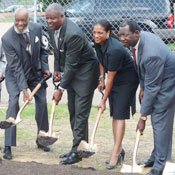 City leaders today celebrated groundbreaking on the first phase of a $3.49 million energy-efficient residential development in Jackson's midtown neighborhood. The Jackson Housing Authority is financing the project through stimulus and other federal funds, which will start with the construction of four duplexes at Livingston and Lamar streets.
JHA Executive Director Sheila Jackson said that the project would provide an innovative example for the state and create jobs for local residents.
"We are excited to bring to Jackson, and the state of Mississippi, the first solar-powered, sustainable, green, energy-efficient affordable housing development," Jackson said. "We are even more excited about the number of jobs this project is going to bring to the city of Jackson. We're talking about over 100 jobs for this project over the next 12 months."
JHA has already collected approximately 45 resumes from city residents seeking work, Jackson added.
Jackson architecture firm Duvall Decker Architects designed the buildings to offer a higher-quality and more sustainable version of affordable housing. The duplexes are staggered from the curb to create more communal yard space, and every unit has a car port with a solar-paneled roof. The solar panels, with net-metering technology provided in a special arrangement with Entergy Mississippi, will help reduce residents' electricity bills by up to 28 percent.
The Housing Authority project calls for developments at two more midtown locations, including a site on Fortification Street that will include commercial space, as well as residential units. Jackson said that the commercial space will likely host a health clinic, barber shop and community meeting space, along with offices for housing counselors.
Overall, the project will create 16 new residential units. JHA is already adding potential residents to its waiting list, Jackson said. The units will cost roughly $173,900 each to build, for a total housing cost of $2,782,400. The $3.5 million overall cost for the project includes additional improvements to new street-level infrastructure, including water and sewer lines.
The residential developments are only one part of a master plan for the Midtown neighborhood, developed by Duvall Decker for the North Midtown Community Development Corporation and JHA. As part of the plan, the Housing Authority has demolished 57 substandard houses in the neighborhood. The master plan also calls for increasing housing density and improving existing housing stock in the neighborhood.
The midtown project took four years of planning. In remarks at the groundbreaking, Mayor Harvey Johnson Jr. acknowledged it takes time to make a project like this come together.
"What we need to take away from here is not only the vision of the beautiful housing, quality housing, green housing, energy-efficient housing that's going to be on this spot," Johnson said. "What we need to take away is an understanding of the commitment that it takes to make this project happen."
Previous Comments
ID

157906

Comment

this, I love!

Author

JSL1

Date

2010-05-20T14:15:59-06:00
ID

157907

Comment

New housing is a plus for our city.

Author

Meredith

Date

2010-05-20T15:28:26-06:00
ID

157910

Comment

Oh, how absolutely wonderful. They had me at the word "solar." :)

Author

J.T.

Date

2010-05-20T16:55:12-06:00
ID

157918

Comment

This is great news! These events seem to get so little traction. Thanks to Donna and her Free Press, we are able to stay informed. Certainly other media outlets could do more.

Author

justjess

Date

2010-05-21T13:54:06-06:00
More like this story
More stories by this author