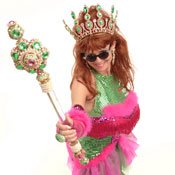 Mal's St. Paddy's Parade founder Malcolm White told the Jackson Free Press today that he has not spoken to Sweet Potato Queens founder and author Jill Conner Browne about her plans to move the Queens' part of the annual parade to Ridgeland next year. "She's totally in charge of that: she made the announcement; she made the decision," White said. "I know probably less than you do. I have not talked with her; I don't have any details."
Browne confirmed rumors yesterday at a brunch at the Jackson Hilton that she will instruct her group of Queens and wannabes, devotees of her book series, to march at the Renaissance at Colony Park in Ridgeland one week after the annual Mal's St. Paddy's parade in downtown Jackson. Browne has not immediately returned calls for comment today, but told WLBT that the parade has grown too large to accommodate her group. The Sweet Potato Queens will still stay at the Hilton Jackson on County Line Road and hold other events at BRAVO! Restaurant and the Everyday Gourmet in Northeast Jackson, she said.
The Jackson Convention and Visitors Bureau estimates that Mal's St. Paddy's Parade draws 70,000 people to the city and provides an overall economic impact of $6.8 million for the city. Attendance for the parade has risen, from an estimated 50,000 in 2006 to 70,000 in 2008, the most recent year for which data is available.
"I think it's a win-win situation for the metro area, but we do understand the need for them to move," JCVB spokeswoman Kelly Shannon said. "They've grown exponentially, and their activities have grown as well. The JCVB is definitely going to continue to support the parade and the weekend events, because it's an iconic event for our city."
The JCVB does not have specific attendance numbers for the Sweet Potato Queens' segment of the parade. This year, they marched at the end of a parade with 50 floats and various walking krewes.
Larry Hollingsworth, general manager of the Hilton Jackson, told the JFP last week that his hotel hosts roughly 3,000 Sweet Potato Queens over the course of the parade weekend. White said that only Browne has an access to accurate attendance numbers for the Sweet Potato Queens. Browne handles registration and plans events for her group, with a portion of proceeds benefitting Blair E. Batson Children's Hospital.
"She has, in the past, told me that she draws between 1,000 and 1,500 people," White said today. "I have no way of verifying that."
Jonathan Lee, president of the Jackson Chamber of Commerce, said that he hopes the city can entice Browne's group to remain a part of the parade.
"We're very disappointed," Lee said. "I'm hoping that there's an opportunity for us to maybe lure them into sticking around Jackson. We'd hate to see them leave, and they definitely bring something to the city that I don't we think we can replicate."
In a statement to WLBT, White, also executive director of the Mississippi Arts Commission and co-founder of Hal & Mal's restaurant, said, "The show goes on."
"We wish Jill and the Sweet Potato Queens all the best," White added.
Previous Comments
ID

156868

Comment

As a resident of Ridgeland since 1969, I can tell you we ain't sho' we can handle the Sweet Potata Queens' Parade in Ridgeland. It's too many of them by now and we don't have a downtown area to accommodate them. A better fit for them is Madison, an arrogant and good good for nothing little city that has lots of empty spaces, places and faces. I wish the Sweet Potato Queens the best and admire their comraderie or comradeship and fundraising efforts. I would even donate money to their fundraising activities if asked, even though I'm broke, hard to provoke and am blowing smoke.

Author

Walt

Date

2010-03-22T17:36:51-06:00
ID

156869

Comment

RANDOM!!! there must be more to this story than is being reported... anyone?

Author

Concerned in Jacktown

Date

2010-03-22T18:31:02-06:00
ID

156871

Comment

"A better fit for them is Madison, an arrogant and good good for nothing little city that has lots of empty spaces, places and faces". Same architect too. That last strip mall rendering, I thought they had converted Grand Central Station into a Dick's Sporting Goods (it's circulating all over atlanta right now thanks to Moi). Do they know how ridiculous that place is starting to look? All that stucco granduer on each side of the Ditch Banks. Looks like an old Hollywood Ben Hur Backlot....

Author

atlntaexile

Date

2010-03-22T19:48:12-06:00
ID

156872

Comment

There's always more to the story. Let them get tight and cackle themselves to death in Madison. The sun will still rise and the Paddy Faithful will continue to line the streets of downtown Jackson.

Author

Mr Fat Back

Date

2010-03-22T21:25:10-06:00
ID

156875

Comment

OK, folks, no need to be vicious. Different people have different tastes.

Author

DonnaLadd

Date

2010-03-23T08:57:13-06:00
ID

156876

Comment

good point and the mix makes for a very interesting cityscape!

Author

atlntaexile

Date

2010-03-23T09:01:17-06:00
ID

156877

Comment

Will people really attend two parades on back to back weekends? With disposable income for entertainment being squeezed it just seems like bad timing to have another parade the very next weekend.

Author

WMartin

Date

2010-03-23T09:38:03-06:00
ID

156880

Comment

I think that yes, people will either attend both or that a number of people may go to one or the other - new people. Someone posted earlier about Mardi Gras in New Orleans...I have been to the official day there - a wild, crazy insane party, and I have also been there 1-2 weeks before Mardi Gras where there are scores of smaller, more local parades with people on bicycles, boom boxes, etc. I joined one and ended up dancing for hours at a concert where the parade ended. I think that there's room for more events, it means our lovely Jackson is growing bigger & bigger. I see their need to have more space dedicated to themselves, and am happy some events are still going to be in Jackson. The one part which doesn't make sense to me is the parading through a shopping mall - it seems an odd location for a parade, but then again, why not??? Maybe it will be fabulous.

Author

Izzy

Date

2010-03-23T10:11:18-06:00
ID

156883

Comment

Jill & crew were on the news from Renaissance Mall at Colony Park in Ridgeland last week. So they've obviously formed some sort of relationship/agreement with them, which was attractive enough for them to want to expand.

Author

herman

Date

2010-03-23T10:40:20-06:00
ID

156884

Comment

I heard Jill on an interview on Q105.1 yesterday afternoon, but I came in on the middle of it. I didn't hear what her explanation for moving to Ridgeland was. At least the SPQs are not totally abandoning Jackson, as they will continue to stay at the Hilton and have other events in the city.

Author

golden eagle

Date

2010-03-23T11:28:13-06:00
ID

156907

Comment

I heard the same interview with Jill on Q105.1. They are NOT parading through Renaissance, and it is not a connection with Renaissance. It's the City of Ridgeland's event that will be on Highland Colony Parkway. The Queens are taking part in the Ridgeland parade ... it's not their (the SPQ's) parade. I think having two parades is awesome! The opportunities for raising money for Blair E. Batson at both events is wonderful. And, finally, Jill is a treasure to this State and should be treated with respect and admiration. She does SOOOO much for the "chirren," as she says. She does not deserve the treatment she's getting from certain factions who are quite emboldened in their anonymity on other sites.

Author

bonnieblue

Date

2010-03-24T07:43:03-06:00
ID

156911

Comment

I agree, Bonnie. Like I said, they didn't totally abandon Jackson. But whether the parade is here or Cucamonga, it'll still benefit a good cause.

Author

golden eagle

Date

2010-03-24T09:44:22-06:00
More stories by this author
Support our reporting -- Follow the MFP.