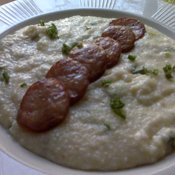 For the past 13 years, I have marched with the O' Tux Society in Mal's St. Paddy's Parade, save for one when I had to attend a Boy Scout camping trip with my son, Stuart. It is a high point of my year and something I impatiently await like a kid marking the calendar as Christmas morning approaches. The rush of being in that crowd on that morning is, to me, as close as I will ever come to knowing how the Beatles felt when they first walked on stage at Shea Stadium.
Most of the O' Tuxers gather in the "big room" in the back of Hal & Mal's to don our uniforms and exchange greetings, drinks and trinkets. I use the word "uniform" loosely to describe the somewhat similar costumes worn by the O' Tuxers. Most all of us have on an old tuxedo coat, a homemade sash and a hat, but the similarities stop there. We have guys in kilts (this group includes me), grass skirts, floral surf shorts and even a tutu. The hats range from the ridiculous (think Malcolm wearing a KFC bucket) to the sublime (Donny Mitchell's antique Fore-and-Aft Bicorn of the Royal Navy).
With the exception of the parade following the tragedies of 9/11, when I wore a fire hat from the FDNY, I've always sported a white, straw cowboy hat with a pinched brim and years of "party stains." The dressing ritual gets started a couple of hours before the parade and by the time we call out for a pre-march speech from our Fearless Leader Malcolm White, many a shot of Irish whiskey has been washed down with a pint of lager and many a tinny version of "Galway Bay" or "Danny Boy" have been belted out above the din of celebration.
We assemble behind Malcolm and the Father of Waters Pipes and Drums and await the official start of the parade. As the pipers make their way to Capitol Street and the sound of pipes blends in with the roar of the crowd, the boys in the Pinstripe Band crank up the brass. With the wailing sounds of New Orleans jazz funeral music, we start our lap around the route, being careful not to swap too many flowers for kisses before making the turn onto Lamar Street and running out of our barter commodity.
The energy is palpable. The sound of the shouts, the sight of so many smiling faces—it's a sensory overload that defies explanation. As we make our way around the route, we scan the faces in the crowd for our friends and families, taking special care to look around the judges' platform where the Bucketheads are holding court. At some point, Pinstripe will blast out "L'il Liza Jane," which sends me into a singing, dancing, twirling frenzy. I don't know what it is about this simple, 100-year-old ditty that moves me so, but it does.
As we make our way down the home stretch of Court Street, those of us who may still have some flowers give away the last of our prizes before we re-enter the street party raging outside Hal & Mal's. Following our Fearless Leader and the Pinstripe band, we snake our way through the crowd and onto the stage in the big room. What was our sparsely populated dressing room before the parade is now a heaving and throbbing dance floor crowded with wannabe queens mingling with the locals. After a few dances and toasts, my 40-plus-year-old carcass needs a nap, and my day of revelry ends.
I leave the party to the younger generation who do me proud every year. In earlier years, I would return to the fracas after a quick slumber, but those days are behind me, and I have a whole year to recover before having to do it all over again.
To muster the courage and the energy for such a strenuous morning, one must have a proper breakfast. When I was first asked to join the O' Tux Society, we would meet at the Old Tyme Delicatessen at 8 the morning of the parade. When the Deli closed, my friend Bill Joseph convinced me to host the breakfast at my house. Every year it got a little harder to stay out late on Friday and still have the strength to host a bunch of guys and gals at the house at the unholy hour of 8 a.m., until I just gave up the late Friday night altogether.
Today, both Bill and the Deli are just warm memories, and my commitment to host what Bill named "Guinness and Grits" is a sacred vow. The menu is simple and hearty but really hits the spot when you need a base to soak up all the Irish Cheer to come.
Sadly, this year I will be unavoidably out of town and miss the parade for a painful second time. My signature cowboy hat will make its way through the parade on the head of Arthur Jones, Bill's nephew, and my friend Will Wilson will take the mantel of hosting "Guinness and Grits." I will be there in spirit, and I've already starting marking off the days on my calendar and counting down to March 2011.
Tom Ramsey is a lobbyist who teaches private cooking lessons. He is the founder of Ivy & Devine Culinary group (http://www.ivyanddevine.com).
Bacon Cheese and Garlic Grits
(Serves 6)
2 cups quick grits (not instant)
4 cups whole milk
4 cups chicken stock
1 pound bacon
2 bunches green onions
2 whole cloves garlic
4 cups shredded Colby Jack cheese
2 tablespoon Creole seasoning
1 tablespoon Tabasco hot sauce
1 stick butter
Salt
Pepper
Cut bacon into half-inch pieces. Finely chop garlic and green onions.
Heat a large stock pot over medium heat and add bacon. Cook bacon until crisp, and add garlic and grits. Stir grits until well coated with bacon fat. Add stock and milk, and stir aggressively to prevent grits from forming clumps. Raise heat to medium-high until mixture begins to boil. Reduce heat to medium-low and cook until grits are thick and creamy. Add Creole seasoning, green onions, cheese and butter, and cook until grits are done. Taste before serving and add salt and pepper as desired. If grits are too thick, slowly add water. If they are too thin or watery, continue cooking until they thicken.
Serve hot with lots of buttery toast.
Grilled Sausages with Craft Mustards
(Serves 6)
2 pounds sausages (country, link, Cajun Andouille, Italian, Polish or Irish Bangers—whatever makes you happy)
Fire
Craft Mustards
Build a fire. Put the sausages near, but not directly over the fire. Wait until the sausages are hot, sizzling and cooked all the way through. Serve with an assortment of craft mustards (the spicy, rough kinds, not the yellow, squirty kinds).
If you really needed a recipe to do that, you should hang up your apron, turn in your grilling tools, pick up some fat-free lady-fingers and go rent "Steel Magnolias."
More stories by this author
Support our reporting -- Become a JFP VIP.
The news business has changed dramatically in the past year, and we need your help more than ever to keep bringing you important stories about Jackson and the Metro. Become a JFP VIP with an annual membership or you can Sign up as a monthly supporter. Thanks for anything you can do to empower our journalism!