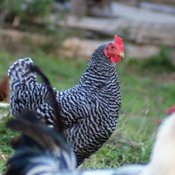 Joe Magee, 59, is a third-generation poultry and cattle farmer. His farm, located just outside Mendenhall, produces a little more than half a million chickens and around 100 head of beef cattle a year. Magee operates the farm with the help of his son and one employee.
Recently, electrical, equipment and credit-card bills began to pile up faster than Magee could pay them, and he began to worry he might lose his family's farm.
"(My bills) went all the way back to Katrina. I had to go to Louisiana to buy diesel fuel. They wouldn't take a check, but they would take your credit card. I probably ran up six or seven thousand dollars worth of fuel," Magee said.
"Utilities are really killing us. Electricity has doubled since Katrina. And I'm on natural gas, which used to be cheaper than propane, but it's not anymore."
Magee used to rely on selling cattle in the winter to pay his gas bill, but hasn't been able to make enough money to do so in recent years because of a decrease in demand.
His bank officer at Peoples Bank of Mississippi suggested he apply for an America's Recovery Capital, or ARC loan, and helped him through the application process. Magee's farm was one of the first businesses to receive an ARC loan from Peoples Bank.
Small businesses that demonstrate financial need qualify for ARC loans of up to $35,000. The loans are interest-free, have a deferred payment of 18 months and can only be used to pay existing debt.
"The purpose of the program is to help small businesses improve their cash flow during the tough times by not having to make loan payments," Peoples Bank President and CEO Dennis Ammann said. "We feel like it's a loan that can make a difference in a small business being here in a month from now or not."
Peoples Bank, based in Mendenhall, is the fifth largest lender of ARC loans in the nation. It has four branches, including a second Mendehall location, one each in Magee and Collins, Miss., and one in Puckett in Rankin County. As of Feb. 19, Peoples Bank has made 168 of the loans more than half of all ARC loans made 
in Mississippi.
The fourth largest lender, Zions National Bank, has made 175 loans as of Feb. 19. Zions is based in Utah and is 100 times the size of Peoples Bank. SunTrust, the third largest lender, made 180 ARC loans as of Feb. 19.
Ammann thinks Peoples' relationship with their customers is what made them a leading ARC lender.
"We don't feel it's a profitable loan on the front end, but it's just such a good deal for our small businesses who are having trouble with cash flow right now," Ammann said. "We felt it was too good of a program not to help our customers take advantage of."
Peoples Bank has made the bulk of its ARC loans to poultry farmers like Magee. Based on their location in Simpson and Covington counties and their customers' ties to Sanderson and Tyson Farms, Peoples is one of the two largest poultry lenders in the state. Ammann added Peoples Bank also made loans to hospitals, retail stores and veterinarians, to name a few.
"I think small businesses are the primary driver of our economy. I think especially in our areas, in small rural towns in Mississippi, your small businesses are your primary employer, after the state government with schools," Ammann said.
"Small businesses create the vast majority of private-sector jobs. There's no bailout for small businesses."
Ammann is surprised more banks have not participated in the ARC loan program, which will be in effect until 
Sept. 30 or as long as funding lasts. The loans require a hefty amount of paperwork and time to process, but Ammann believes the mutually beneficial relationship between the customer and the bank makes the loans worthwhile.
"Our mission statement says we'll only do as well as our customers over time. So if it's something bad for our customers or if we do something that is not in our customers best interest, it's going to hurt us long term," Ammann said. "If we do things that are in our customers' best interests and are going to help them succeed, they're going remember who did that, and they're going to be loyal to us, and that's in our best interest long term."
Magee's farm is doing better financially because of the "wiggle room" the ARC loan created for him.
"When I sold some calves, I could put that on feed bills and not have to pay equipment notes and credit card notes, and that's what really helped," Magee said. "All farmers are struggling. It's really helped me and I think it would help a lot of farmers."
"I've been here three generations, and I'm gonna do everything possible not to lose the farm," said Magee, with determination in his voice. "I'm gonna keep hanging in there."
Previous Comments
ID

156652

Comment

I've been considering switching to a small bank or entirely over to the credit union where I have a savings account. Just been too lazy to do it.

Author

golden eagle

Date

2010-03-10T13:22:40-06:00
More like this story
More stories by this author
Like independent media outlets around the world, the Jackson Free Press works hard to produce important content on a limited budget. We'd love your help! Become a JFP VIP member today and/or donate to our journalism fund. Thanks for considering a JFP VIP membership or one-time support.