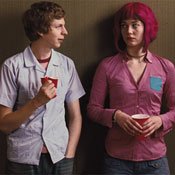 "A Knight's Tale" (Columbia Pictures, 2001)
Set in medieval England, "A Knight's Tale" follows William Thatcher (Heath Ledger), a peasant, as he hides his identity to become one of England's most successful jousters, a sport only knights can play. William and Lady Jocelyn become enamored with each other on the tournament scenes. Can their love survive once William's true self is known?
"Garden State" (Camelot Pictures, 2004)
Andrew Largeman (Zach Braff) returns to New Jersey from California for his mother's funeral after years of detachment from his family. Andrew meets Sam (Natalie Portman), a pathological liar, at a doctor's office. The two become inseparable for the rest of Andrew's time in New Jersey. The kicker of this film is the beautiful ending.
"The Notebook" (New Line Cinema, 2004)
"The Notebook" is the quintessential love story. Most of the film is a flashback to the '40s, recounting the lust, love and hardships of Noah (Ryan Gosling) and Allie's (Rachel McAdams) relationship in South Carolina. The flashback ends as we see older Allie (Gena Rowlands) with faithful Noah (James Garner) by her side. Make sure you have tissues with you for the end of this film. You'll need them.
"Scott Pilgrim vs. the World" (Universal Pictures, 2010)
Scott Pilgrim (Michael Cera) is an awkward 20-something who plays bass in the band Sex Bob-omb and lives with his brother in Toronto. More than a year after a horrible breakup, Scott sees the girl of his dreams, Ramona Flowers (Mary Elizabeth Winstead), at a party. To be with Ramona, Scott learns he must defeat her seven evil exes, and begins his hero journey to have his true love.
"Friends with Benefits" (Screen Gems, 2011).
"Friends with Benefits" is a typical romantic comedy with a predictable plotline, but the specifics draw you in, and the predictability is comforting. Jamie Rellis (Mila Kunis) brings Dylan Harper (Justin Timberlake) to New York as GQ magazine's new arts editor. They become friends with benefits, and eventually a romance develops, although they do not recognize it. When things go awry when Jamie goes to visit Dylan's family in California, Dylan realizes his true feelings and plots to win Jamie back.
More stories by this author
Support our reporting -- Follow the MFP.