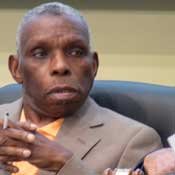 The Jackson Public Schools Board of Trustees approved a budget yesterday that cuts staff work days and eliminates 125 unfilled teaching positions. The $270.7 million budget for the upcoming school year is 12 percent smaller than last year's, reflecting drops in state funds and local revenues.
The budget does not require any additional funds from the city of Jackson. At previous budget work sessions, JPS Executive Director of Finance Sharolyn Miller warned that the district may need as much as $2.5 million from the city, which the city council would likely fund with a property tax increase. Board member Otha Burton urged Miller to reduce the city's request as much as possible, in light of the city's own financial troubles.
The final budget restores teacher pay for two training days that the board had previously cut. Teachers and district staff were slated to lose the equivalent of four days' pay next year, but Miller said that the district could use federal funds to pay teachers $800 for two days of training.
The approved budget also increases the district's spending on athletics by 22 percent, from roughly $869,000 to $1.09 million.
Board members voted 3-1 to approve the budget, with Ivory Phillips casting the lone vote against approval. Board secretary George Schimmel was absent.
Phillips said that he could not endorse the proposed budget because it did not do enough to restore eliminated teaching positions. He suggested that part of the district's $300,000 contract with the Mississippi Symphony Orchestra for music education would be better spent on classroom instruction. The contract covers string instrument instruction and a performance series in schools and at Thalia Mara Hall. Phillips said that he opposed the performance component.
"What it boils down to is you're really subsidizing the orchestra," Phillips said; however, he acknowledged that it was too late for the district to renegotiate its contract with the orchestra.
"I just thought that other sources could have been tapped," Phillips told the Jackson Free Press after the meeting. "There are (excess) administrative positions that have still not been identified. I suspect that there may have been other contracts (that could be cut), but I didn't get information on that."
Last fall, Phillips and then-board member Delmer Stamps stalled the music program when they forced a tie vote on the contract's renewal. Phillips said after the Oct. 20 vote that he supported arts education but questioned the programs cost. After much opposition from parents, the board reconsidered and approved the contract.
Burton and board president Kisiah Nolan echoed Phillips in asking district staff to look into adding back some of the 125 eliminated teaching positions. Miller said that she was examining the possibility of some federal funds to return around 15 slots.
JPS will face even harder choices next summer, after funds from the 2008 federal economic stimulus package, the American Recovery and Reinvestment Act, run out. The district shored up its budget for the upcoming year with $7.82 million from ARRA, which it used to pay teacher salaries.
Miller told board members that her office was examining several possible revenue sources to make up for the loss of stimulus funds: additional private donations; leasing district-owned 16th Section land for cell phone towers; and contracting with the state for JPS-themed car tags.
The city makes roughly $1 million a year leasing some of its property for cell phone towers, and JPS could easily make between $250,000 and $300,000 on leases in its first year, Miller told the Jackson Free Press, adding that school-affiliated car tags could bring the district $24 per tag in payments from the state .
Previous Comments
ID

158454

Comment

I am LIVID! The JPS decision to cut teaching positions while simultaneously increasing the athletic budget by an incredible 22% is an incredibly stupid idea. It shows the misplaced priority of the leadership of JPS.

Author

theatrediva

Date

2010-07-01T08:39:00-06:00
ID

158472

Comment

Grr. Third time is the charm. Does anyone have any hard numbers on the increase in the athletics budget? And the salaries and benefits of the teachers who were cut? Because if the increase in extracurricular activities (ie sports) can cover the others, then some hard decisions need to be made about priorities in the budget.

Author

Pilgrim

Date

2010-07-01T15:17:03-06:00
More like this story
More stories by this author