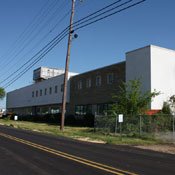 Community members will gather Wednesday night to discuss whether the old Coca-Cola plant could be a new sign of hope for Highway 80.
While redevelopment of the abandoned factory and warehouse space, which shut its doors in 2007, is still in the planning stages, the Jackson Community Design Center sees the space it now calls the old Cola plant, as an important development for Highway 80.
"The Coca-Cola Bottling Company is a potential anchor and a prime candidate to begin an effort of renewal and revitalization on the Highway 80 corridor," the JCDC, an urban research laboratory at the Mississippi State School of Architecture's fifth-year Jackson Center, explained in a June 2010 post on its website.
Nina Holbrook, executive director of the Metro Center Area Coalition, remembers the plant's departure from Highway 80.
"Well of course, to me, it was a hit to Highway 80, because it had been there for so long. It was like a mainstay there, and for it to leave and move anywhere was a big jolt for us," explains Holbrook, who adds that plant had been active for more than 50 years.
Holbrook said a possible redevelopment would be important to Highway 80.
"That's a big piece of land right there, and it looks terrible being closed and not kept up," Holbrook said. "It would mean a lot to highway 80 for that to be developed and for somebody to get it and put something good in there."
With 143,000 square feet of space, the building offers a number of potential uses, and the JCDC, while not the architects of record, is currently helping in developing some early design concepts.
"We're trying to figure out what's feasible and what the community actually wants," Whitney Grant, co-director of the JCDC, explains, adding that in addition to producing design images of the space, the JCDC is working with the owners to host community meetings and give tours to parties interested in the project, she said.
While most of the specific uses of the building are still undetermined, developers hope to build energy around the project by opening the building to artists this summer as a space for collaborative arts events--whether it be painting murals, using reclaimed materials to build sculptures or staging dance performances.
"The idea behind the events is just to start letting some really positive things happen in an area that has less of a reputation of being a positive place, as far as some perceptions of Jacksonians I've heard," Grant explains.
Grant does allow that the development is not without challenges. She notes that one of the biggest challenges will come from the building's location.
"Trying to get any development done on Highway 80--even though there's some energy right now--it's definitely a difficult place to draw investors or different businesses. It's in a demographic area that most businesses don't feel comfortable investing in, because it's a high-risk area," Grant explained. She adds that any development right now faces financial challenges, particularly in areas like south Jackson where there are not as many business investors.
But Grant said the project holds much more potential than challenge, adding that the building is "pretty close to ready to go," particularly once spaces start to be leased. She said this is a major benefit of reinvesting and reusing already existing buildings.
"The reason that the JCDC is interested in this is because redevelopment and reinvesting and reusing buildings in the urban core that's kind of been ignored and abandoned is a step toward a more sustainable growth pattern in cities in general," Grant said, adding that reusing buildings helps save natural and economic resources, while keeping city size manageable.
"It's really one of the most beautiful examples of modern architecture that we have in Jackson as far as the massing of the building, so it's going be really great to see it preserved and brought back to life."
The building's out-of-state owners were not immediately available for comment.
The JCDC is hosting a community input meeting for the project at Lumpkin's BBQ (182 Raymond Road) on Wednesday, June 23, at 6:30 p.m. A $5 buffet will also be available for the first 50 participants, $7 a plate thereafter.
Previous Comments
ID

158289

Comment

Could put some sweet lofts in there.

Author

RobbieR

Date

2010-06-23T07:57:43-06:00
More stories by this author
Support our reporting -- Follow the MFP.