Certain holidays and occasions demand specific foods, while others offer mere guidelines. For example, turkey is a universal absolute for Thanksgiving and some form of cake is a requirement for birthdays. Other occasions are far more flexible. On Mother's Day, breakfast-in-bed is a fairly common theme, but the meal itself can range from the pedestrian bowl of grits and a cup of coffee to posh variations on Eggs Benedict with Champagne. Valentine's Day demands something fancy (heavy on the dessert) while New Year's Day diners expect at least one dish containing black-eyed peas.
So what about Father's Day? Where in the spectrum of expected/demanded/suggested foods does it lie?
My family never had a strict Father's Day course of action. Sometimes we ate out; sometimes we cooked at the house. Sometimes we let dad pick the restaurant; other times, it was a "surprise," which usually meant that there was somewhere the kids wanted to go and we just used Father's Day as an excuse to get what we wanted.
Families hold to the belief that dads like (and even prefer) grilled foods. The media and the manufacturers of grilling accessories perpetuate this factoid, and grilling stuff seems to pop up on store shelves everywhere around dad's big day. It's not that these assumptions are incorrect—there's something primal about men, meat and flames, but perhaps grilling something for dad on Father's Day is a busman's holiday. Perhaps what dads want on their special day is something they can't or don't usually prepare for themselves: something hearty, yet refined; something satisfying, yet sophisticated. Something that still has that "slab of meat" manliness, but with a touch of erudition that shows someone put thought into the preparation.
Keeping in mind that kids will have a hand in the execution of this meal, I've come up with something guaranteed to please the pops and also reward the kids with a sense of great accomplishment. After all, most dads know (or should know) that Father's Day is less about being the recipient of the attention and gifts and more about the dads showing great appreciation for the efforts and enthusiasm of the gift givers. Trust me, it's not the drug-store cologne or the multi-striped tie that brings that broad smile to dad's face. It's the knowledge that the gift was given in a spirit of gratitude and love.
So this Father's Day, if you really want to make a big impression, go simple and hearty with the food, go homemade with the cards and go personal with the gifts. Dad will swoon when he sees a big pork chop, an envelope with his name scrawled on it and a box covered in crinkled wrapping paper and way too much Scotch tape.
PS: Kitty, Katharine, Stuart, Whit and Zak—the Smith's Three-stone Sharpener at Montgomery Ace Hardware goes great with pork chops and homemade cards. ... Just sayin'.
Buttery Cheesy Grits (Serves 6)
1 cup grits
2 cups water
2 cups whole milk
3 tablespoon unsalted butter
1 cup colby/jack cheese blend
3 green onions
1 teaspoon salt
Creole seasoning
Shred cheese and finely chop green onions.
In a large saucepan, bring water and milk to a boil. Add salt and grits and reduce heat to low. Constantly whisk grits until they begin to thicken. Add cheese, butter and green onions. Continue whisking until grits are cooked (about five minutes). Taste and add Creole seasoning to taste.
Serve while hot.
Ranch Green Beans (Serves 6)
1 12-ounce package frozen, whole green beans
1 tablespoon unsalted butter
1/4 teaspoon lemon zest
1 small package dry ranch-dressing mix
2 cloves garlic
Salt
Black pepper
Finely chop garlic. Thaw green beans in cool water and drain.
Heat a large sauté pan over medium heat and add butter. When the butter foams and begins to brown, add garlic, a pinch of salt, a pinch of black pepper and green beans. Cook beans in the butter, tossing frequently until they are evenly hot. Add lemon zest and ranch dressing mix and continue tossing in skillet over medium heat until all of the powdered mix is melted and evenly distributed. Do not overcook the beans. They should be hot, but still crisp. Taste and add salt and pepper as desired.
Serve hot.
Pork Chops Pater Familias (Serves 6)
6 Double-thick pork chops (bone-in)
4 tablespoon unsalted butter
1 tablespoon fresh rosemary
2 cloves fresh garlic
1/2 cup chicken stock
1/4 cup white wine
1/4 cup water
3 tablespoon fig preserves
Olive oil
Salt
Black Pepper
Red Pepper
Finely chop rosemary and garlic. Season chops on both sides with salt, black pepper and rosemary. Pre-heat oven to 180 degrees.
Heat a large, heavy skillet over medium heat. Add one tablespoon olive oil, garlic and one tablespoon butter. When the butter foams and starts to brown, add pork shops and cook until medium well or about seven minutes on each side. If you have a very large pan, you can cook three chops at once,
otherwise cook them in pairs. Place the cooked chops in the warm oven on a sheet pan, wrapped in foil. Add a tablespoon of butter and a dash of olive oil
to the pan and repeat the process until all the chops are finished.
When the last chop is removed from the pan, keep the pan on the heat for a minute or so to allow it to come back up to temp. Deglaze the pan by pouring in the water. Work a metal spatula or whisk around the bottom of the pan, loosening up the browned bits from the meat. When the water reduces by one half, add the wine and reduce again by one half. Add the chicken stock and reduce once again.
When the sauce thickens, reduce the heat to low and add the fig preserves and two tablespoons unsalted butter. Swirl the butter in the pan until it is completely melted and incorporated into the sauce. Taste the sauce and add salt, black pepper and red pepper
as desired.
Place the chops on a large platter and top with the sauce. Serve immediately, while the chops and the sauce are still hot.
More like this story
More stories by this author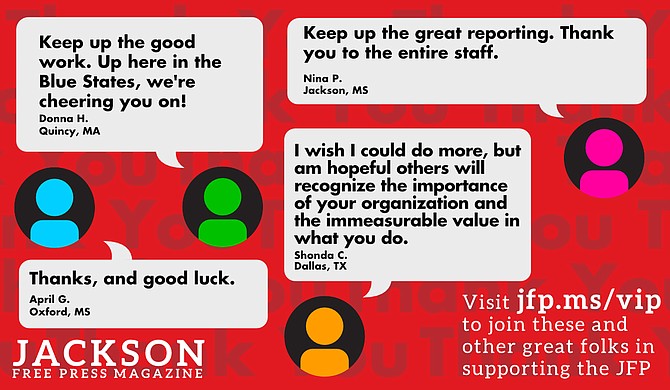 Thanks to all our new JFP VIPs!
COVID-19 has closed down the main sources of the JFP's revenue -- concerts, festivals, fundraisers, restaurants and bars. If everyone reading this article gives $5 or more, we should be able to continue publishing through the crisis. Please pay what you can to keep us reporting and publishing.