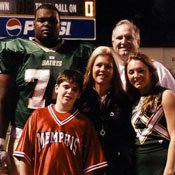 On a cold November morning, you see a teenager walking in nothing but shorts and a T-shirt––no coat. He is visibly cold and doesn't "belong" in your neighborhood.
Sean and Leigh Anne Tuohy stopped and turned around.
"We felt the decision was made way before we ever met Michael. … We really felt Michael was sent to us, because there's no other explanation," Sean Tuohy says.
Their story of taking Michael Oher (now an offensive tackle for the Baltimore Ravens) into their home and making him a part of the family was told in the book "The Blind Side" by Michael Lewis and later adapted into a film by the same name.
In their own words, "In a Heartbeat: Sharing the Power of Cheerful Giving" (Henry Holt and Company, 2010, $24) outlines what Leigh Anne and Sean Tuohy have learned about family, love and cheerful giving through this experience. Sean Touhy spoke to the Jackson Free Press by phone.
What was the motivation behind "In a Heartbeat"?
One of the motivations in the book was to show people that just because it was us up on the screen, (it) doesn't make us any better than the people watching. … People keep asking us who got the better end of the deal, Michael or us. … We don't even think it's comparable. He got a nice house and a warm bed, and we got Christmas every day.
We were allowed to give in a cheerful manner to someone we loved. … It's one thing to give (and people need to whether it's money, time, love or all of it), but we really want people to give with a happy heart. Then it multiplies, and people keep doing it.
You say, "We gave him advice and support––and he [Michael] gave us back a deeper awareness of the world." What did you mean?
It all really started when we passed Michael on the street and (my wife) looked at me and said, "Turn around." We really think that because of those two words it allowed us to have a whole lot more keen awareness of the world. … We all do it, we do it, you do it, the person can be the president of a company or the person that cleans up the garbage at night, but we value them as we walk by. What we don't do is stop and turn around, meet them and find out their true value. So when you do it and see what effect it has on you, then you really are challenged to do it all the time.
How did you get to that point? Finding the true value in a person.
Having Michael in our house was probably the best lesson we could ever have because, for the most part, society, Memphis and the world valued Michael as worthless. When he came to our house, he was already smart; he was already gifted. He was already talented. They were all there. We didn't provide any of those. But even with all that, the world didn't see any value in him whatsoever. So our feeling is that if someone with the most obvious talents and worth can fall through the cracks, imagine who gets left behind.
How did you deal with negative criticism about a white family adopting a black teenager?
The truth is, we didn't hear a lot. … And when we did hear it, what was interesting; a lot of times it was said to Michael. I'll never forget: He had a national interview, and that question came up, not criticizing … but he kind of looked at them and said: "Somebody goes out and helps somebody, and people are mad because they're not the same skin color. What would you rather them do, leave me on the street? Would that have made you happy?" He said: "It just so happens that the people that helped me out were white. It didn't matter to me, I just cared that somebody was helping me and that somebody loved me." And we kind of hold to that. … He said it so well: "Would you rather they left me?"
What can parents do to instill cheerful giving in their children?
Our kids watch everything we do. And sometimes, that's a scary responsibility. But sometimes, more importantly, it's an opportunity for our kids to see us not only giving but giving in a cheerful manner.
What can people do about homeless teens?
If every church in America adopted one child, there would not be a child in America homeless. … But that's not what we're telling people to do. We're telling people to just do something. But when you do it, do it with a cheerful heart.
Leigh Anne and Sean Tuohy sign "In a Heartbeat: Sharing the Power of Cheerful Giving" at Lemuria Books (202 Banner Hall, 4465 Interstate 55 N., 601-366-7619) Wednesday, July 21, at 4 p.m.
More like this story
More stories by this author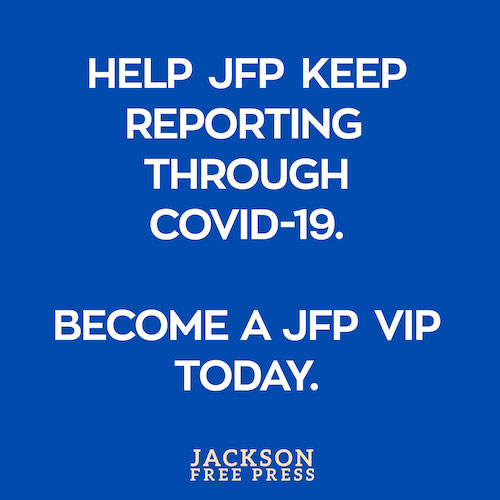 COVID-19 has closed down the main sources of the JFP's revenue -- concerts, festivals, fundraisers, restaurants and bars. If everyone reading this article gives $5 or more, we should be able to continue publishing through the crisis. Please pay what you can to keep us reporting and publishing.