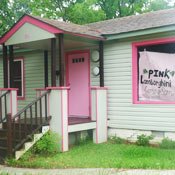 After spending the past 12 years in retail, Andrea Galloway-Thomas saw the growing Fondren business community as an opportunity to start her own business.
Galloway-Thomas, 30, will open her first boutique, Pink Lamborghini, at 310 Mitchell Ave. on July 17. The boutique will feature lingerie, accessories and upscale consignments.
Galloway-Thomas, a native of Columbia, Miss., says she learned how to run her own business working as a manager at Victoria's Secret, Godiva and Hallmark.
"I had been in sales a long time, and noticed the new trend is boutiques," she says. "I thought that if I could work that hard for other people, then I could work hard for myself. ... I looked at the growth of the Fondren area, and I love that the business community really supports each other."
Pink Lamborghini will celebrate its grand opening Aug. 17. Starting July 17, business hours are Tuesday through Saturday 10 a.m. to 6 p.m.
Down the street at 304 Mitchell Ave., Yolanda Minniefield recently opened Lipstick Lounge, a boutique offering women's clothing, shoes and handbags. Minniefield was not immediately available for comment.
Millsaps College Named a 'Best Buy'
The Fiske Guide to Colleges rated Millsaps College a "Best Buy" in its 2011 edition for the college's reasonable prices, high academic ratings and quality of student life.
The guide's "Best Buy" list includes 45 colleges--21 public and 24 private--in its list. Millsaps in the only higher education institution in the state to receive a ranking.
Previous Comments
ID

158526

Comment

Both my parents are Millsaps alumni, but unless you are going pre-med or pre-law 40k per year is definitely not a "best buy" for a liberal arts degree.

Author

RobbieR

Date

2010-07-07T08:13:31-06:00
ID

158529

Comment

I think you are wrong. Most Millsaps students receive a generous financial aid package combining federal, state, alumni and institutional funds. The net cost to students is considerably less than the sticker price. And for the best students this is as attractive or more so than the level of education. Plus Saps is merely keeping up with Jones' so it can retain premium faculty. With the cost of living so modest in Jack many national caliber academics will seek the college out because of the generous opportunities the college affords for premium teaching and research opportunities. The people who write these reports know the market.

Author

write2richie

Date

2010-07-07T11:41:11-06:00
ID

158544

Comment

Stephanie- Have you looked at a Millsaps handbook lately? Cost per semester for a resident student is $17,746-$18,848 depending on the dorm. So when you add 2 semsters together that $35,492-$37696 a year that's really close to $40,000 a year don't ya think? That's not including books either that can be another $500+ Tuition for commuter students is $13,220 per semester http://www.millsaps.edu/_resources/author_files/records_2009-10_financial_information.pdf

Author

BubbaT

Date

2010-07-08T15:25:19-06:00
ID

158549

Comment

@BubbaT Those are the published costs. Published costs do not reflect "actual" costs. I assume that the Fiske Guide focused on actual costs, not published costs. Most undergraduate students receive huge discounts from the published costs at Millsaps (and most local private schools) through federal, state, and institutional grants. If you need validity from another source, Forbes (a publication founded by a conservative) ranked Millsaps as the 35th best buy nationally, while Mississippi State was ranked 18th and Mississippi College was ranked 24th. Stop trying to stir the pot of controversy because you don't like liberal schools. Notice which school with a Confederate general emblazoned all over its merchandise that brands itself the "Harvard of the South" is not on the list? http://www.forbes.com/2009/08/02/best-buys-colleges-opinions-value.html See I can post web links too.

Author

DrumminD21311

Date

2010-07-09T12:54:31-06:00
ID

158551

Comment

DrumminD- If a student does not qualifiy for those fereral,state, and institutional grants then it does cost them an actual 40,000 a year to go there. How is Forbes,Fiske Guide or any publication other than Millisaps Handbook a vaild source on what it cost?

Author

BubbaT

Date

2010-07-09T14:40:53-06:00
ID

158552

Comment

I will just throw this out there for the sake of really throwing a monkey rich into the whole argument that "liberal-arts" schools breed "liberal" people. Coupled with that somehow by JFP publishing an article about the success of a higher-education institution in our city receiving positive national press (this is also a recruiting tool used to bring the best and the brightest from our state and others to the college) as being another evidence of the "bias" slant of this paper and their "liberal" agenda. I don't think everything that is reported has some ulterior motive and hidden agenda behind it. Anyway, I am 25, I work for a public accounting firm (a conservative crowd economically and fiscally, generaly speaking), I vote republican, oh yeah and I received my undergraduate degree and my masters from MILLSAPS COLLLEGE. I also received upwards of 15,000 a year in scholarships, so clearly I didn't pay 40,000 and "Best Buys" in college focus on the number students receiving post graduate degrees, acceptance in law schools, med schools, and other factors that contribute to the "professional/academic return" of a student's tuition dollar for attending that institution. Meaning for the money a student pay's to attend the school, how does that school return on the student's investment through career placement, post graduate acceptance, med-school, law-school, and overall rigors of the academic environment of the institution. But that is really not the point, what I would like to know is why this has somehow been deemed a negative thing and has provoked arguments? Exactly why is positive press for the school, indirectly the city in which it is located, indirectly the community that the college's students contribute seen as something to be mocked, insulted and ridiculed rather than celebrated and praised? Just some food for thought..

Author

amoderatemississippian

Date

2010-07-09T15:19:13-06:00
ID

158569

Comment

"DrumminD- If a student does not qualifiy for those fereral,state, and institutional grants then it does cost them an actual 40,000 a year to go there." http://nces.ed.gov/collegenavigator/?q=Millsaps&s=all&id=175980 You know what percentage of the undergraduate population at Millsaps doesn't receive financial aid? 2%. You know what percentage of the undergraduate population doesn't receive an institutional discount off the $40,000 price tag? 3%. So I guess you are arguing for the 20 students at Millsaps that have to pay that price tag? Ok, you win on that point. For those 20 students, maybe Millsaps isn't the best value, but in regards to the other 980, YOU DON'T KNOW WHAT YOU ARE TALKING ABOUT!

Author

DrumminD21311

Date

2010-07-12T10:45:32-06:00
More stories by this author
Support our reporting -- Follow the MFP.