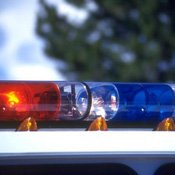 The Jackson Police Department cannot release the name of an officer who shot a juvenile during a house burglary at 207 Glenside Drive yesterday because of an ongoing investigation, Assistant Police Chief Lee Vance said today.
At 11:25 a.m. Wednesday, officers arrived at the home after a neighbor reported a break in, according to a JPD statement. When the officers found four juveniles inside the home's screened-in porch, one suspect tried to flee the scene. A Precinct 4 officer then "stumbled during the pursuit and accidently discharged his weapon."
The bullet went into the suspect's left leg, exited, and then went through the suspect's right leg. Officials transported the juvenile to the University of Mississippi Medical Center where doctors classified the injury "non-life threatening."
The officer is currently on administrative leave, while the department's internal affairs division investigates the incident and the district attorney's office reviews the case.
"Anytime a shooting involves an officer, it's investigated by the internal affairs unit," Vance said. "This is a normal process, like any other shooting."
For the week of June 12 through June 27, JPD reported a city-wide increase in major crimes from 232 to 254, compared to 232 at this time last year. Auto thefts increased from 29 to 38; house burglaries increased from 62 to 76; and grand larceny increased from 22 to 27. Business burglaries decreased from 21 to 12 and auto burglaries decreased from 58 to 52.
Precinct 2 had a substantial drop in total crimes from 63 to 46, compared to 72 at this time last year, while Precinct 3' s total crimes increased from 46 to 92, compared to 52 at this time last year.
Previous Comments
ID

158490

Comment

Somebody forgot his basic firearms training. Never put your finger inside the trigger guard on the trigger unless you are going to shoot. Never run with your finger inside the trigger guard on the trigger. Every Jackson policeman I have ever seen carries a Glock pistol,they will only fire if the trigger is pulled. Running with his finger on the trigger, that's a big firearms no-no.

Author

BubbaT

Date

2010-07-02T01:50:10-06:00
ID

158492

Comment

What the police have already acknowledged in their description of the incident is that the officer was running with his finger on the trigger, which makes him negligent. He had no business putting his finger on the trigger unless he intended to shoot. Obviously, he did not have control of his weapon. This accident is part of an embarrassing tradition of sloppy weapons handling by the JPD. Let us see if internal affairs does anything of substance with its investigation. Considering their contempt for the public's right to know, there is a good chance we'll never know the outcome.

Author

Brian C Johnson

Date

2010-07-02T08:05:23-06:00
ID

158509

Comment

Thank goodness the backstop was a criminal's leg and not somebodies child this time. I think it is ridiculous that cops usually qualify once or twice a year tops. Citizens with a concealed weapons permit usually shoot many more rounds per year down range than police officers and they are just carrying for personal protection. Before we spend money backing hotels with questionable economic return, let's spend some money on range time and ammo teaching our cops how to handle their weapons effectively and safely.

Author

Jacksonlibertarian

Date

2010-07-03T00:03:59-06:00
ID

158527

Comment

...and Jacksonlibertarian, once we finish the weapons training for our officers, let's move the mission to the Judges. Last week, a young man "former JSU student" attempted to kill Dr. Janice Vincent who had taught him in the past. The young man said that she had "voo'dooed me". He further accused her of putting things in his head. This young man's case was dismissed by one judge; however, another judge charged him with simple assalt and he is out on a $2,500 bond. Can anyone say "MENTAL ILLNESS?" Does hearing voices still fit in mental status as a positive symptom for paranoid schizophrenia? It is interesting that the young lady who is charged with murder for a baby, put in a suitcase and placed behind a church, is being given psychologicals for a possible mental illness. This is insane as it relates to the young, black man who needs treatment - not jail. I sympathize with Dr. Vincent and I also know that this was a terrible experience; however, it could happen again or to someone else if the right thing is not done. Just saying.

Author

justjess

Date

2010-07-07T09:21:27-06:00
More stories by this author
Support our reporting -- Become a JFP VIP.
The news business has changed dramatically in the past two years, and we need your help more than ever to keep bringing you important stories about Jackson and the Metro. Become a JFP VIP with an annual membership or you can Sign up as a monthly supporter. Thanks for anything you can do to empower our journalism!