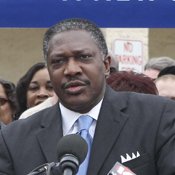 State budget woes cast a pall over the Jackson Convention Center yesterday, when city leaders solicited the support of state lawmakers over lunch. Hosted by the city's state legislative delegation and featuring a presentation by Downtown Jackson Partners President Ben Allen, the event drew roughly 150 people, with few legislators from outside the capital city among the attendees.
Mississippi lawmakers have until Tuesday to pass general bills out of committee, and many committees held meetings through lunch.
"I wouldn't say that the turnout is indicative of support or lack of support (for Jackson)," Sen. David Blount, D-Jackson, said. "The biggest deadline of the session is Tuesday. That's the deadline where between 80 and 90 percent of all bills will die. So I would not draw any conclusions from the turnout. It's an exceptionally busy time."
Blount has introduced a number of bills on the city's behalf, including a measure that would transfer sections of U.S. Highways 49 and 51 to state control. Unlike neighboring municipalities, Jackson is currently responsible for the maintaining the segments of those roads within its corporate limit.
While confident that his bill is fair, Blount was less certain that it would survive the Senate Transportation Committee.
"I don't know how likely it is that those bills will come out of committee by Tuesday's deadline," Blount said.
Rep. Bill Denny, R-Jackson, did not attend the event because of a conflicting committee meeting. He said that that the Legislature is currently preoccupied with balancing the state's budget, which faces a shortfall of roughly $400 million for the current fiscal year. The House and Senate have traded competing proposals for preserving some state agencies, with the House most recently passing a plan Tuesday that appropriates funds from state reserves and stands little chance of passing the Senate.
"You can see how far apart we are in attending to our own house," Denny said. "Until we see where we are with state funding, I just can't see anything happening, as much as I would like it to. It's just not going to happen, not this session.
"If it did, I would be the first one to support it," Denny added. "But there's no point in putting out false hope."
Sen. John Horhn, D-Jackson, has also submitted several bills targeting Jackson's needs. One would require payment in lieu of taxes for the many state-owned, tax-free buildings in downtown Jackson. Another would divert some portion of state fuel-tax revenue to the city. Horhn was not optimistic about those bills either.
"Money is so short," Horhn said. "We've got $400 million plus in deficits right now, so for a non-state agency to come and ask for money seems useless at this point. Every consideration down here right now is being overshadowed by our budget woes."
The city can make a compelling case for some state aid related to its water system, though. The water-main breaks that shut down state offices for a week in early January were a reminder of the city's needs, Horhn said.
Horhn added that he, along with the rest of the city's legislative delegation, is prepared to introduce a bill targeting improvements to Jackson's water and sewer infrastructure. They have not received a formal request from the city, however.
"I don't think that we have any chance of getting an appropriation, but I do think that we have a chance to get some bond support," Horhn said.
City spokesman Chris Mims said that the City Council gave final approval to a legislative agenda at its Tuesday meeting. That agenda includes a request for assistance in updating Jackson's water infrastructure. Mims said that city leaders will meet with the Hinds County legislative delegation soon to discuss details of the request.
While general bills must pass committee by Jan. 18, legislators have another month to pass revenue bills, such as bond issues. Horhn warned that waiting longer to introduce a bill would further diminish the issue's urgency.
"I think that people see very clearly that the city needs help," Horhn said. "(But) I believe that the moment to strike, to make a formal request, was three weeks ago, when we were right in the middle of the crisis. Once a crisis is over, people tend to forget how bad the crisis was. We may have missed the highest moment of opportunity, which was right in the middle of the crisis."
Previous Comments
ID

155619

Comment

Incredibly negative spin on this story. Why not focus on the fact that local business and government hosted this luncheon for legislators, or that the Lt. Gov. and Speaker invited local government and business to present the great things happening in Jackson to an often skeptical legislature, or that the Lt. Gov. and Speaker delivered impressively pro-Jackson speeches, or that the presentation itself was extremely positive, and even awe-inspiring? Any of these facts would have have made good, positive headlines but you chose to focus on the low turnout and the low chances of success for Jackson's funding requests. Thanks.

Author

Jackson

Date

2010-01-29T17:26:22-06:00
ID

155620

Comment

It's kinda news, Jackson, if legislators outside Jackson didn't bother to attend. It's not our job to write press releases and spin reality. It's not as if we don't report all sorts of good news about Jackson. The "spin" as you see it is what happened: state legislators are focused on the state budget, and that may very well hurt needed attention on Jackson. There is no reason to sugarcoat that.

Author

DonnaLadd

Date

2010-01-29T18:53:18-06:00
ID

155622

Comment

I say good job JFP, it needs to be said, it IS news that many state legislators don't feel like Jackson is a priority even though we are the CAPITOL city and reflect on the entire state.

Author

multiculturegirl

Date

2010-01-29T20:38:45-06:00
ID

155623

Comment

Jackson, sounds like what you want is a press release on the event instead of a news story. With all of the positive stories this paper writes about Jackson–from businesses openings to economic studies where we rank well, to featuring hometown heroes nearly every single day, to busting out last week's humongous "Best Of Jackson" issue–we honestly don't have a thing to apologize for. Not everything in Jackson is positive, and the fact that our state legislature regularly ignores us–to the detriment of our infrastructure–happens to be one of those things.

Author

Ronni_Mott

Date

2010-01-29T20:38:56-06:00
ID

155624

Comment

There are good and bad angles on every story. I wanted to point out the positives here because they are important and the article omitted them. I was at the convention center yesterday and there was no pall.

Author

Jackson

Date

2010-01-29T20:42:58-06:00
ID

155626

Comment

That's exactly why it's big news that the leaders of the legislature reached out to the City to plan this event in the first place. Have you ever heard of anything like this happening before? I just thought you missed the good part of the story. That's it. No apology necessary.

Author

Jackson

Date

2010-01-29T20:57:36-06:00
ID

155628

Comment

From what I saw, there wasn't very good advance press on it. I don't think we got anything in time for the paper, for instance. The Legislature devours the JFP; perhaps getting something in sooner would have helped get people there. (Or shamed them into it. ) But the budget issue is too large that maybe not.

Author

DonnaLadd

Date

2010-01-29T21:05:54-06:00
ID

155631

Comment

No comment or even mention of Horhn's casino bill?

Author

QB

Date

2010-01-30T07:50:05-06:00
ID

155639

Comment

QB: There's a link at the top of the page (under the Community Blog tab) for "Add Entry." Hit it and start a conversation whenever you want to see discussion on a given topic. I'm sure you'll have takers. (And that's not to suggest we won't be covering any particular bill -- I have no idea as I'm not in those Editorial meetings and it's been a busy week!)

Author

Todd Stauffer

Date

2010-01-30T12:47:10-06:00
More like this story
More stories by this author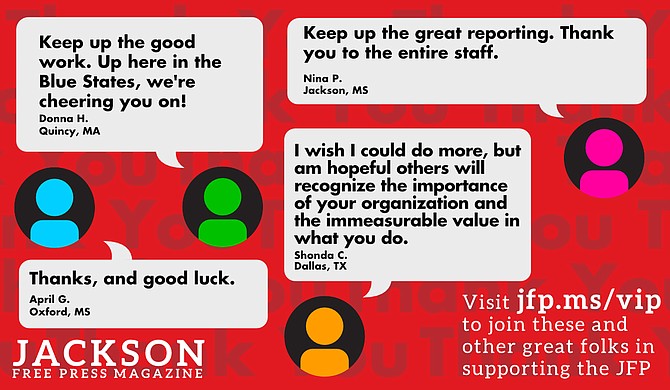 Thanks to all our new JFP VIPs!
COVID-19 has closed down the main sources of the JFP's revenue -- concerts, festivals, fundraisers, restaurants and bars. If everyone reading this article gives $5 or more, we should be able to continue publishing through the crisis. Please pay what you can to keep us reporting and publishing.