We first met when I was only 3 years young. I had no idea of her deep yearning to simply be loved. Nor did I know the love I would have in my heart for her some day.
It was the mid-1970s, and I went about my childhood in Jackson with a peaceful, tranquil feeling. I played kick-the-can and baseball in the street and football in the neighbor's corner yard that was home to family, my friends and me. It was comfort. Our utopia was inside the "walls" of the pale streets and non-descript homes. These "walls" blinded me from seeing her beauty and tasting her hunger for love.
At age 12 or so, I was overcome with disbelief that my Jackson was not utopia. That year, my father was the victim of an armed robbery and almost killed at his dream-come-true, self-employed establishment in west Jackson. How could it be?
Shortly after this, he changed careers, and my family joined the white flight out of the city limits. We moved to the Byram area to escape "her" cruelty. It was about this time that I began believing the stigma that she—Jackson—began to take on, and none of it was her fault. None!
Jackson, as I look back at my life, was my Forbidden Fruit for so many years. She tempted me. She smiled at me. She talked to me. I ignored her insistence.
I would not taste her, accept her temptations or even smile back. There was no need. I saw ugly, felt crime and could not even cut a grin upon the vamp I was "educated" to believe she was.
She called to me many times during the 1990s when I occupied an office in our state capitol building. I was with her every day and saw the blight that occupied her. It was much like the North Star zit on a forehead of a teenager: Eyes cast only on that one aspect and not on the person. I ignored her lure, again.
For the first three decades of my life, not only did I judge the city by her cover, but I judged many people, places and ideals that way as well. Many others still do when they hear her calling for their love.
I am taken aback with bewilderment when the naysayers still do not believe that the King Edward is back—the phoenix risen from the ashes. They still look at the King Edward, The Pinnacle building, Farish Street and Duling Street School as stories instead of realities.
Stories, in my heart, are what my 6-year-old tells when he wants to avoid the truth. This love story is no longer a story; it is truth, not a myth.
Do you, too, not believe her love to be true? I am here to tell you it is. It is the truest of passions known to mankind: She is loyal; she will embrace you. She will, already does, love you.
Stretch out your arms and feel 
who she is.
Although her cover has been redesigned, her pages of soul are the same. And no, her soul is not murder, homelessness or white flight. Her soul is deeply rooted with harmony among her citizens, a welcoming friend in times of need, and neighborhoods and apartments full to the brim.
Is she perfect? Is any love perfect? No. Doesn't every city and town have those deviants who settle their disputes by violence? They do.
But the most defiant behavior I have seen on my most recent visits with my lady has been a local musician changing the key of a classic rock tune. Damn them. Damn the deviants in Jackson. I didn't see a random mugging, murder or car break-in.
Stroll into the downtown neighborhoods—which do exist—and you will see more neighbors smiling, laughing and exercising with each other than hiding from the violence and turmoil that is reported by the mainstream press. The streets of downtown are abuzz.
Drive over to Jackson State and witness the rebirth of that historic area. That corridor has made her eyes sparkle as if seeing her youngest child become a 
successful adult.
I finally opened up to her, and accepted what she was offering. Her inner beauty is striking. It is one that offers a mother's unconditional feelings for her children. She is not going away, running, hiding. Her truth will continue to be told. She trusts you, trusts us! She will continue to reach out her arms, offer her heart and call for all to love her, including you. The courting for me was expeditious. I enjoyed it. I needed it. I have reciprocated the love and have accepted who she is. Love her, hold her, accept her. 
Jackson loves back.
Langston Moore is lifelong Mississippian who resides in Flowood and is looking for that perfect place in Jackson. He enjoys flea marketing, exploring historic downtowns and photography. He has one son and is employed by a Jackson advertising agency.
More like this story
More stories by this author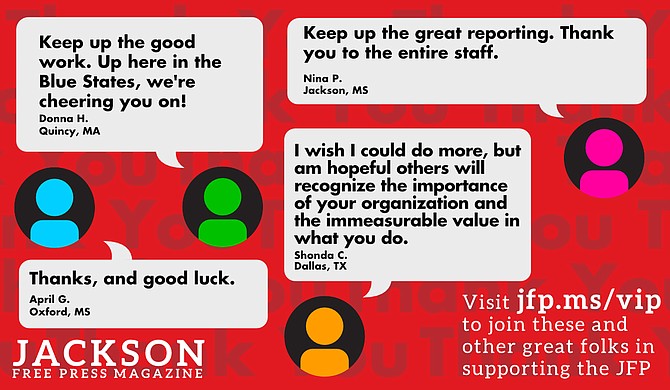 Thanks to all our new JFP VIPs!
COVID-19 has closed down the main sources of the JFP's revenue -- concerts, festivals, fundraisers, restaurants and bars. If everyone reading this article gives $5 or more, we should be able to continue publishing through the crisis. Please pay what you can to keep us reporting and publishing.