Dear Dad,
I accepted this assignment about a month and a half before it was due. I really do not know why I agreed, because I knew it was going to be difficult. Not that I couldn't find the words, but I worried that I would not thank you the way I should for everything you did for me as my father. But tonight I realized why.
Less than four days before this assignment deadline, my wife, Lisa, explained in a condensed fashion why I accepted it. In the matter-of-fact tone she has with me sometimes, she said, "You accepted because it is time to write about him."
Dad, I often look back at the times we spent together. The first recollection I have of us is sitting in an oil-stained stall at the Sonic on Clinton Boulevard on an early Saturday morning in the late '70s. You moved us here from the Delta to build that restaurant and forge the American Dream. You wouldn't go inside until you heard the prediction from that voice over the radio of the Mississippi State football game. Thank you for building that restaurant, working seven-day weeks and teaching me to relish the short opportunities to include sports in my life.
I recall, especially in the summer, the many hours we spent in the backyard and on the field, practicing and playing baseball. Thank you for pushing me to be a pitcher and the best I could be. But most of all, thank you for letting me pursue other positions because I had the tendency to hit the biggest target at the plate. The batters feared me. Those times you taught me forgiveness, love and acceptance.
One of the most important traits you taught me is giving. You worked those seven-day weeks, sent me and two others to private school, had time to teach and play, and provided fresh fruits and veggies from your garden. You taught me the excitement of giving at Christmas. Those presents flowed out from under the tree like a mature root system. Never did we go without, and looking back, it was too much. And now, I admit that my son receives too much as well. Thank you for teaching me one part of his happiness.
There are many more thank-yous that I could pen, and fortunately, most were shared in the last few months we had together. I never thought cancer would be your demise. That is why I wasn't there for a long period after the diagnosis. Heck, you survived near-death car crashes, being shot by an armed robber, multiple trips to the emergency room and rearing three children. You could handle
the big "C."
I missed your last Father's Day because I was stubborn. Eventually, I brought your gift and am comforted by that. I want you to know that it took me a while to realize it, but you taught me that every day should be Father's Day.
We never know when our last day will be. And in those last months, weeks and days together, they were all Father's Days. I thank you for fighting the way you fought, like the true Delta farmer you had in you. I can't imagine missing the first three to four weeks of school because the crop was ready. Thank you for teaching me toughness and tenacity.
As a father, you were holding on for me, and I know that. You knew your first grandson was being born soon, and you wanted so badly to see his face, hold him, laugh with him and nurture him. But the outcome of your life was underway, and you realized it. You told me you wouldn't make it until then so that I could prepare myself, and so we could have the conversations we hadn't had.
I will never let the day disappear from my memory when you wanted me to tell you the big secret we were keeping. You had to know the baby's name, you said. I conceded and told you our baby would be named Wells. His name carries part of yours, and we chose it to honor you. You cried, and I cried because you taught me it was OK. Thank you.
But, Dad, most of all, thank you for showing me love. You are still my rock and I know that I disappoint you in ways, but there is that forgiveness thing you have. I love you and tell Wells about you all the time. I miss you. I thank you, and hope that you still have that smile deep in your heart. The smile of joy you taught me.
Love,
Langston
Roy Ellis Moore died Dec. 1, 2002. Wells Bowen Moore was born March 19, 2003. Langston Moore lives in Fondren with his bride, Lisa. He enjoys flea marketing, exploring historic downtowns and photography. He is employed by a statewide, non-profit agency. Follow him on twitter @lstonmo.
More like this story
More stories by this author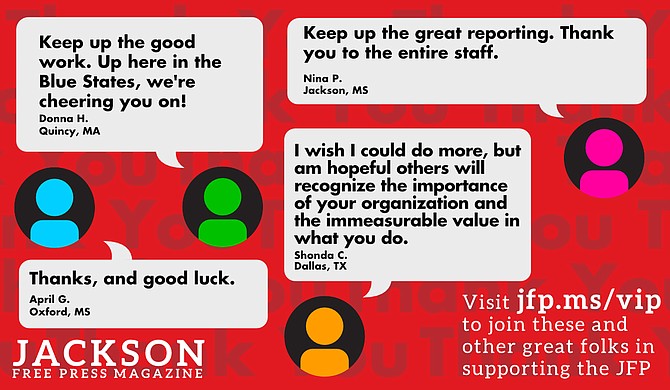 Thanks to all our new JFP VIPs!
COVID-19 has closed down the main sources of the JFP's revenue -- concerts, festivals, fundraisers, restaurants and bars. If everyone reading this article gives $5 or more, we should be able to continue publishing through the crisis. Please pay what you can to keep us reporting and publishing.