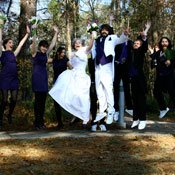 Katie Shelt knew she was going to marry Mason Stewart after he told her he identified with Faramir, a charcter from J.R.R. Tolkien's "The Lord of the Rings" trilogy—among her favorite books. Katie has always identified with the character Éowyn, and the two characters get married after the War of the Ring.
Even though Katie, 22, and Mason, 25, both grew up in the Jackson metro and had the same friends, it took more than 20 years before the two finally crossed paths.
In 2008, while attending Belhaven University, Katie became a member of The Journey church in Jackson. Mason, who had recently returned from doing missionary work in Japan, began attending the church as well. During the church's annual pumpkin-carving event in late September, Katie and Mason were briefly introduced. Mason, however, was preoccupied with a wardrobe malfunction: The skinny jeans he bought that day were a size too small and were cutting off his circulation.
Katie, now an English teacher at Canton Academy, and Mason, a philosophy major at Belhaven University and designer at Imaginary Company, met again in October 2008 when Mason moved into the adjoining side of Katie's Belhaven duplex to live with his brother Hunter and sister-in-law Elise Stewart, both members of the band Law School.
"We all just kind of became friends, and it happened rather quickly," Katie says.
Speaking the Same Language
Within a few days of meeting, Mason, whom friends describe as an "eccentric genius," and Katie, a petite blonde with a love for literature, discovered that they shared a knack for words.
"I have a very peculiar vocabulary, and we would both use obscure language that we both thought was hilarious—we could both understand what each other was saying," Mason says.
Sometimes they even have bets with each other about correct word usage.
"One time we disagreed on whether the word revenant was a real word," Katie recalls. "We bet on it, and Mason said that if I lost, I had to buy him some gourmet cheese. I lost. He got the cheese."
The couple also realized they could simultaneously have fun and connect intellectually.
"We can play Wii tennis, and while we are doing that we can talk about 'The Iliad' or 19th-century literature," Mason says.
Mason and Katie said their backgrounds complement each other. Mason grew up on a farm in Madison County complete with goats and horses, while Katie was homeschooled with a focus on academics. They both grew up valuing their faith and family.
Can or Will?
Mason took Katie to his parent's 25-acre farm in Flora on Oct. 3, 2009, 11 months after they started dating. He led her to a bamboo grove and got down on both knees. "Can you marry me?" he nervously asked Katie.
Ignoring his syntax, Katie said "yes," and as a surprise, the couple's family members emerged from the Stewarts' home. The families spent the entire day sharing stories and celebrating over a home-cooked meal. Just to be safe, Mason asked Katie again for her hand in marriage, replacing the word "can" with "will."
Eager to spend the rest of their lives together, the couple decided to have a short, two-month engagement and marry in December while they both had a time off from school and work.
Short and Sweet
On Dec. 21, 2009, Katie and Mason took part in a simple ceremony at the Mississippi Craft Center in Ridgeland. Wearing a handmade birdcage veil and a strapless A-line dress with a satin bolero, Katie walked down the aisle to meet Mason, who wore a white tuxedo and white sneakers. Katie's bridesmaids wore knee-length purple dresses purchased from Target, and held bouquets of irises Katie had tied together with a simple ribbon.
Journey Pastor Stacy Andrews officiated. Prior to the ceremony, the couple had sent Andrews separate e-mails about their favorite memories together. Laughter roared from the audience as Andrews shared stories about the pumpkin-carving event, and how Katie's students refer to Mason as a guy who looks like "Jesus in skinny jeans" because of his full beard.
Music was an essential element for the wedding. Eleven friends from The Journey provided a full band, complete with electric guitars, bass and drums. Katie's matron of honor, Sarah Dugan, performed a song she wrote, "Somewhere Somehow." The couple and wedding party recessed to the song "No Reason to Hide" by Hillsong United, while audience members stood up and danced with one another.
For the reception, friend Baskin Jones deejayed while the couple danced joyously with friends and family. After the ceremony the couple left for their honeymoon to spend five days in the Bahamas.
Katie says that a having simple wedding gave the couple more time to focus on what was important to them.
"The most important thing about the wedding was that I was marrying Mason; everything else was secondary," Katie says. "I tried to focus on that commitment, and that is the primary thing. To me it wasn't about the flowers or the color of the tablecloth. Everything was just the way we wanted it—an expression of ourselves as a couple."
Vendors
Venue: Mississippi Craft Center (950 Rice Road, Ridgeland, 601-856-7546)
Catering: Fresh Cut Catering and Floral (108 Cypress Cove, Flowood, 601-939-4518)
Photography: Alyce Hardee ([e-mail missing])
Flowers: Sam's Club (6360 Ridgewood Court Drive, 601-977-0139)
Cake: Cakes by Iris (http://www.cakesbyiris.com, 601-540-6342) Coleman (601- 978-3600)
Accents
DIY Invites: Mason used his graphic-design skills to make the invitations using their engagement photo. He also posted a Web site for wedding information for guests at http://www.katieandmason.com.
Supporting Artists: Katie bought her handmade veil, guest book and bolero from http://www.etsy.com, a Web site that allows artists to sell their work.
More stories by this author
Support our reporting -- Become a JFP VIP.
The news business has changed dramatically in the past year, and we need your help more than ever to keep bringing you important stories about Jackson and the Metro. Become a JFP VIP with an annual membership or you can Sign up as a monthly supporter. Thanks for anything you can do to empower our journalism!